Acting Up Stage and Factory Theatre are proud to partner with Jennifer Walls and her SINGular Sensation band in hosting an evening of Craigslist-inspired cabaret performances immediately following the performance of Do You Want What I Have Got? A Craigslist Cantata on February 13, 2013 (at approximately 9:45 p.m.) Featuring songs and stories around the theme of Missed Connections, A Craigslist Cabaret will feature Toronto's most exciting cabaret artists including:
The winners of A Craigslist Cabaret Contest (see below)!
Jay Davis (Angelwalk's  I Love You Because…)
Sarah Gibbons (Acting Up Stage's upcoming Falsettos)
Alexis Gordon (Victoria Playhouse's Godspell)
Michael Hughes (Mickey & Judy)
Ryan G Hinds (Cabaret Diva)
Kelly Holiff (Acting Up Stage's Tapestries)
L.A. Lopes (breathe.feel.love's Hedwig and the Angry Inch)
Adrian Marchuk (Dancap's Jersey Boys)
Megan Vickers (Fallen Rock's Rocky Horror) 
Rebecca Perry 
Adam Proulx (Lower Ossington Theatre's Forever Plaid)
Andres Sierra (Acting Up Stage's Alexandria)
Chris Tsujiuchi (Cabaret Superstar)
Kristi Woods-Nogal (Fallen Rock's Rocky Horror)
We are also thrilled to announce the winners of our nation-wide contest for music videos inspired by actual Craigslist ads: Mackenzie Salhanny and Luc Trottier! Take a look at the ad which inspired them, and then watch their video.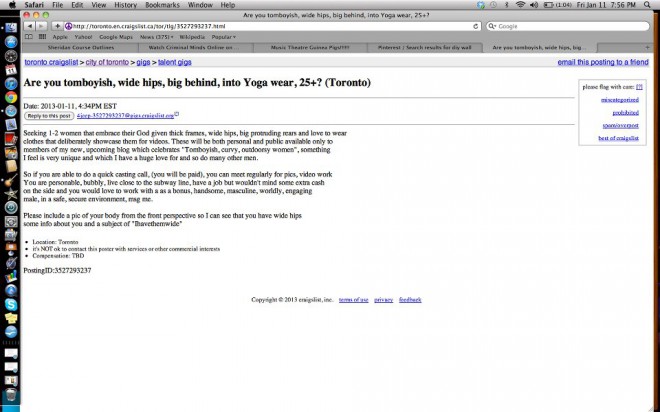 ---
Priority seating will be given to patrons who attend the February 13, 2013 performance of Do You Want What I Have Got? A Craigslist Cantata. Any remaining seats will be sold at 9:30PM at the Factory Studio Theatre, and will be PWYC. For more information, please contact info@actingupstage.com.