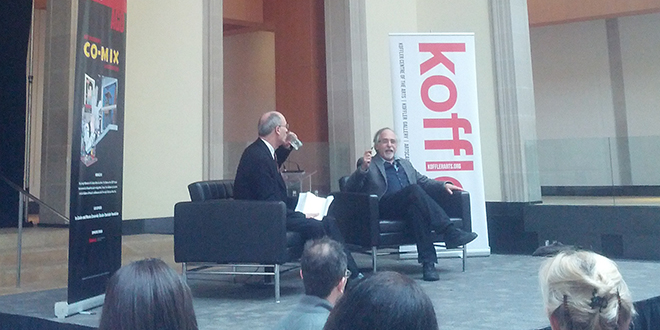 On Wednesday, we had the pleasure of attending the preview of a brilliant new exhibit on now at the Art Gallery of Ontario showcasing the work of one of the world's most renowned comic artists Art Spiegelman entitled Art Spiegelman's CO-MIX: A Retrospective. On the walls of the AGO is a lifetime's work of an artist who was instrumental in bringing comics and graphic magazines into the mainstream art world and destroying the barrier between high and low art. 
Best known for the Pulitzer Prize-winning Maus (which spawned a sequel Maus II and the making-of novel MetaMaus), a sprawling comic book about his parents' experience in Auschwitz during the second world war, one of Spiegelman's lesser-known works is one directly connected with Acting Up Stage. Following the success of Maus, Spiegelman published an illustrated version of Joseph Moncure March's long-forgotten poem The Wild Party (about 70 years after it was originally written). The new spotlight on the poem was surely an inspiration for the two musicals that premiered only six years after the reissue based on the same poem. Acting Up Stage's next production is one of those two musicals – Michael John LaChiusa's The Wild Party. (Between this AGO exhibit, The Wild Party, and an upcoming lecture with Spiegelman presented by the Koffler Centre of the Arts in January, there is definitely an Art-istic moment happening in Toronto.) 
After the exhibit's preview (which features an entire wall dedicated to selected drawings from Spiegelman's version, including rough drawings as well as the finished product), we also got to attend a talk between Spiegelman and the AGO's CEO Matthew Teitelbaum. At the audience Q&A portion, we asked how his work on The Wild Party differed from the rest of his career.
"After I finished Maus, I was groping for something else to do. People were asking me about a Maus III, but the war was over, my father had died, I don't know. And I thought… years before, before Francoise had a printing press, I found The Wild Party when I was in a book store that didn't have a comic section or an illustrated book section where I would usually go. So I was just bumming around, because I love being in book stores. The spine of a book attracted my attention in a section I frankly don't spend much time in, which is the poetry section, and all of a sudden I started reading this thing that was like a hardboiled novel, it had a beat and a dance to it. I liked it, I liked it. I took it home, started reading it out loud to other people, and I found that I had memorized large parts of the poem. So it stuck with me.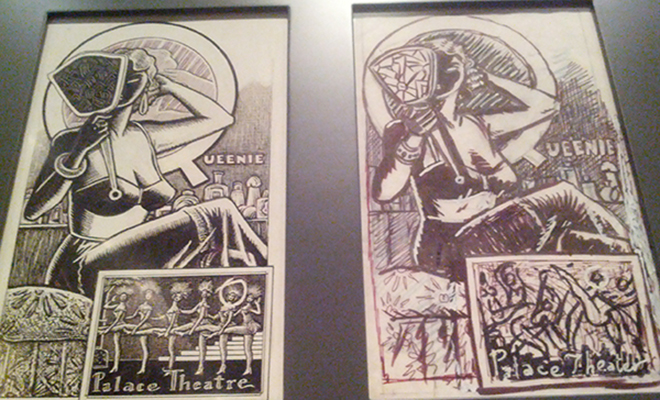 And I found that there was always something I had to suppress on Maus, anything that was decadent or sensual did not have a place in Maus. And I felt like something that just allowed me to make drawings would be corrective to all of the under-the-hood work that Maus was about… it made me want to do it. And around that time I was invited through the gates of the hallowed halls of The New Yorker. So all of a sudden I found some routes to reinvention by doing these covers for The New Yorker, which were more graphic, and working on this Wild Party project. So those were the steps leading up to it.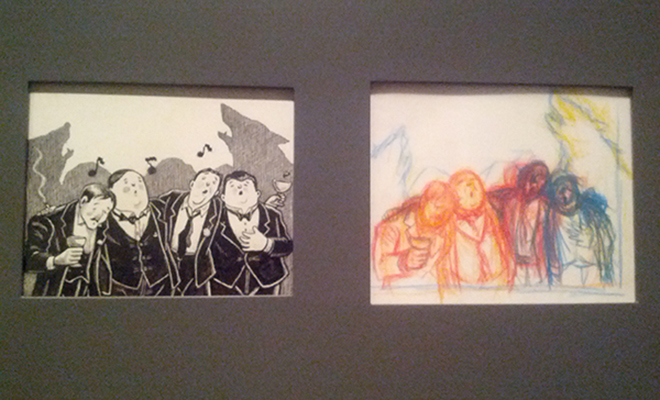 In a way I thought illustrations were a problem. The negotiation between books and pictures is a complicated one. So I figured that the ultimate in any concept was its opposite, I thought if I over-illustrated it, that would be like not illustrating it. And so what I became interested in was to illustrate way more than necessary–in one line of the poem is "He gave her wrist a twist," so there's a diagram of a man twisting her wrist with an arrow pointing the direction it was twisting–and where I was contracted to do about 15 drawings or 20 drawings, I ended up doing I think about 70 or 80. And I tried wherever possible to bring you back to the realization that this was being illustrated, so there are different ways [Queenie] could have looked.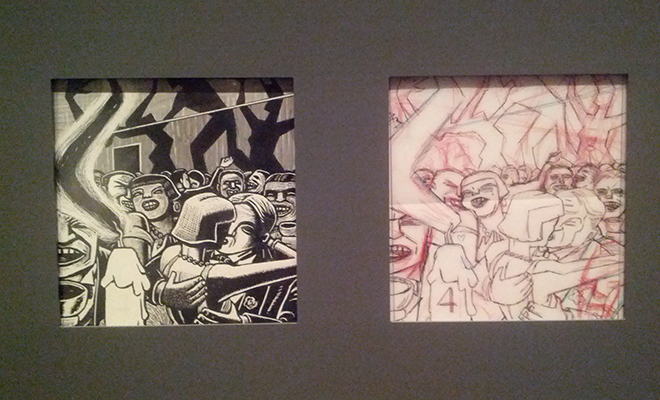 And then I got really excited about something called "The Flip," where you shrink the images down to a thumbnail size and you look to see what would look good next to what, and where you can create little surprises. By the time it was over, I promised myself never to be an illustrator again because it was making me very restless, but I loved the few weeks of designing these tiny booklets that are in the case [of the exhibit] trying to figure out the right layout."