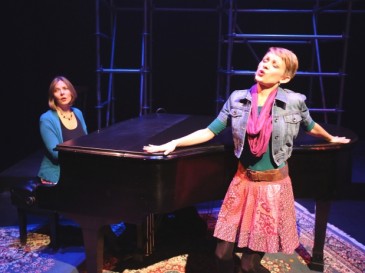 by Mitchell Marcus 
For the last two years, we have been sending our production of Do You Want What I Have Got? A Craigslist Cantata (originally produced in co-production with Factory Theatre) out on tour. Last year we played a two week run in Calgary at Alberta Theatre Projects/High Performance Rodeo and three weeks in Edmonton at the Citadel Theatre. But this month, we are delighted to be packing our bags and travelling to our nation's capital, to perform the musical at the National Arts Centre. 
Touring a musical is very different than producing locally. As we put the finishing touches on the logistics and begin our Toronto rehearsals before travelling to Ottawa on November 10, we thought we would share some insight into the touring process. 
When we tour, we are being presented. When we run a show in Toronto, we are producing. What do these semantics mean? Well, in Toronto, we are responsible for marketing our production. We have a box office target to hit and we rely on you (our audience!) to help cover the costs of the musical. When we tour, we are being presented by other organizations. This means that they cover our costs (or most of them) to remount the production and tour it to their city. But they are responsible to sell the tickets, and they keep the money made at the box office. This makes it a very low risk scenario for our company. Our costs are covered, and we get to focus on creating the best work we can without worrying about how the attendance will be. 
When we tour, we add an additional department to our organization – Company Management. When we do a show in Toronto, our performers are self-sufficient. They tend to live in their own homes and they are responsible to get themselves to the theatre. On tour however, the rules change. There are hotels to arrange, flights or train tickets to book, baggage allowances to consider, transport to and from the venue for every rehearsal and performance, and city resources (medical centres, restaurants, etc.) to scope out. Paul in our office brilliantly arranges all of these details, helping cast members to feel well cared for while they are away from home. 
Food is expensive! When we produce in Toronto, we are not required to provide meals for our cast or creative team. However, when we are on tour, everyone receives $55 per day as a per diem. In the case of Craigslist, that is an extra $7,000 of breakfast, lunches and dinners! 
On the technical side, touring can be a puzzle. Each venue is a different size with its own specific attributes when it comes to stage dimensions, lighting positions and audience relationship to the stage. What happens when you are playing on a 50' wide stage vs. a 30' wide stage? How does the show change when the audience sits lower than the stage vs. when the seats rake downwards and audiences see the stage floor? What happens when some rooms are intimate enough for acoustic sound and some require amplification? This is a fascinating puzzle. This year we will have our third variation on our A Craigslist Cantata set to meet the specification of the National Arts Centre. And – just to add to the fun – we also have to make sure that whatever we create de-constructs in the most economical way possible to transport from city to city. 
Touring is super fun. Even with all of its challenges, one of the highlights of my tenure at Acting Up Stage has been watching one of our productions in a different city. It's a joy to meet new audiences through a familiar musical and to know that we are helping to bring the Acting Up Stage experience to people across the country. 
If you happen to be in Ottawa, don't miss our production of Do You Want What I Have Got? A Craigslist Cantata, running at the National Arts Centre from November 12-22. 1-888-991-2787.