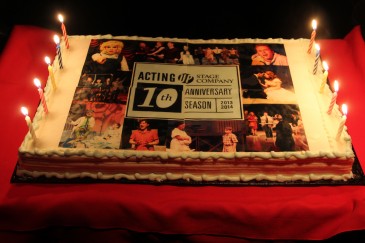 By Mitchell Marcus
The arrival of summer marks the end of another year at Acting Up Stage Company. Let's be clear – 2013-2014 was not just another year. It was our largest season of programming to date, and it marked our 10th anniversary of theatre in Toronto. It was a year of wonderful memories and terrific learnings. As we say goodbye to 2013-2014 and welcome all of the exciting things in store for 2014-2015 I have taken a moment to reflect on some of the highlights and surprises from the last year:
"Hey, Old Friends"
My favourite memory from 2013-2014 was the first day of rehearsals for Elegies: A Song Cycle. Seeing Thom Allison, Barbara Barsky, Eliza-Jane Scott, Steven Gallagher, Lezlie Wade and Wayne Gwillim reunited to begin reviving and re-exploring this work was a very emotional moment. Elegies was our first big hit back in 2007 and I am eternally indebted to the artists who brought it to life. Knowing how much the piece meant to everyone involved the first time, and having them all clear their schedules to bring it to life again meant a great deal.
"Go West"
In January/February we took our production of Do You Want What I Have Got? A Craigslist Cantata to Calgary and Edmonton. I arrived in Calgary on our closing night. It was the first time that I got to watch one of our shows in a packed audience of 400 people where I didn't know a single audience member. It was a thrill to sit anonymously, feeling the energy of 400 delighted spectators and to secretly take pride knowing that it was our production up on that stage.
"I've Come To Hear New Music"
Attending the National Alliance for Musical Theatre conference and showcase last November was a highlight of the year. Beginning to make connections with our American counterparts for future partnerships was a wonderful opportunity. More importantly, seeing the Canadian musical Come From Away take the festival by storm gave me a great deal of faith that Canada can definitely play a major role in the next generation of great musical theatre.
"We're Opening Doors"
We were so delighted to be invited to participate as a renter at the new Daniels Spectrum and very proud to have brought three musicals to the revitalized Regent Park over the last two years (Falsettos, Once On This Island and Elegies). After these three productions however, we have decided to go back to the Berkeley Street Theatre in 2015 where we worked from 2007-2012. While our audience loyally traveled to the new Daniels Spectrum to see our work, we found it more difficult to drum up word-of-mouth in a new facility without the habitual esteem of an established theatre. Plus, there are some elements of the Berkeley Street Theatre facility that suited our work better artistically. As we say goodbye to the Daniels Spectrum for now, we are very proud to have been a part of its first two years and very grateful for the opportunity to try our work there.
"Gotta Dance"
In October we launched "Take the Stage". Nearly 100 amateur singers and actors came together on four teams to compete in this friendly fundraising event. Each team worked with a professional musical theatre artist on a song from the musical theatre canon. They had four hours to put their song together before presenting it for our panel of judges. Each team raised $2000 for Acting Up Stage Company as their entry fee. But more significant than the funds raised, I loved getting to see so many musical theatre enthusiasts up onstage performing. The joy and excitement was really infectious.
All in all, it was a pretty wonderful year. There are things in store for 2014-2015 that are making me jump up and down for joy! We can't talk about all of them yet, but stay tuned for many announcements in the coming months.