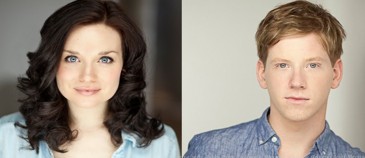 by Carly Maga
Last month, we announced our annual Syd & Shirley Banks Prize for Emerging Musical Theatre Artists winners, Alessia Lupiano and Graham Scott Fleming. These two emerging Toronto-based performers will be starring along side our cast of powerhouse Canadian musical theatre stars at our annual UnCovered concert next week. 
Graham was recently chosen to star in an Off-Broadway Musical in New York City called Somewhere With You (Bleecker Company) which was chosen as a Next Link production in the New York Musical Theatre Festival. He was also seen spreading love and peace to 46 states on the National Tour of Hair the Musical (Classical Theatre Project/ Starvox Entertainment/ Prather Entertainment). Other Recent Credits Include: Gabe in Next to Normal, Roger in Rent, Princeton/ Rod in Avenue Q, Smudge in Forever Plaid (The Lower Ossington Theatre). On top of theatre, Graham has made a name for himself in the country music scene, where he currently has a song airing nationally.
Alessia  is a recent graduate from Sheridan Institute's Music Theatre – Performance program. She began her professional career at the Grand Theatre in London, Ontario playing the title role in Cinderella.  She spent most of the past year travelling around the States and Canada singing "Turn Back, O Man" in the National Tour of Godspell (Moonglow Productions/Drayton Entertainment/VPP).  Other selected credits include Suzy in The Marvelous Wonderettes (Port Hope Festival Theatre), Shelley in Bat Boy (Black Sheep Theatre), and, most recently, as a Bunny/Crooner in Hugh and I (Bad Neighbour Prod).  Upcoming: Jamine in Aladdin (Port Hope Festival Theatre/Empire Theatre).
Our Audience Engagement Manager, Carly Maga, sat down with Alessia and Graham to pick their brains about UnCovered: Bill Joel & Elton John. 
Carly Maga: What songs will you be performing, and who will be singing with you?
Graham: I will be performing a mash-up of Billy Joel's "Just the Way You Are" and Elton John's "Don't Go Breaking My Heart" with Alessia. I will also be performing with Jake Epstein on Elton John's "Mona Lisas and Mad Hatters." 
Alessia: Along with performing with Graham, I'll be singing "For the Longest Time" with Kelly Holiff and Sara Farb. I'm a lucky lady. 
CM: Were you fans of Billy Joel and Elton John before working on this concert?
Graham: I was for sure a fan of both! I have been listening to their music for as long as I can remember. This night is going to be incredible.  
Alessia: Yes. So, so much.  I went to their Dueling Pianos concert a few years back and was in the very last row of the Air Canada Centre.  Even still, it felt like pure magic seeing both men on stage together.  It's an experience I'll never forget.
CM: What have you learned by approaching these songs with a musical theatre angle?
Graham: It's very interesting to see the emotional depth behind the lyrics. These songs aren't just words with a melody; these musicians have created characters and stories.  
Alessia: Musical theatre is definitely my background so I was thrilled to come at these songs from that medium.  Having the opportunity to create a storyline and follow through with it is incredibly rewarding to me.  I've loved the chance to put these songs together and collaborate to create characters from what the lyrics and music are telling us.   
For a sneak peek at this year's UnCovered concert, watch a video of Sara Farb and Kelly Hollif performing Billy Joel's "She's Always a Woman to Me" at actingupstage.com now.