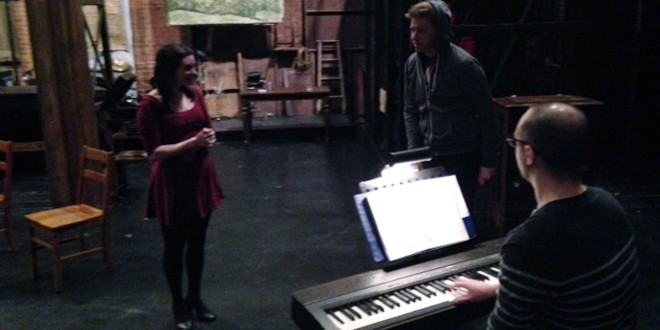 We should all be so lucky as to have Alessia Lupiano and Graham Scott Fleming in Toronto, if not for their astounding musical theatre talent but for their optimism and bright demeanor. Spread A Little Joy is the name of their upcoming cabaret, with director Ari Weinberg and musical director Adam White, this Sunday, March 1 at 8 p.m. Produced by Acting Up Stage Company to showcase this year's Banks Prize winners, Lupiano and Fleming will do just that with their curated evening of songs and stories.
Acting Up Stage: How does it feel to be working on your Banks Prize cabaret?
Alessia Lupiano: It's exciting, and nerve-wracking.
Graham Scott Fleming: It's really fun. It's funny. I actually didn't know a lot of musicals when I started all this and Alessia does, so this has been a huge learning experience for me. I didn't even know the names of some of the shows, let alone the songs.
AL: But then he opens his mouth and it sounds like he's been singing them for 10 years.
How did you choose the songs you're performing?
AL: For our first rehearsal after Christmas, we each brought in two songs, and [Ari and Adam] each had two songs, and we started with that. And each week I'd bring a song, and Graham would bring a song, and Ari and Adam would suggest things that they thought would work for our voices, and that was really fun, discovering new things I wouldn't have thought of. Or in the context of a cabaret, it works so much better than something I would ever pick for an audition.
GSF: What I think is great about our show is that these aren't necessarily songs that are normally done in a cabaret. [Ari and Adam] have a brilliant knowledge of musical theatre and so does Alessia, so we sat in Adam's apartment and he has a huge collection of books-
AL: It's stunning, it's like my heaven.
GSF: – I ended up with like two pages of songs, "Try this one, try this one." 
AL: Even songs that I was like, 'I don't know if I can hit that note.' Or, 'I don't know if I can pull this off from an acting perspective.' They just have so much faith in us, and encourage us to try new things.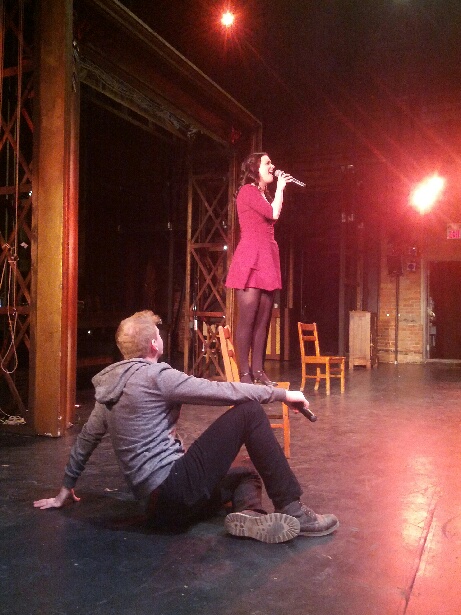 Where did the title Spread A Little Joy come from?
AL: It's our final song. It was originally a solo for me, from the aborted Betty Boop musical – which is quite appropriate I think, I would love to play that part – but then we started to talk about themes and who we are as people, we're both definitely very positive and doe-eyed people. So I put it forth as the title, and we changed it to a duet and it ends the show.
Can tell us a bit more about the songs you'll be performing in the cabaret?
AL: We're doing "Therapy" from Tick, Tick… Boom!, which was actually acting up stage's first show. So that worked well on all ends, it's one of both of our favourite duets. We're doing "Unworthy of Your Love" from Assassins, which is great also because Graham's a guitar player so we can take advantage of that and we also get to explore characters that are totally unlike anything we would typically play.
GSF: I feel like our cabaret takes you through the rollercoaster of emotions of a relationship.  
AL: Something we also wanted to add in, with our two final solos, is also being able to stand on your own two feet. So yeah, we do do a lot of duets about relationships, because we really clicked as people right from the get go. From the UnCovered concert, we realized we had good chemistry together. But we also wanted to show that in order to be in a good relationship, you have to be able to stand on your own and be content with yourself.
How does it feel to be doing the major event of your time as an Acting Up Stage Company Banks Prize winner?
AL: I can't believe how fast it went. I can't believe it's two days from now, that's insane.
GSF: It's been … five months since we first got the award? It's crazy. But we both have had some really amazing opportunities out of this experience. Stay tuned for new from both of us.
What are you most excited to show in Spread A Little Joy?
AL: I think that we show a lot about who we are and where our passion for musical theatre lies. And I think one of the really lovely things that Ari suggested this year was to make it a showcase of ourselves and what we want people to see of the range we can do. And when else would you have the opportunity to do that, ever? I feel really lucky to be able to do that.