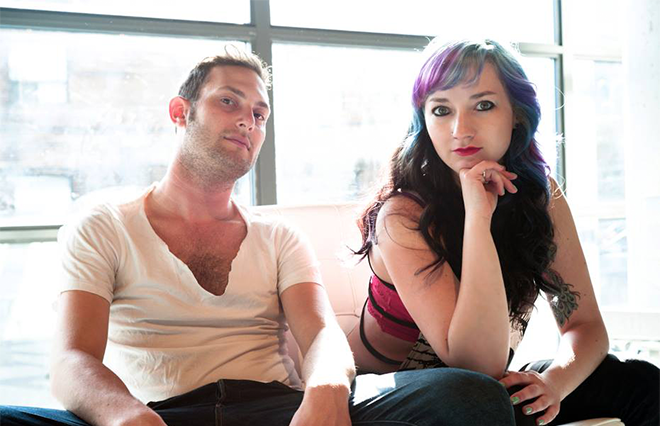 Welcome to another instalment of our popular Playlist!  This week features Toronto-based songwriting team Akiva Romer-Segal (Lyrics) and Colleen Dauncey (Music).  Check out the inspiration behind their new show Bremen Rock City!
Music is a key element in any musical theatre show, but in our family rock musical Bremen Rock City (currently playing at the Palmerston Library Theatre until July 14), music is also a central theme. It drives our characters forward, brings them together, tears them apart…and (spoiler alert) brings them all back together again.
Although the show is only an hour long, the score features nine songs – each one of them a different interpretation of what "rock" can mean. We wanted to share with the audience, especially the kids, a diverse range of styles and inspire them to pick up an instrument no matter what sort of music they are into. Below you can see which songs and styles inspired the Bremen Rock City setlist.
"Soundtrack" inspired by "I'm Yours" by Jason Mraz
Our opening song introduces Jack, a restless donkey so inspired by the music surrounding him that he can never quite get his farm work done. After a few attempts at writing an epic opening song, we decided to go a different direction and write our version of a "summer jam", one of those perfect songs for sitting on a dock by the cottage or laying on the beach with friends. We have both been longtime Jason Mraz fans and his smash hit "I'm Yours" is a great example of the tone we wanted to achieve. Between the laid-back strumming, uplifting melody and rhythmically clever lyrics, it helped us settle on the perfect tone to start the show.
"What Hit 'Em" inspired by "Cross My Heart" by Marriana's Trench
Growing up in the 90's, we both developed an affinity for catchy pop-punk songs. In fact when Akiva first started songwriting he was basically trying to be the next Good Charlotte! When it came time to write our road-trip montage sequence, we drew inspiration from the driving drums and guitar hooks of this genre, and put our own spin on it in the song "What Hit 'Em". Some of the best contemporary examples of this genre are coming out of Canada, with bands like Mariana's Trench, Simple Plan and The Little Black Dress (whose lead singer Dan Sadowski provided the vocals for our demo!). 
"Spotlight" inspired by "I've Been" by Next to Normal
We have developed a fondness for musical theatre songwriters like Tom Kitt, Lin Manuel Miranda, Duncan Sheik and Pasek & Paul. They write songs that manage to both sound perfectly at home in the contemporary music scene and on the radio, while also serving their dramatic purpose and telling the story at hand. Next to Normal's beautiful ballad "I've Been" is a perfect example. Tom Kitt originally wrote this song for his rock band, and lyricist Brian Yorkey asked if he could use it and adapt it for the father character in the show. It is melodic, honest and heartbreaking… all things we were looking to capture in Bremen Rock City's big ballad "Spotlight".
"Trash" inspired by "Save a Horse, Ride a Cowboy" by Big & Rich
Growing up in Calgary, we were exposed to country music constantly and developed a fondness for the genre at country bars and the Calgary Stampede. We wanted a gritty country song to greet our ragtag band of animals in the scene where they first arrive at the Swollen Udder – the charmingly grungy venue for the Bremen Battle of the Bands. When writing a country song we realized it was important to not only capture the musical style, but also the lyrical vernacular, which is a lot less formal and uses everyday imagery in poetic and clever ways. For inspiration we drew from songs like Garth Brooks' "Friends in Low Places" and Big & Rich's "Save a Horse, Ride a Cowboy".
"High Note" inspired by "Livin' on a Prayer" by Bon Jovi
Colleen has always had a soft spot for classic rock, so for our rousing finale we wanted to create our version of a rock anthem. A good anthem just takes over, and you can't help but sing, clap and rock along with it. We took our cues from classic 80's bands like Journey, Queen and of course this Bon Jovi classic, and put a family-friendly spin on it. 
Akiva Romer-Segal (Lyrics) and Colleen Dauncey (Music) are a Toronto-based songwriting team. Their songs have been performed in cabarets and concerts across North America. Their debut song cycle entitled The Subway Songs was produced in Toronto in 2010, featuring some of Canada's top talent. Colleen and Akiva received a grant from FACTOR (Foundation Assisting Canadian Talent On Records) to record demos with Canadian producer and arranger John Alcorn.  The duo was selected to participate in the 2011 Johnny Mercer Songwriters Project in Chicago, a prestigious week-long songwriting intensive that "hosts the nation's most promising songwriters across all genres", where they were mentored by Craig Carnelia, Marcy Heisler and Lari White. This experience culminated in a public performance alongside the likes of Charles Strouse and Christine Ebersole.