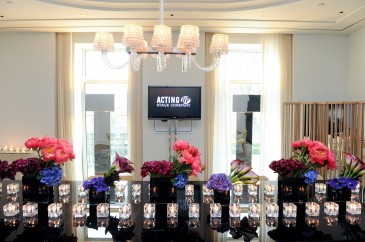 The Daniels Residence is ready for Acting Up Stage's Virtuoso fundraising event
by Nathaniel Bryan and Louis Charpentier
In light of our recent Virtuoso fundraising event, held a little over a week ago in which individuals renewed or pledged three-year monetary commitments to Acting Up Stage, we decided to interview one of our inaugural Virtuosos. Louis Charpentier, who has been a Virtuoso since 2011, didn't know of Acting Up Stage before a friend introduced him to our work, but he's been hooked ever since! Nathaniel Bryan sat down with Louis to discuss the importance of Acting Up to him.
NB: How did you first hear about Acting Up Stage? What was the first production you attended? 
LC: Bob and I first learned about Acting Up Stage through our friend — and yours — [Acting Up Stage board member] Richard Sniderman, who persuaded us to attend a musical about which we knew nothing and that was being offered by a company about which we also knew nothing.  That magical experience was Light in the Piazza.  We were smitten!   
NB: What do you think makes Acting Up Stage a truly unique company in the crowded Toronto landscape?
LC: It offers "pure" theatre:  consistently intelligent plays on timeless (and often difficult) themes; simple, elegantly-imagined staging; unquestionably superb musicianship; and, of course, excellent actors whose passion for their craft is palpable.  Acting Up celebrates text, music and stagecraft and no one element is ever sacrificed for the others.  And, Acting Up's essential educational mission reflects a commitment to the future, to ensuring that quality and talent will continue to be fostered and that thought-provoking, challenging work will continue to offered. 
NB: If you could choose one show for Acting Up Stage to produce, what would it be and why? 
LC: Cyrano — we have a recording with Brent Carver and Patricia O'Callaghan from 2003 that is profoundly moving with some truly breathtaking music.  I have no idea if this is a realistic suggestion but if anyone could re-create the intellectual and emotional layers of Rostand's imagination, Acting Up could! 
NB: Please describe Acting Up Stage in exactly 4 words.  
LC: Brilliantly pure musical theatre. 
NB: What Acting Up Stage production has had the most lasting affect on you and why?
LC: Each play has had its own impact, always leaving lingering melodies and scenes that are replayed over and over in our minds for days after the play.  However, Light in the Piazza has probably had the most lasting effect — perhaps because it was our first experience with Acting Up; perhaps because it was a surprise to see and hear so much highly-developed talent; perhaps because it was a discovery or re-discovery of uniquely-conceived theatre in a time and place of formulaic and over-the-top productions.  Or, perhaps because the play touches so well and so courageously on so much of what makes us human, vulnerable and strong.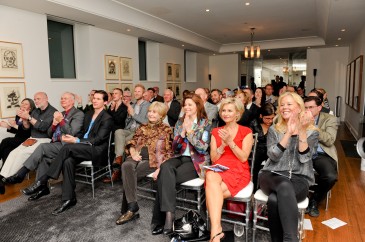 Virtuosos enjoy the performance offered at the event.
To find out more about our Virtuoso program, please click here.