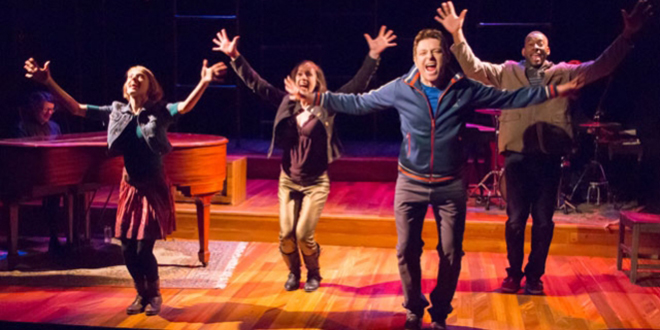 It has been a long and quirky road for Do You Want What I Have Got? A Craigslist Cantata by Vancouver's Veda Hille, Bill Richardson and Amiel Gladstone of Theatre Replacement. Ever since it began out of a 20-minute sample commissioned by the PuSh Festival and Theatre Conspiracy in 2011, it has evolved into a full-length show and toured from British Columbia to Calgary to the Yukon, including a stint in Toronto with Acting Up Stage and Factory Theatre in 2013.
As the show nears the end of the its tour with a run in Ottawa's National Arts Centre from Nov. 12 to 22, we spoke to director and co-writer Amiel Gladstone about the journey.
How long have you been working on A Craigslist Cantata by now?
I was brought on by Bill and Veda for the very first version which was part of an evening at the PuSh Festival in Vancouver in 2011. There were four 20 minute musicals, of which the Craigslist Cantata was one. I remember that it was 8 songs and, and 23 minutes. 
What has been a standout memory from all the places Craigslist has toured since it premiered in Vancouver?
 As the director I haven't always been able to go to all the places the show has been. I've loved feeling the way audiences are different across the country and how the show plays in all the different spaces. Even though other cities seem to be more "Kijijij" than "Craigslist" the way Vancouver is, the show seems to strike a chord. 
What have you loved about touring the show around Canada?
There is a real joy to bringing a show that originally was built in Vancouver.  It felt like in the past productions were more often coming from Toronto and headed this way, and now it feels much more like there is work moving all around the country, in various directions. I feel proud that we made a new musical from virtually the ground up and it's a testament to all the talented folks who have pitched in and helped create it.
What excites you about the Ottawa production?
 I love coming to the NAC. I've been here twice before (with a show I had written for the Caravan Farm, and with Veda's first opera Jack Pine) and I love how so many of our most vibrant artists are wandering the maze of back stage corridors here. It feels important. I feel honoured. Ottawa audiences are some of the luckiest in the country – they get so many of the exciting shows every year, I'm looking forward to seeing how they respond.
Have you ever bought answered a Craigslist ad, and if so, for what? 
I have used Craigslist a lot. I have bought Canucks tickets, computers, couches, vintage suitcases, a coffee grinder, headphones, secured rides for Montreal to Toronto, Kelowna to Vancouver, a sublet in Paris, and much more. I often go there first before I buy something new.