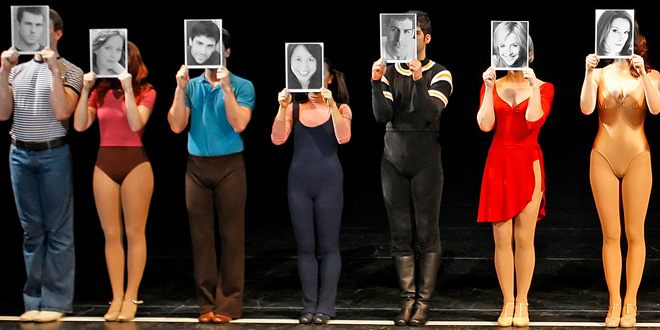 God I Hope I Get It. I Hope I Get It. How many people does he need?
Those opening lines of A Chorus Line ring in my head every time I am heading to auditions. Dozens of hopeful, incredibly talented individuals, vying for a few roles in a production. 
Sitting on an audition panel is always a humbling, inspiring and exhausting experience. This past week, I had the great privilege of seeing 60 artists for 9 (remaining) roles in The Wild Party – our winter production in association with Obsidian Theatre Company.
Here are the things that I am always surprised by, even after 11 years of audition panels and decisions:
1.    There are so many actors in Toronto!
Oh my goodness. We received 443 submissions for 9 roles (205 men for 6 male roles, 238 women for 3 female roles). That's nearly 50 hopeful people for each role that we have to cast. If we spend 30 seconds with each resume, it takes nearly 4 hours to go through them all. We had room to see 60 people (1 in every 7 submissions). Sure, there are always a few headshots and resumes that you can easily weed out due to simply being the wrong "type". But on the whole, there are a lot of talented people who could be very appropriate for each role in the production but can't be seen due to the sheer volume of submissions and the limited amount of time a small company has for casting.
2.    Rooting for people is nerve-wracking.
I remember as an actor, I always used to feel that the people behind the table were looking for a reason to hate me. The truth is though, that everyone behind that table is rooting for each and every person auditioning. We want the production to be SO good. And there is nothing more exciting than when an artist walks in the room, perfectly embodies a role and you begin to see the musical come to life before your eyes. I crave those moments. And so, the minute an actor begins performing the material we have asked them to prepare, I find myself more nervous than I used to be when I was actually the one auditioning! I really want them to be fantastic.
3.    There are many ways of being right
Here's how we structure our auditions: Performers are given material from the show to audition with. They come in, perform the material and then they receive feedback from the director and musical director and get to try the material again. I am always amazed at how many ways there are of playing a character, many of which could work. Even after receiving the identical feedback from the director and musical director as the last person to audition for that role, the interpretation of the direction can be very different, and often, very valid. That is what makes theatre so exciting. The words and notes can remain exactly the same, but each new prospective cast member endows a role with new colours and shades.
4.    Know who the hardest working person in the room is?
… the pianist. Holy moly! Tara Litvack – bless her – played the most impossible Michael John LaChiusa music for 2 days straight and didn't miss a beat. Everyone should give the pianist a giant kiss after their audition as that individual maintaining his or her energy and consistency is key in making the auditioner look great.
5.    Casting sucks.
After we finished seeing 60 people, we discussed everyone's auditions and put the headshots on the floor to examine different combinations and permutations. Finding consensus is very challenging. Final decisions are rarely reached there and then, and there is lots of examination and "sleeping on it" as you weigh the best options for the production. Most significantly, you know that you are going to disappoint 85% of the people who worked their butts off, auditioned beautifully, and still won't be cast. And while it's really more about finding the right combinations than anything else, you know that many will take the lack of offer personally as rejection. It doesn't feel good to deliver that news, especially when you have deep admiration for the artists.
So – as we near the end of our Wild Party casting process (yes… for anyone reading this who came in to audition, we are still deciding about several roles so don't despair!), I want to thank everyone who submitted for the project, everyone who came in to audition, and everyone on the creative team who really gave their complete attention and energy to this project for two very full days.
We look forward to sharing what will be an UNBELIEVABLE cast with you in November. Stay tuned!