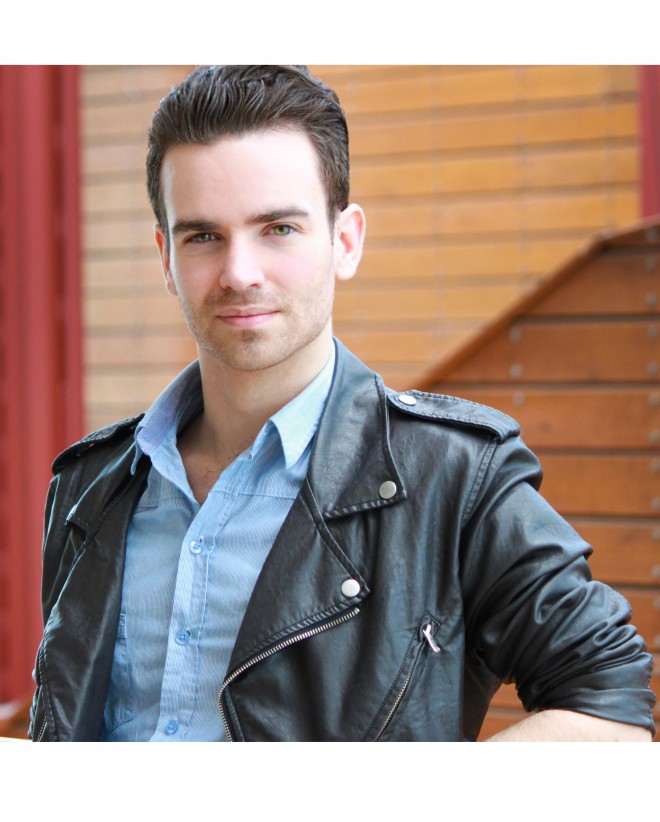 Elegies: A Song Cycle has only 10 performances left, and we're certain you don't want to miss the show the Toronto Star gave 4/4 stars to. As if that isn't enough, you certainly want to check out Joel Gomez, the newest cast member in the production, in his first professional Toronto musical. A recent graduate of Sheridan's Performance Musical Theatre Program, this is just the beginning for Joel and we are so psyched to see what he does next!

What musical's score will you always remember?
Sweeney Todd.  I was sixteen, knew only Phantom, West Side Story, and Wicked, and thought I should probably learn to sing properly. I took up lessons, and I don't know how he did it, but my voice teacher managed to convince me that performing in a musical about "a barber that kills people and gives their corpses to a lady who bakes them into pies" would be great fun. So there I was, at Theatre Aquarius, taking on my first musical about revenge and gore. My grandma loved it.
I had the opportunity to revisit the show again seven years later, while I was in my final year at Sheridan, and that's when I noticed how profound an effect the score had on me. I remember Jeffrey Huard playing, and this angelic soprano, Andréane Bouladier, rehearsing "Green Finch", and all the memories flooded back, and I just welled up over that warm nostalgia. Then came the fortississimo at the end of "Johanna", and all the butterflies flew back. When I was sixteen, I played Tobias, and my first entrance was during this very moment in the song, and yeah… my heart just began to pound as if I were about to go on again. Even after all these years, something in that score had clung to me, and I've happily clung back.
What musical's book or virtuosic acting will you always remember?
If I'm not allowed to use Sondheim again, then… it's hard to say. I think, in some ways, it ends up being what I'm working on. Elegies is a meaty piece to sink my teeth into, and I'm falling more and more in love with it as we go.
What musical's choreography will you always remember?
I don't know if there's one particular musical that I could put my finger on, but there are a few numbers that I enjoy that aren't even necessarily from the stage; Vera-Ellen and Gene Kelly in "Slaughter on Tenth Avenue" in Words and Music, or watching Vera again with John Brascia in "Abraham" from White Christmas. On the flip side, there was always something refreshing about seeing Spring Awakening's choreography for the first time. So irreverent and perfect.
What's your guiltiest pleasure musical?
I spent my awkward teenage years listening to a lot of film, television, and video game scores. So, when I stumbled upon The Lord of the Rings: Original London Production soundtrack.. it was heaven. "Lothlórien" sweeps from this driving, fantastical, almost tribal pulse into this lush, majestic bridge sung effortlessly by Laura Michelle Kelly. I could listen to those fluttery melismas on repeat. And, I still yearn for the day that I find a Frodo who will sing "Now and for Always" with me.
What movie or book would you love to see musicalized?
Oh, there's a new one every day. How 'bout Hunger Games, the folksy, alt-rock blood-bath musical… and produce it in instalments over a few years? I'd go see each one.
What is your dream role that you'll never get to play?
Mrs. Lovett. I learned "Worst Pies in London" before "Not While I'm Around."