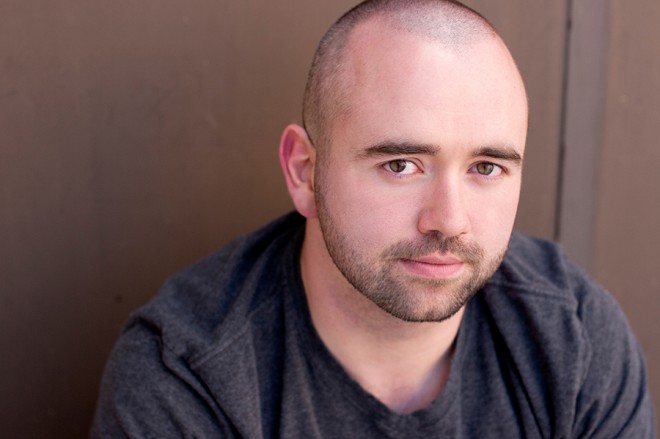 Tonight we start previews for the final show of our tenth anniversary season: our reimagined revival of our hit 2007 production of Elegies: A Song Cycle. But as the Elegies cast puts the finishing touches on their awesome show, our Banks Prize winners are working hard getting their cabaret, Cabaret Sauvignon, into prime form. Before they perform on March 30 and 31, we asked them what makes their inner theatre geek sing: here's what Jordan Till had to say. 

What musical's score will you always remember?
My parents brought me to see Les Miserables in Toronto when I was 4 and I still credit that show for being one of the main galvanizing influences that led me to pursue this as a career. Others of the time like Phantom of the Operawere also major influences but Les Mis really stuck with me, as I know it has with many others. While there are many shows with scores that I absolutely love, I think Les Miserables has had the most lasting impression.
What musical's book or virtuosic acting will you always remember?
I would probably refer to the answer I gave to the last question here as well simply because of the impact it had on my decision as a child to pursue the arts. That being said, I also have a real love for musicals that are a little dark. I think many people unfairly stereotype musicals as light and two dimensional forms of entertainment, and while there are many shows that serve the purpose of being happy and energy filled, there are also those that really delve deep into some pretty strange places. I have a real love for the obscure, like Little Shop of Horrors, Pippin, most projects that Fosse or Sondheim were part of… I love Sweeney Todd… That sort of stuff. 
What musical's choreography will you always remember?
It's a shame that choreography can often get overlooked, and I've always really loved it when certain shows get known for specific choreography or numbers such as West Side Story or the bottle dance from Fiddler on the Roof. What I like most about Fiddler is it's ability to showcase some pretty spectacular choreography while still maintaining a world full of regular people in real life situations; there's no disconnect or "time to dance now" sensation that you can sometimes get in other shows.
You're on a desert island and can only bring one cast recording: which one is it?
In College, I was blessed with the opportunity to be cast in The Most Happy Fella. That was a life-changing experience for me in many ways, and I had the chance to grow so much and work with some of the best people in the business. When I hear that music, it always brings me back, and always raises my spirits. I suspect that would be a good thing on a desert Island. 
The trick, of course is to be the guy who gets stranded on a "dessert" island. 
What is your guiltiest pleasure musical?
While I haven't seen the Stage version of it yet, I LOVED the movie Newsies as a child. That soundtrack still gets me pumped up and I could probably quote the whole movie. 
What movie or book would you love to see musicalized?
I always joke and say I'm waiting for The Godfather the musical. I'll stick with that answer. 
That or Scarface. The angry act two power solo "Say Hello to my Little Friend" a la Andrew Lippa… The possibilities here are truly endless… endless AND spectacular.