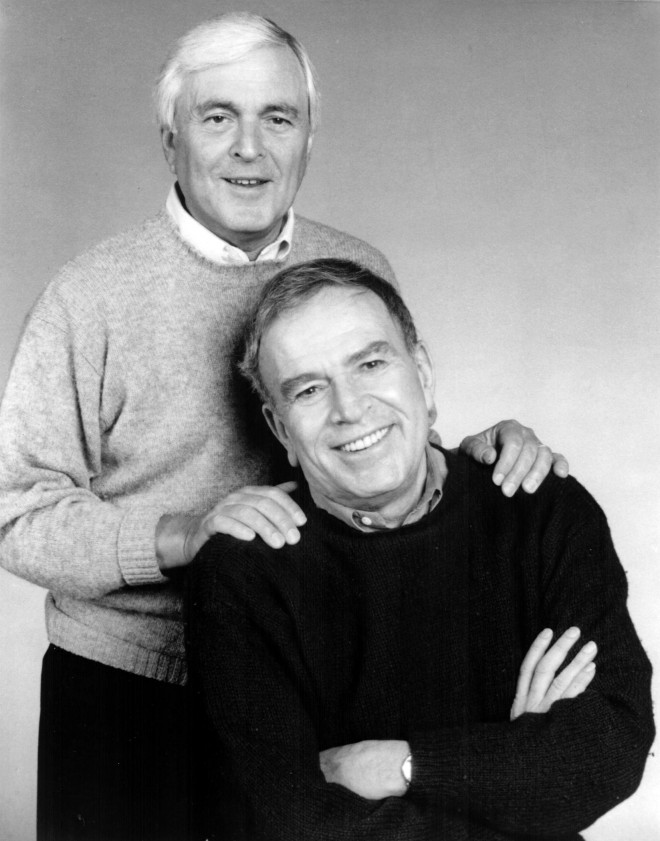 Rielle Braid is a Toronto actress and writer, and just completed a successful cross-Canada tour of the Dora award winning musical hit Ride the Cyclone. Her first play, Boygirl, premiered at the Victoria Fringe Festival four years ago. Her upcoming Cabaret, A Casual Cabaret with Rielle Braid is June 18th, at the upstairs cabaret space at Theatre Passé Muraille (click here for details). It will feature fellow actors from Ride the Cyclone, and original written material by Rielle.
---
Singer songwriter teams are so wonderful. The very notion that two artists have found a part of their soul in the other is so incredibly special. So specific. What one lacks, the other provides. The trust, the vulnerability, the honesty. It's everything art should be. I like to imagine when these teams find each other, they can physically feel a change in themselves, almost like they found a twin.
Of course, I'm sure the working process had bumps, and maybe it's not quite as romantic as I make it out to be, but I still feel sad when I think about my favourite musical theatre songwriting team, John Kander and Fred Ebb being without each other. The risks they took in their art, the joy they so authentically seemed to share when they wrote and performed together, is a beautiful lesson to artistic teams everywhere. Look how rewarding and full a partnership can be.
It was a difficult list to break down, because I was so tempted to include five songs from each of their best shows, but I think I've made a good compilation.
5. Where You Are (Kiss of the Spiderwoman)
It's true that a lot of the best musicals have a number that expresses to the audience exactly what most musicals intend to do: forget your troubles and be carried away to another place. Kander and Ebb created some of the most thought provoking musicals ever, and what I love about this number is it puts a focus on the person who wants to forget. It's heartbreaking because, his troubles aren't gone, but even in a prison cell, he perseveres with a dream. And Chita performs this as if LIFE depends on grace, style, and joy, while Brent Carver's eyes sparkle with innocence. Who hasn't imagined they were somewhere else?
4. All that Jazz (Chicago)
This is the sexiest, smoothest, coolest song. A boozy, bitter lounge act that still finds the love and art in the lives of 'jazz'. Music and performing is the only real thing to love in their world. Screw everything else. I'm no one's wife, but oh I love my life. How perfect is that? That's jazz. Lose yourself in the music. And what's also fabulous about this song is how much it seems like an old standard that people would go to a jazz club to hear Velma Kelly perform. It's such a realized song that it completely tells the story of where we are and who's telling us what. I chose Chita's version for the rough, hard drinking feel she gives it.
3. Sing Happy (Flora the Red Menace)
This is a song that could so easily be a saccharine, flouncy piece sung by your average musical theatre wannabee. But when Liza sings Kander and Ebb, it's like their true meaning shines through. She is so raw and honest. This isn't a song about singing a happy song about flowers and spring because those are nice things; this is a song about needing those things and remembering those things when you need them most. The notes Liza hits in the last portion of this number are acting beats given by Kander and Ebb, to show us how real and overwhelming a need to sing about the good things is. And no one hits big notes the way Liza does. It's like she'll die if she doesn't sing that high.
2. Mister Cellophane (Chicago)
Probably one of the best musical theatre songs ever written. It's one of a kind in the show it's in, in terms of tone, and it truly elevates Chicago, an already solid show. The song is also a great stand-alone piece. I love both Joel Grey and John C. Reilly's version, but I picked John's because I love the darkness in this interpretation, and I have to say, John holds the 'knooooooowww' note perfectly, and then ends it with the saddest sound. That's some storytelling. Love that simultaneous singing/acting.
1. Cabaret (Cabaret)
Call this predictable. I don't care. I truly believe this is the best musical theatre song of all time. I don't believe anyone will be able to touch Liza's interpretation, which is why I chose her performance of it. But truly what makes this song special is the spirit of it. It truly sounds like someone breaking free of the oppression of misery to live a strong, passionate life. They must, to get by. This song is essential musical theatre philosophy. Try and break free of your troubles, and live your life the way you were meant to live it! (Also, Liza's final 'ca-BAAAAH-reeeet' is raw, real, legit singing. Give me that forever.)
HONOURABLE MENTIONS:
---
I Don't Remember You (The Happy Time)
Simple, beautiful, character development.
Both Reached For the Gun (Chicago)
I could listen to this song at any, ANY time. Clever, quick, amazing storytelling.
I Miss the Music (Curtains)
I wanted to include this song on the list for sentimental reasons alone. When Ebb died while working on Curtains, Kander clearly wrote this for him. It's a beautiful, honest account of friendship and partnership. Jason Danieley, one of my favourite tenors, sings this beautifully. Let the lyric "I miss my friend" get you misty-eyed. RIP Fred Ebb.