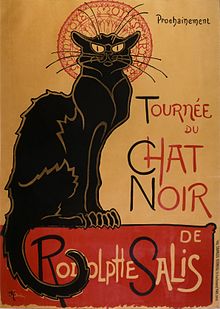 The Toronto theatre scene is a bustling community continually presenting new productions from contemporary musical theatre to Shakespeare's great classics.  However, there is one niche genre that is quickly jumping to the foreground and growing in popularity with Toronto theatre artists: the cabaret.
The origins of the cabaret began in Western Europe, specifically France, where the first modern cabaret was opened in 1881 in Paris called Le Chat Noir. At the nightclub, patrons sat at tables and drank alcoholic beverages while being entertained by a variety show on stage, introduced by a master of ceremonies who interacted with people he knew in the audience.  Other cabarets quickly opened in the wake of Le Chat Noir's success including the world famous Moulin Rouge. The cabaret form quickly spread across Europe with new venues opening up in countries including the Netherlands, Poland, and Germany (most famously depicted in the musical Cabaret).
Cabaret continues to thrive all over the world and specifically in Toronto where cabaret artists perform all over the city.  The term "cabaret" is loosely used in Toronto but most commonly refers to a performance in a non-theatre venue hosted and performed by a cabaret artist (most commonly also an actor or musical theatre performer) where they perform songs, tell stories, and banter with the audience.  Some of Toronto's most famous cabaret performers include Sharron Matthews (Acting Up Stage Associate Artist), Brent Carver, and Mike Ross. 
While many cabaret artists are seasoned veterans of Canada's theatre scene, cabaret is quickly being used by emerging artists to show case themselves to the theatre community.  Toronto-based actor/singer Michael Hughes is one of these performers who has used cabaret to increase his profile in the city,
"For an emerging artist, a Cabaret can be an awesome showcase. You have the freedom to create something that highlights your specific talents (talents that may not be so evident when asked to sing 16 bars at an open call [audition])". 
However, he warns against simply turning your cabaret into a talent show,
"When choosing material for your show, ask yourself WHY? WHY are you telling this story? WHY are you singing this song? And just FYI, "I sound good singing this song" is not a good enough answer. If that's all you've got, best to save it for the shower".  
At the end of the day, Hughes believes the most important aspect of a cabaret is the audience-performer relationship,
"As an artist, I feel most fulfilled when I have made a connection with an audience. Telling my stories was just the way I was able to connect". 
On the other side of the spectrum, Ride The Cyclone star Rielle Braid, a newbie to cabaret, recently premiered her first cabaret at Theatre Passe Muraille in mid June,
"I learned SO much, it was an incredibly rewarding experience. It was probably the most vulnerable performing experience I've ever had, because in shows, I always have fellow cast members that are helping me (and I'm helping them) tell a story and build something. Even though I had guest performers, and Chris Tsujiuchi playing fantastic piano, I was mostly singing solos and telling stories alone. I learned a lot about what works when telling personal stories, and what doesn't". 
When asked if she thought cabaret was easier than performing in a musical, Braid revealed,
"I get neurotic about performance, so I never think anything is going to be easy. And it usually isn't, but it ends up being rewarding and engaging. This was difficult in terms of making sure I pushed myself to book my own rehearsal time, booking my own venue, marketing my own show etc. That was all very new for me. But I LOVED it. It was difficult, but in a very rewarding way." 
Braid believes cabaret is essential for young artists to showcase their talent,
"I think one of the reasons we see young performers creating shows is because we have so much talent in theatre today. People know that opportunities are rare in the acting world. It's a tough business. So instead of feeling defeated and sad when there isn't work for 3-6 months, or a year, people choose to create something of their own and promote that so they keep their career going, and push themselves as artists. It's very inspiring".
Cabaret continues to thrive in Toronto and we can expect to see more and more artists using this form in the future!