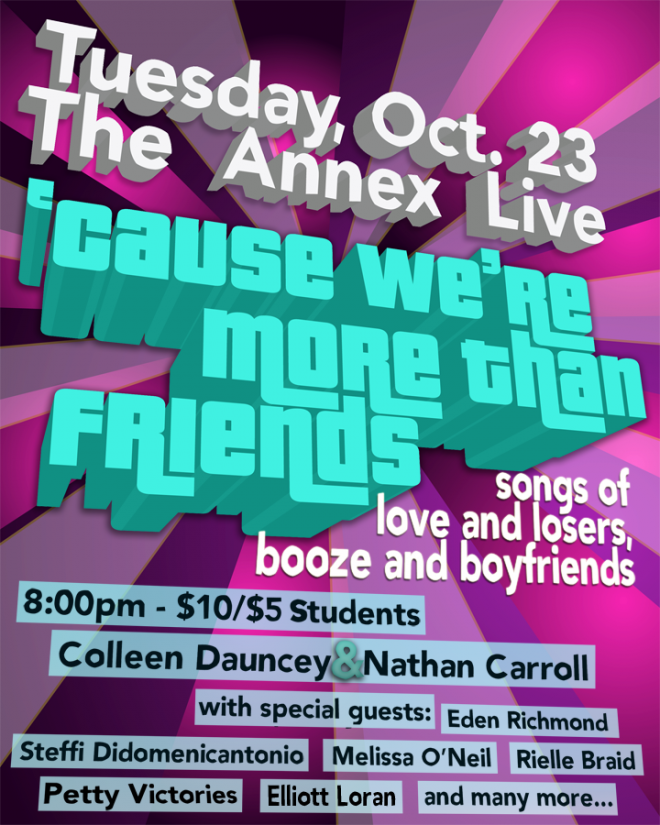 Today we have a very special triple Triple Threat ! In honour of their upcoming Cause We're More Than Friends Cabaret on Oct 23, we've sat down with Colleen Dauncey, a delightful up and coming music theatre composer and member of Petty Victories, Nathan Carroll, an emerging Toronto based cabaret artist and performer and Acting Up Stage stalwart Thomas Swayne, actor and music theatre producer. Cause We're More Than Friends is a celebration of camraderie through choruses and break out showtune hits.
---
What musical will you always remember for its choreography/dancing?
Nathan: Urinetown, for its endless energy, and a moment I'll never forget, when someone goes behind the piss-stained wall, and appears to be pulled by their head and feet—stretched out to both sides of the wall. Theatre magic.
Colleen: A Chorus Line, my mom took me to see it as a kid and it's what made me want to dance… and wear lots of spandex (which I did, in the early 90s).
Thomas: Definitely Newsies! It was one of the first movies that made dancing cool for boys…and now it's on stage!  Watching them all jump, flip, and leap on stage was incredible…I should take more dance class.
What musical will you always remember for its music?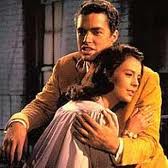 Nathan: I think West Side Story is the most beautiful score ever written for the theatre.
Colleen: I wholeheartedly agree with Nathan, the music in West Side Story is stunningly pretty and witty and bright.
Thomas: A Little Night Music for sure. I had absolutely no interest to see this show until Mitchell [Marcus] told me it was a must-see. This was my first Sondheim show and began my obsession with his work. His music tells stories and is an actor's dream.
What musical will you always remember for its book/virtuosic acting?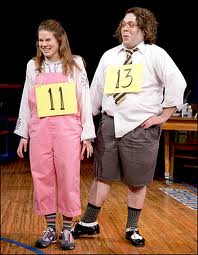 Nathan: Can I say Sondheim's entire canon? Sweeney Todd, Sunday in the Park with George, Assassins…
Colleen: Again, I'd have to say A Chorus Line – maybe not virtuosic, but very raw and real. I especially appreciated it after watching the documentary Every Little Step.
Thomas: The 25th Annual Putnam County Spelling Bee. One of the most funniest shows ever written. The musical has such a perfect structure and the improvisational elements give the show an energy that no other musical can compete with. Every night is different…literally.
What musical theatre star would you like to be more than friends with?
Nathan: Cheyenne Jackson. And then I want to have brunch with Seth Rudetsky the next morning to talk all about it.
Colleen: I'd like to stay up all night hanging out with Lin-Manuel Miranda, and maybe one day he would write a kickass song about our time together!
Thomas: Patti LuPone. I would love her to belt my face off and then cook me an Italian feast.
What musical theatre duo (real or fictional) do you think should just get a room?
Nathan: Carroll and Cheyenne Jackson.
Colleen: Guy and Girl from "Once": The Musical. Of course, the beauty of the story lies in the unrequitedness, but doesn't part of you just kinda want it to work out – just once?
Thomas: I feel bad for exposing them but definitely Nathan Carroll and Colleen Dauncey. I get that they were More Than Friends but honestly…get a room.
---
Cause We're More Than Friends: songs of love and losers, booze and boyfriends plays October 23 at 8PM at The Annex Live. Tickets are  $10, $5 for students. For more information: https://www.facebook.com/events/229381590524999/