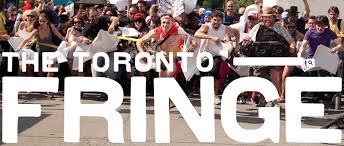 By Ari Weinberg
In May, I got a call from some friends to see if I would be interested in directing their show at the Toronto Fringe Festival. Hugh and I was a musical based on the life of Hugh Hefner and the creation of Playboy Magazine; its libretto, score and lyrics were written by a team of writers who had all had previous Fringe hits. A great testing ground for new works, the Fringe selection is lottery based. So the writers of Hugh and I had known they had a space in the festival since November of 2013 and had worked through several drafts of the material before the creative team and cast were assembled in May.
Whenever someone says the words "Fringe" and "musical" in the same sentence, I immediately think of The Drowsy Chaperone; it's a legendary show in Canada, having started as a spoof wedding gift that turned into a Fringe show that was picked up by Mirvish and eventually ended up on Broadway. Other musicals that premiered at the Fringe have gone on to success beyond the festival. My Mother's Lesbian Jewish Wiccan Wedding and Top Gun! The Musical both had New York workshops and productions across North America. So the bar has been set pretty high for what a new musical at the Fringe can achieve.
While the Fringe offers many benefits for exposure, it does not negate the massive amounts of work that go into creating a new musical. Hugh and I required a cast of 8. The concept was to tell the story of Hugh Hefner through the eyes of the Playboy Bunnies; that meant that a male would play Hugh and all the other roles (male and female) would be played by seven women.
A cast of eight is large for a Fringe venture, especially when no one is getting paid (well…you split your profits at the end, but there is no guarantee as to how much- or how little- it will be). Scheduling the entire team of writers, the cast, musical director, choreographer, costume/set designer and props mistress was a rare and magnificent feat that took incredible patience and skill from our stage manager.
With little opportunity to workshop the material in advance, much of the show was tested on its feet during rehearsals. A scene could be re-written on the fly and songs would be scrapped over night, which meant new melodies and lyrics had to be learnt the following day. The cast of Hugh and I were musical theatre machines, learning harmonies, choreography and blocking fast and furiously during a rehearsal period that amounted to approximately 2 weeks plus 3 hours of tech time on the stage. There were 16 songs (7 of them were large production numbers), 9 scenes, over 60 costumes and a running time of an hour and twenty-three minutes.
This year, the Fringe had 150 productions playing at over a dozen venues across Toronto. Strong word of mouth is essential to a show's success at the Fringe and we were lucky, almost a thousand people came out to see the premiere of Hugh and I. While it still needs work and re-tooling, the Fringe offered the creators of Hugh and I a chance to see it realized on its feet in a low budget production. What will happen next? Who knows, but the hard work that went into it was enjoyed by many.