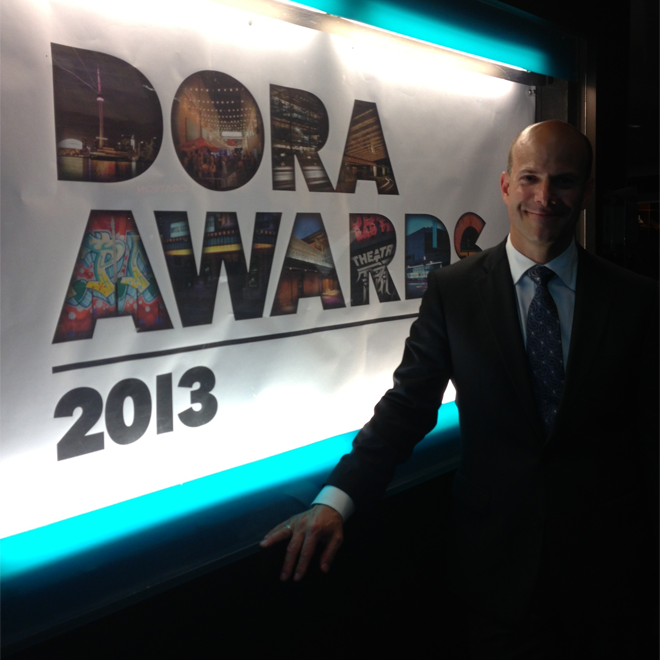 7:30 am:
Eyes open but I don't want to get out of bed. I decide to honor the day by playing March of the Falsettos (the entire album) while I lie in bed and reflect on the amazing experience I had playing Mendel.
8:30 am:
Brush my teeth (yes even Dora nominated folks brush their teeth!). Then my ritual is to check Facebook. I am loving the many messages wishing me good luck at The Dora Awards!
9:15 am:
Prepare for the day: eat eggs and make a list of the things I need to get done. Busy day ahead! The list includes: fuel up with coffee (a Starbucks pit stop), find something to wear to the Doras (nothing like leaving it up to the last minute)…etc!
10:30 am:
I am finally out of the house and feeling like there is still time to get everything done and have time to chill out and get ready for the VIP Party at The Sony Center at 5:00pm….little did I know what was about to happen….
10:45 am:
With a huge secret smile on my face (figuring no one at Starbucks knows that I am nominated for a Dora Award!) I order my non-fat Cappuccino with one Splenda (have to look slim for the big awards show!). In a last second decision, I add a spinach egg wrap to my order (what the hell, it's a big day!!).
10:55 am:
Here is where the day gets interesting! I go back to my car, put the key in the ignition…and, yes folks…the darn thing won't turn! My ignition lock breaks and I am sandwiched between two cars in the Forest Hill Village! NOOOOOOOO! not today…..not on my big day!
11:00 am – 2:00 pm:
I walk to a nearby auto shop, the mechanic says, "Sorry, but you're  &*%#ed!"  I call my pal (amazing actor, Jason Blicker) who immediately comes to help and keep me calm (he's rooting for me to pick up a trophy later that evening). I call CAA and now the waiting begins!
Pete — the "rough around the edges" tow truck driver arrives and says, "I can't get the car out of there without ruining the car". I tell Pete that if he can, and if I win a Dora Award tonight, I will thank him BEFORE I thank my Jewish Mother and my Agent (in that order, I'm no dummy!)! Pete likes the idea of that and comes up with a plan. He raises the car from the back, shimmies it with two wood blocks and balances my car like a teeter totter. Somehow he manages to get the car out! This takes almost an hour. Figuring there is only a 20% chance of winning a Dora, I decide in addition to the promise of thanking Pete in my speech, I would tip him! I do, and he seems even happier now! He wishes me good luck.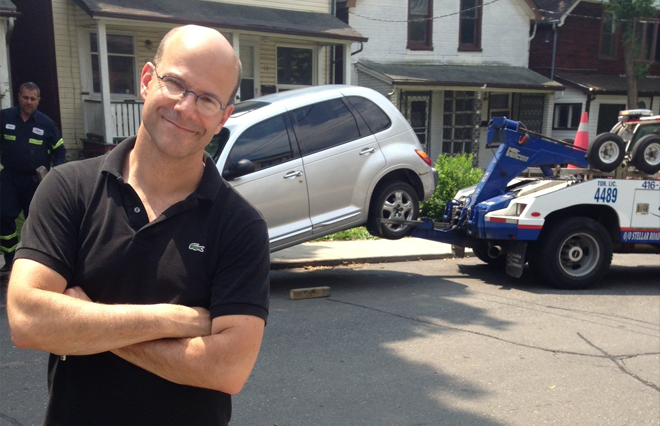 2:00 pm:
Jason drives me to my sister's house to pick up her car. She's out of town and tells me (on the phone from Vegas) I can borrow her car. Things are looking up! I have now gone from driving a 12 year old beat up PT Cruiser to driving a lovely BMW SUV to the awards show! If only they had Valet Parking at the Doras, my fellow nominees could catch a glimpse of my stylish arrival! Sadly I had to park in the Green P lot behind the theatre!
2:30 pm:
It is now pouring rain and I have much to do! I go to the St. Lawrence Theatre to pick up my tickets. I rush to the eye doctor to pick up my contact lenses (I want to see everything clearly tonight!). I go to Sephora to grab some cologne (imperative to smell good: actors hug a lot at these events!). I go the Harry Rosen to buy a fabulous tie to go with my fabulous suit (courtesy of NBC's  television show, The Firm which I recurred on last season). I look at my watch…$#@%!!!! – it's almost 4:00pm and I am nowhere near ready to pick up my lovely Dora date (and fellow Falsettos cast member, Sarah Gibbons). I got to burn rubber!
4:40 pm:
Get home! You don't want to hear about the showering, shaving, and dressing. It's not pretty!
5:55 pm:
I pick up the lovely Sarah Gibbons (my mother couldn't get a flight back in time so Sarah stepped in as the most lovely seat filler and friend!).
6:30 pm:
We arrive at the VIP Pre-Show Party only to find out they have stopped serving alcohol (we didn't care about hors d'oeuvres we wanted – scratch that – needed a drink before the show!). I spotted my agent Rich Caplan and the three of us hauled off to Frans (the nice Frans) across the street to have a quick cocktail and make a toast to what a lovely honor it is to be nominated for a Dora!
7:00 pm:
Big breath: it's starting!  I was thrilled to be in the company of such treasured and accomplished actors in my category! I loved the energy in the air, and that we were all there to ultimately celebrate each other and the work! The show starts off with a bang, and is really a lot of fun. I actually was enjoying it, and not thinking about my category at all.
9:30 pm:
I look back at my dear friend and colleague, Bruce Dow, as they are about to announce our category. Bruce and I shared a dressing room together 26 years ago in Les Miserables at the Royal Alex. We started out in the business and now here we were up for the same award! When they announced his name, I found myself cheering for him as if I forgot that I was actually up for the award. He grabbed me on his way to the stage we hugged and I got a huge smack on the cheek! When Bruce talked about how we started in Toronto together and what a full circle moment this was for him, I cheered and sat down. I was ecstatic to be there! I was grateful and relieved I didn't have to make a speech. I turned to Sarah and said, "Now, let's party!".
2:30 am:
Drop off Sarah, drive home and smile the whole way!
I reflect on the evening giving thanks to the cast, crew, artistic team and our amazing producers for having the smarts to do Falsettos!