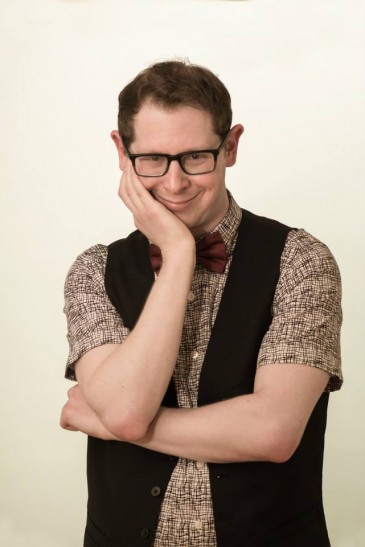 by Ari Weinberg
On November 19, 2013 I received a pretty cryptic e-mail from Mitchell Marcus asking me what my schedule was like for the following March. I responded that I had a few projects I was working on but that they were all pretty part-time. Mitchell replied with a message that was even more cryptic: "There might be an opportunity at Acting Up, not sure yet. Will keep you posted."
By the end of January, 2014 I had signed on to become Acting Up's Producing Assistant for March through to the end of May. A couple of weeks into that initial contract Mitchell came to me with a proposal- he wanted to apply for a Performing Arts Internship grant from the Metcalf Foundation for me to become AUSC's Intern Artistic Director. We received the grant and I re-joined the company in my new position on July 1st, 2014.
On March 4, 2015 it was announced that I will become Winnipeg Jewish Theatre's next Artistic Director this June, a dream job that would not have been possible without the support and education I received at Acting Up.
Mitchell Marcus is an incredible mentor. His passion for theatre combined with his rigorous administrative skills make him a wealth of knowledge. He is also determined to help cultivate future arts leaders and provides them with infinite resources  through AUSC. 
Here are some of the things I've learnt over the last year:
Always be curious. Ask questions. Ask more questions. Don't be afraid to look at a project or task from another angle/perspective, something fresh might be revealed. Curiosity can lead to a task being completed more thoroughly, it can also lead to new possibilities.
Be bold. Thinking outside the box is something to aspire to. Making choices that are not always what people expect from can push projects to a more exciting place and will illicit more dynamic responses.
A dream team is an actual thing. I have been so fortunate to work with so many wonderful people- Paul, Carly and Laura in the office and the entire cast, crew and creative team on The Wild Party, plus all the artists in UnCovered and all the trainers and participants involved with One Song Glory. Acting Up attracts first-rate individuals and that stems from the company's philosophy of providing meaningful artistic experience… building a brand of excellence is hard to do, but when time is invested into hiring the right people it pays off.
Though my time at AUSC concludes at the end of May, the experiences I have had here are ones I will never forget. I'm so thankful to the Metcalf Foundation for the opportunity to work with such an outstanding team; I'm hoping all the incredible memories I've made here will keep me warm during the Winnipeg winter.