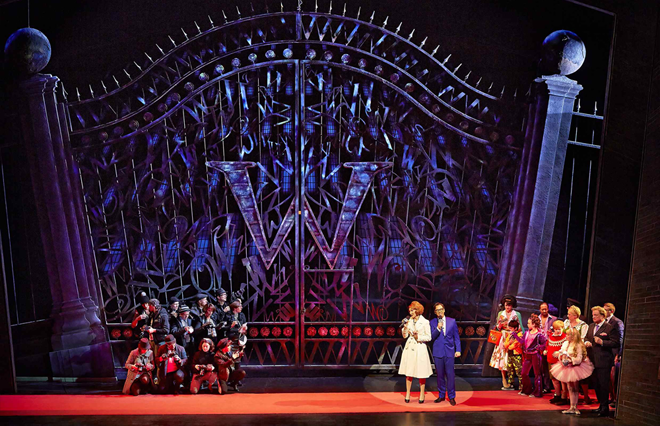 The past week in the great wide world of musical theatre saw the return of Broadway Bares, the opening of Charlie and the Chocolate Factory and the continued spinning of the Into The Woods casting mill. Here's what we thought about it:
Raisin' Dough
Broadway Cares/Equity Fights AIDS' annual event Broadway Bares, at which everyone on Broadway from show headliners to the chorus girl perhaps too familiar with the proverbial casting couch duffs their costumes for a more Burlesque inspired getup, took place on June 23 and continued to increase the total amount raised annually towards essential services towards people with AIDS bringing in this year over 1.4 million dollars.
Alongside less touted events like Broadway Backwards, The Broadway Bears and Broadway Bonnets, Broadway Cares/Equity Fights AIDS primary mission is to mobilize the unique abilities within the entertainment industry to mitigate the suffering of individuals affected by AIDS. We were proud to partner with and help raise funds for Fife House on our production of Falsettos raising donations from audience members as they left the theatre. But wouldn't it be jazz-hand-rific if the theatre community as a whole could band together to raise money for AIDS, perhaps by putting on our version of Broadway Bares? Toronto Theatre T&A anyone? I mean, really, who wouldn't pay to see Cynthia Dale performing a striptease to Rose's Turn?
Pure Imagination
Mix together a dollop of whimsy, a ladel of fancy and a whole cup on Sam Mendes spun Dahlian malevolence and what do you get? The West End's latest offering: Charlie and the Chocolate Factory with original music by Shaiman & Whitman and a liquid embodiment of Willy Wonka by the delicious Douglas Hodge. Though since opening last night at the Drury Lane it has received distinctly mixed reviews, it's visual panache and score from the Hairspray creators has it already rumoured to be moving to Broadway next season.
For those who love Charlie, or for those who love their musicals with a parodic blend of the daring and the dark, this is a musical which is likely to continue rising Dahl's current Broadway currency. Check out the trailer for this wonderful world of Wonka:
Anna Kendrick on the Steps of the Palace?
The oft delayed, now seemingly on track Into the Woods may have found it's Cinderella in the third youngest Tony nominee and now Hollywood startlet Anna Kendrick. Swirling rumours around the upcoming Rob Marshall helmed film adaptation abound, including confirmed stars Meryl Street and Johnny Depp, but I've got to say Kendrick as the 12th hour ball fugitive would be the crowning leaf on the Sondheim branch. Her upcoming turn as Cathy in the Last Five Years is just plain confusing – much less for Kendrick's casting as a bland and self-disparaging anti-protagonist then for the general undesirability of rounding out this glorified song cycle into a full fledged film  – but I'd pay premium to see her in anything from rat-darned rags to Fairy Godmother ballgowns.
Not familiar with Kendrick's work outside Hollywood? Check out her defining turn as a teenage Diva who will resort to all kinds of subterfuge to get the role in the 2003 cult classic Camp: