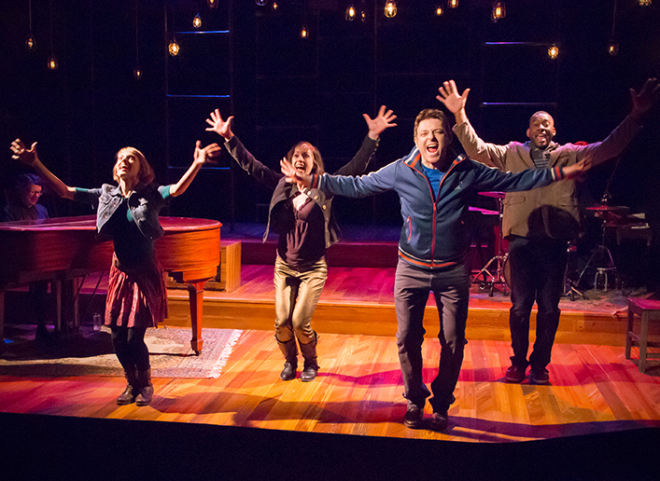 Last week was one of the highlights of my tenure at Acting Up Stage. Not only did I get to see our co-production (with Factory Theatre) of Do You Want What I Have Got? A Craigslist Cantata play to packed audiences in Calgary and Edmonton, but I also got to spend some time in three Canadian cities, meeting with their arts leaders and getting a sense of their artistic landscape. Here are some notes from the road:
Calgary. Feb 1/2014
This is my second time in Calgary, having had the great fortune of attending the High Performance Rodeo festival a few years ago. I love this festival and so it's a terrific honour to have our production of A Craigslist Cantata as a part of it this year.
My favourite thing about this city is the EPCOR Centre. This incredible arts complex houses 10 resident companies and partners who are leaders in the Calgary arts scene. One Yellow Rabbit runs a 190 seat theatre. The Jack Singer Concert Hall is an 1800 seat concert venue that is home to the Calgary Philharmonic Orchestra. Alberta Theatre Projects operates the stunning 386 Martha Cohen Theatre (where Craigslist played). Theatre Calgary's home is the 750 seat Max Bell Theatre.  Plus there is a 185 seat theatre and 60 seat theatre available for rent.
Walking into this venue, one can't help but feeling the bustle of an active arts scene. And, most impressively, it seems like all of the tenants get along (at least from what I heard). This feels like a wonderfully collaborative and friendly arts community. And I would imagine that having a centralized venue to house all of these amazing groups helps to build a stronger level of awareness amongst audiences.
Winnipeg. Feb 2-3/2014
I have never been to Winnipeg and I am cold. I am wearing earmuffs for the first time in my life.  Fortunately, I am keeping warm indoors at the Chekhov-fest. Each year, the Manitoba Theatre Centre chooses a different master playwright to honour. In addition to producing one work on their stage, they involve a dozen (or more) other local companies who each also present a work. By my count there were 24 Chekhov experiences going on in the city. I had the pleasure of catching Ivanov at the Winnipeg Jewish Theatre and The Seagull at MTC. While I didn't see a show there, I also was quite taken with the Prairie Theatre Exchange and their fantastic facility, including an intimate thrust mainstage.
Edmonton. February 4-5/2014
Well if I thought Winnipeg was cold…. I am officially freezing. I have never experienced wind-burn before. It looks like a sun-burn only less fun to get.
Because of my limited time (and focus on Craigslist), I only have the chance to see the Citadel. But I have fallen in love. This might be my favourite Canadian theatre complex I have seen. Four unique theatre spaces and a beautiful lobby complete with a waterfall and tropical gardens. This feels like a place you would want to go even if you aren't seeing a show – just to grab a coffee or to have a delicious meal at the onsite Normand's Bistro. Directly connected through the Pedway (Edmonton's version of the PATH), it's an easy destination for those who don't want to brave the cold. The new Club Theatre (where Craigslist is) provides an incredibly informal cabaret experience in contrast to the Broadway style Shoctor Theatre and the Stratford-style thrust of the Maclab Theatre. The energy in this venue is fantastic – there is so much going on, and the art is surrounded by a wonderfully inviting environment of shops and restaurants.
All in all, I am blown away by all of the incredible artistic resources we have in this country. I am also struck by how beautifully collaborative these communities seem to be – much more so (from my perspective) than we are in Toronto. Whether it's arts complexes that house multiple organizations simultaneously or festivals that span dozens of arts organizations, it seems like there is a great deal more sharing. I didn't spend long enough in each city to really understand the impact of this sharing (impact on sales, marketing, etc.) but I wonder if we in Toronto can learn something from how some of the other urban artistic centres in Canada are structured? Regardless, it was a real pleasure getting to tour these fantastic facilities and I hope to have the chance to go back soon.