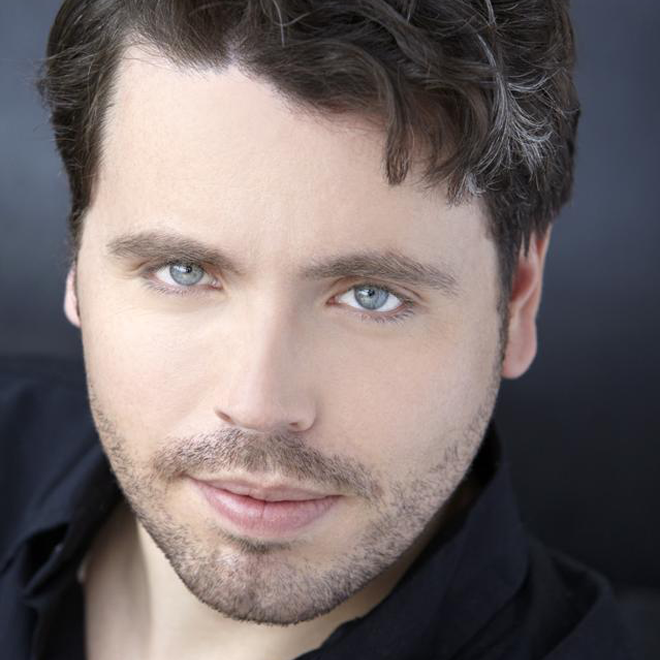 We sat down with actor/singer Michael Hughes to pick his brain about Cabaret in Toronto.
1. How would you define cabaret?
In general I would say that Cabaret is hard to define, because it is different everywhere you go. I've seen Cabaret performed in five countries around the world, and everybody has an idea of what Cabaret is. And I like that. 
Traditionally, Cabaret is performed in a venue where there is alcohol and/or food. 
For me, regardless of venue, a Cabaret should feel intimate, like a gathering of old friends in a living room. There should be a connection between artist and audience. And I feel like the audience should come away feeling like they got to know you. 
Of course, I have seen shows with men impersonating Liza and Judy, I have seen tributes to Mary Martin, and Barbra Streisand, I have seen shows devoted to a particular family of composers, and they were all very good!
But my kind of Cabaret, is the one where, by the end of the evening, you feel like you are (or wanna be) best friends with the performer.
2. How is performing in a cabaret compared to a traditional musical different?
If you are performing in your own cabaret, you have complete control over the material. You get to pick your own songs and stories. There is no fourth wall, you look at, and sing to, your audience. You make sure everyone is included. Make sure you connect. A lot of time in Cabaret, you are appearing as yourself. You don't have a character to hide behind, like you would in a traditional musical. This is daunting to a lot of theatre folk. But it's why I love Cabaret. You get up there, and you share yourself with a room full of people. It is a wonderful feeling. 
3. What benefits can creating/performing in a cabaret give to an emerging artist?
For an emerging artist, a Cabaret can be an awesome showcase. You have the freedom to create something that highlights your specific talents (talents that may not be so evident when asked to sing 16 bars at an open call).
I was finding it really hard to GET seen at auditions. My agent at the time told me that it was because nobody knew who I was. My best friend Jeigh Madjus was also hearing the same story, so we decided that for one year, we were going to sing at every open mic, and take every opportunity we were given to perform. It was exhausting but yielded some pretty great results. We sang at numerous benefits and events, we both guested on Sharron Matthews shows and I opened for her on a couple dates, Jenni Burke called us and offered us our first solo cabarets, almost exactly six months to the date we started hustling, we were both booked for the next year with theatre gigs. And that year was a fantastic year! Jeigh was nominated for a Dora Award, and I had the opportunity to perform with 16-time Grammy Award winner, David Foster who told me that he had seen videos from my Statler's Cabaret and that's how I booked the gig!
At the start, Cabaret was a way to break-in. 
And when I am performing in New York, it's like I'm back in 2008 Toronto. I sing at every open mic, and in any benefit or Cabaret I'm invited to. Because I know that's the best way to be seen and heard. And it works! I was singing at Birdland Jazz and a producer came up to me afterwards and asked me to be a guest in his show.  Later that week, I found myself singing at Feinstein's Loews Regency (one of the best rooms in New York) and chatting with Michael Feinstein and Marilyn Maye, two of the biggest New York Cabaret heavy weights (YOUTUBE them)
4. Did you do a lot of cabaret as you were emerging into the theatre scene or do you find yourself performing/creating more now as an emerged/established performer. 
As I said above, when I was starting out, I performed at every Cabaret and at every open mic I could get my hands on. 
Now that I have "emerged" somewhat, I still sing at every benefit I am asked to be a part of and I guest on Cabarets whenever I can. And I am working on writing a follow-up to Mickey & Judy. So I guess, I am doing pretty much the same as I was before.
5. What was the process like for creating your show Mickey and Judy?  Why were those songs and that story so important for you to tell? How did you grow as a performer?
Using my childhood therapy notes as a jumping off point, I spent about eight months writing stories from my childhood. I saw a few themes emerge. So I narrowed it down to the few stories I thought would best highlight those themes. I wanted to tell my stories with music, so I spent a lot of time choosing songs from the Judy Garland and Broadway songbooks, that would enrich the stories. It was important to me that the songs and the stories flowed seamlessly into one another.
As an artist, I feel most fulfilled when I have made a connection with an audience. Telling my stories was just the way I was able to connect. 
I can't really describe how I have grown as a performer (and human) as a result of Mickey & Judy.  I continue to grow every time I perform it. I have learned a million life lessons, but paramount is that NOTHING IS IMPOSSIBLE.
Michael Hughes' Top 5 Tips on Cabaret:
Go see Cabarets! And not just your friends' shows! You can learn so much from watching other people perform. Seeing how different types of cabaret performers work can inspire and enrich your own style. And if you can't see them live, YOUTUBE: Julie Wilson, Michael Feinstein, Marilyn Maye, Sharron Matthews, Bridget Everett, Justin Vivian Bond, Ann Hampton Calloway, Lady Rizo, Meow Meow. Just for starters! You can watch Cabaret from all over the world while sitting on your couch in pajamas!!
When choosing material for your show, ask yourself WHY? WHY are you telling this story? WHY are you singing this song? And just FYI, "I sound good singing this song" is not a good enough answer. If that's all you've got, best to save it for the shower. Your audience wants you to make them feel something! Seeing your show could be the highlight of their week. Being able to belt a Bflat is a start, but there has to be more behind it than breath support. Trust me, I once did a show of all songs I thought I sounded great singing and it went over as well as a hot turd. You live and learn!
You are NOT reinventing the wheel. Bette Midler did the "Mermaid in a wheelchair" bit, decades before Lady Gaga. A simple youtube search will show you that you are not as original as you think you are. Focus on solid storytelling and putting on the best show possible, and save the insane notion that you are reinventing this hundred year-old art form, for your diary.
If it scares you, you are on the right track! To put it in perspective: Before every amazing performing experience I have ever had, I was backstage shitting myself.
People are paying their hard-earned money to see you perform! You are so lucky!! Don't take that for granted. Respect and honour your audience, and they will keep coming back!!!
Michael Hughes is an award-winning singer, actor and writer.  He joined 16-time Grammy Award winner, David Foster, on his sold-out concert tour, David Foster & Friends, alongside Earth Wind and Fire, Chicago, Sarah McLachlan and the Canadian Tenors. Under the baton of world-renowned conductor David Briskin, Michael performed the role of Tony in the National Ballet of Canada's West Side Story Suite at the Four Seasons Centre. In 2012, Michael was named "One of Toronto's most gifted male Musical Theatre performers" by the Toronto Star, and toured his Canadian Comedy Award nominated one-man show Mickey & Judy to the Edinburgh Festival (MTM:UK Award Nomination), London's Leicester Square Theatre, and New York City's The Duplex Theatre (Broadway World Award Nomination), where he was awarded the 2013 Bistro Award for Outstanding New York City Debut. His performance at the 5th Annual Global Cabaret Festival at the Yonge Centre for the Performing Arts was named one of NOW Magazine's "Favourite Things of 2012". Other credits include: Mickey & Judy (Best of Toronto Fringe, NOW Magazine's Outstanding Production and Outstanding Performance, Broadway World Toronto Award nomination, Entertainment World Award nomination), the Canadian premiere of All Shook Up, and Gilbert Blythe in Anne and Gilbert on PEI. Other: Michael's self-titled album was a 2010 Toronto Independent Music Award nominee for Best Adult Contemporary Album. www.mickehughes.com