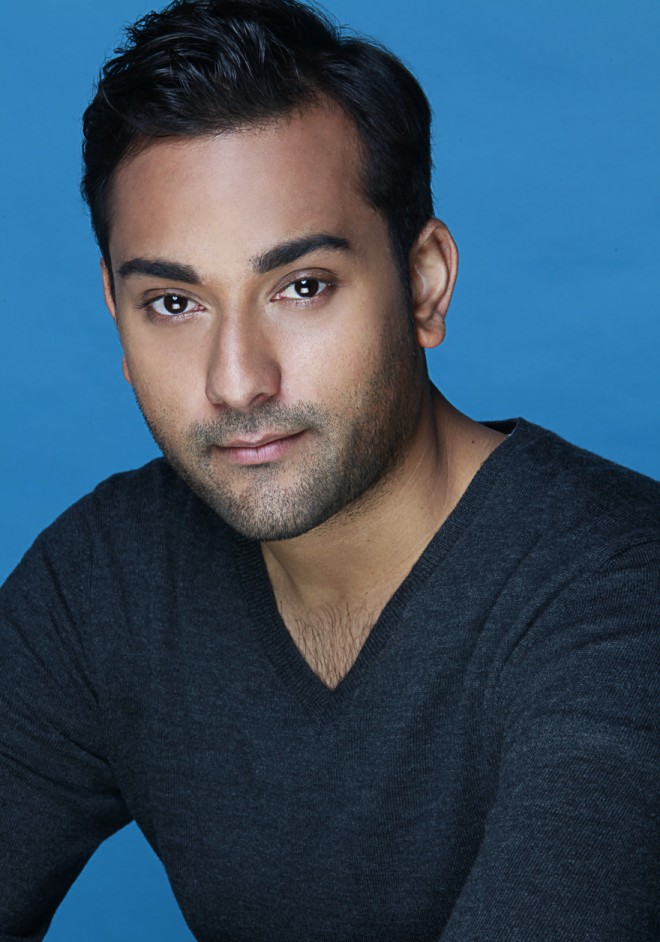 As the tour of Do You Want What I Have Got? A Craigslist Cantata wraps up, we present the third cast member, Qasim Khan's, Triple Threat.  Qasim's unique style has brought a distinct vibrancy to the piece, and we're sad to see the run come to an end. As he gets ready to put his clarinet to bed on Sunday, Qasim indulges us (and himself?) with his love of musical theatre, ABBA and foreign recordings of Mamma Mia. 

What musical's score will you always remember?
The Phantom of the Opera. I love when composers let contemporary sound seep in to works that sound 'classic' like Phantom. I love the vibe that's created when you mix things like electric guitars and rock drums, or some synthetic textures, with acoustic instruments. There are musical moments in Phantom that will always get me. The Overture, obviously, but there's a little piece that leads in to "Wishing You Were Somehow Here Again" called "Journey to the Cemetery" that's stunning. Right now I love scores like Once, and Anne & Gilbert, that are stripped-down and minimal. The orchestrations are so economic, and serve the simplicity of the stories.

What musical's book or virtuosic acting will you always remember?
A Chorus Line. I have a great respect for the fact that the book was organic, and based on verbatim accounts from dancers. Simple premise: a bunch of dancers are at an audition. From that simplicity, we get complex and touching stories. No fancy plot device, no special effects, just a stage with a line. I also have to say that I fell in love with The Addams Family when I saw it on Broadway with Nathan Lane and Bebe Neuwirth. I love characters that are misfits and sit on the edge of being unbelievable. The Addams Family reminded me of one of my favorite comedies, You Can't Take It With You.
What musical's choreography will you always remember?
Chicago. The national tour was the first time that I saw Fosse choreography live. I love that the score of the show is kind of large and brassy, and Fosse's choreography plays against that. With it's precision, economy, and sexuality, it's more contained in a way, rather than "here's a big dance number."
You're on a desert island and can only bring one cast recording with you. What do you choose?
One of the foreign cast recordings of Mamma Mia (because the English one is brutal). It's the perfect score because there's something for every mood – I can dance or cry, it'll keep my ears stimulated, and I've been listening to it in one form or another since 1999
What is your guiltiest pleasure musical?
…Mamma Mia. I always dodge talking about it because it ruins any ounce of street cred I have. I saw the show for the first time with the 2nd Toronto cast (led by Camilla Scott). It was so different from the kind of shows I had seen before. No elaborate set, it was the impression of a Greek hotel rather than a realistic thing. The score wasn't "Broadway" sounding, it was pop and rock, synthesizers galore, and had a good beat. It was the first time I saw performers that weren't a lot older than me, of all different backgrounds, having fun in a story that was so modern. It felt like a party, not a stuffy theatre experience. It's one of the reasons I pursued theatre – I wanted to be part of the party. I saw the show something like ten times during the run in Toronto. The first time I went, I waited at stage door to get the cast to sign my CD. What's really embarrassing now is working with or meeting people who worked on the show and don't realize I have their signatures in a box, and a journal entry of how cool I thought they were…. I was obsessed. I can't believe I just told you all of that. Oh man.
What is your dream role that you'll never get to play?
Elphaba in Wicked. I think she has such a cool storyline to play, and she gets some awesome pieces to sing. Oh yeah, and then she FLIES!