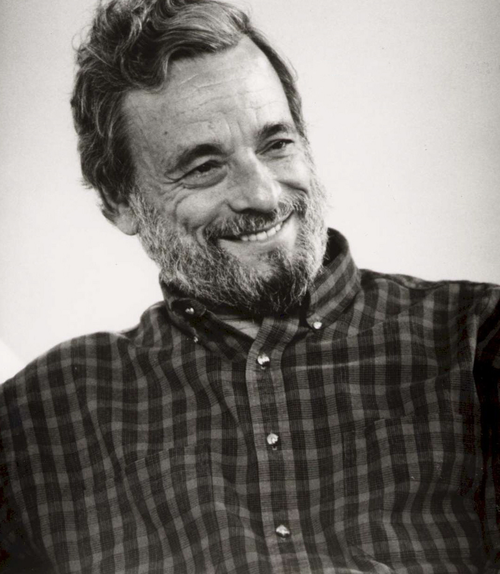 Kelly Cameron is a freelance journalist, theatre nerd, film geek and red headed snippet. She loves Canadian musical theatre and believes that we have some of the best of the best in the great city of Toronto. When not trumpeting our triple threats or singing showtunes, you can find her tending to her alter ego which involves dabbling in the financial sector.
---
Choosing my five favourite Sondheim songs was incredibly difficult, mainly because there are so many that I love for such varied and complex reasons. I think that's what makes him my favourite composer – choosing a favourite has always been an impossible task. At any given moment I could easily rattle off five favourite Sondheim tunes and they would always be different, which is one of my greatest joys. So I present you my five favourite Sondheim songs—for right now…
1) Send In The Clowns
This one has always had a special place in my heart as I grew up listening to Frank Sinatra's version courtesy of my father. He's never been a Sondheim fan, but he treasured this song. Something about the gorgeous melodies coupled with such biting and tragically sad lyrics resonates with me, and I find it interesting that so many people think of it as lullaby and/or a happy song but never delve into the meaning behind the lyrics. As someone who's life has been marred by bad timing and choices realized far too late, the farce hits close to home.
2) Being Alive
Company had actually never been on my radar until I heard this song, and I still remember listening to it and feeling as if someone had smacked me right upside the face. Poignant, beautiful and incredibly observant. One thing I love about Sondheim is the fact that he never married, yet his lyrics explore married life and relationships at every opportunity. The best thing about his exploration of this subject matter is that he often looks at the more difficult aspects of relationships, instead of shoving 'happily ever after' down our throats. It's a refreshing change. Plus I challenge everyone to find a song that better exemplifies all the important considerations when it comes to really loving someone.
3) Not A Day Goes By
A beautiful song with haunting lyrics, especially for anyone who has ever lost someone. From one of Sondheim's most under-appreciated shows (in my personal opinion) but one which I've always loved. Plus, who can resist Bernadette Peters? There's a heart wrenching longing when she delivers the final lines of this song, and if you have someone lingering in your heart who you can't have – it will resonate with different aching meaning every time you hear it. That's the mark of a powerful song.
4) The Road You Didn't Take
Follies is arguably my favourite Sondheim show (though admittedly that can change depending on mood) and I feel like this is one of its lesser appreciated numbers. Who hasn't taken stock of their decisions and choices and questioned whether they made the right ones? In addition to conjuring up a feeling that I often struggle with myself (did I make the right decision about certain key life events), the magic of thing song is that it makes me feel something different every time I hear it. It can be hopeful, sad, and desperate all at the same time, and I love that it makes me think and feel things I otherwise try and keep buried.
5) Children Will Listen
I think this song takes on a special meaning in today's society, where more and more we are failing to provide proper examples for our younger generations, and we are seeing first hand the effects of our failure. A beautiful song with a subtle message in many ways, but an incredibly important one. Sometimes we pay lip service and preach values we know are important, but fail to really live them. I think this song reminds us the importance of living the values that we want our children to learn. Ultimately we can teach our children all the lessons of the world, but if we don't embody the values we want them to have, they will grow up wanting. Wishes come true, not free.
Bonus: I'm Still Here
I had to include it. A wonderful song that is both hilarious, heartbreaking and inspirational. Also kudos to Mr. So for cramming so many cultural references into one song without it sounding even the slightest bit forced. A mark of a fantastic writer. This is my-go to song whenever I'm down, frustrated or ready to give up – and I figure if I use it, I'm sure many others do as well. And if you don't…what's wrong with you???
On a personal note, this song helped me get through the death of my mother and the loss of someone I loved very much, as well as many financial hardships. At the end of every day, I think we would all do well to remember that our experiences (even the bad ones) mold us into who we are and make us stronger, and for that we should be grateful. Plus, if we're still here at all, that is something to be proud of. So we should grab life by the balls and live each day like it's our last – while also trying to make sure we're still here tomorrow. Just look at Ms. Stritch!