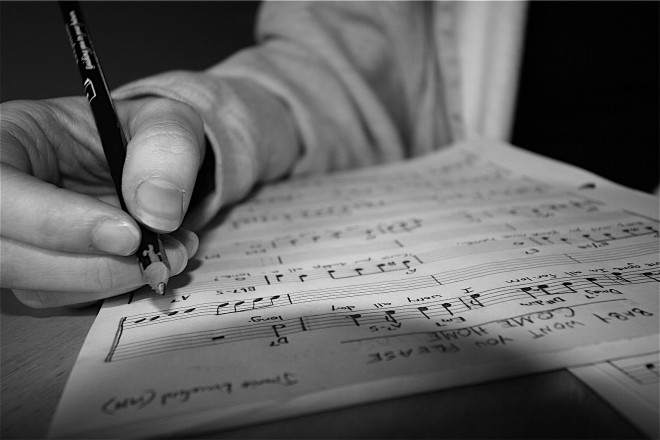 The Canadian Musical Theatre community is an interesting one when it comes to the development and production of new musical theatre. We are a community that tends to lack an ability to take real risk. Musical theatre in Toronto appears in the Fringe Festival & Summerworks, and occasionally on the stages of various musical theatre programs (because students are free and willing to work on new pieces). New musical works rarely get the chance to develop over a long period of time, yet this is often what they require in order to have the longevity of any of the classic musicals in which we have become so familiar.
In the spring of 2011, Acting Up Stage launched the first phase of the inaugural Noteworthy program. The program is a systematic development process to foster the creation of new musical theatre beginning with exploring partnerships between playwrights and composers.
From this first round of exploration, we were not expecting to move forward with the commissioning of anything that was developed – but that is exactly what happened. After 3 days of working together last year in our first Noteworthy round, Acting Up Stage commissioned Reza Jacobs and Andrew Kushner to continue developing their piece about becoming obsolete in the digital age, Alexandria (more about this musical and it's development to appear in a subsequent newsletter).
After our first round, we had one other set of creators do a second round of work. This second round consisted of 8 days where the creators developed 4 different ideas, pitched them to us. We then asked them to develop a longer outline or "treatment" of what the full musical might look like. This included a sample scene, as well as a couple of songs in order to get a feel for the tempos, rhythms, and musicality of the piece. 
What's interesting about the two different pairings and ways we've moved forward is that we've recognized our own need to be flexible with the original proposed structure. Just as a creative process must be flexible with different combinations of artists, the system for the process of development also has to adapt to the writers and their style of creation.
As we move forward with a new round of Noteworthy in the Spring of 2013, we will be adjusting our process to reflect what we learned from our first two phases, and continue to develop the program alongside the work being made within it.