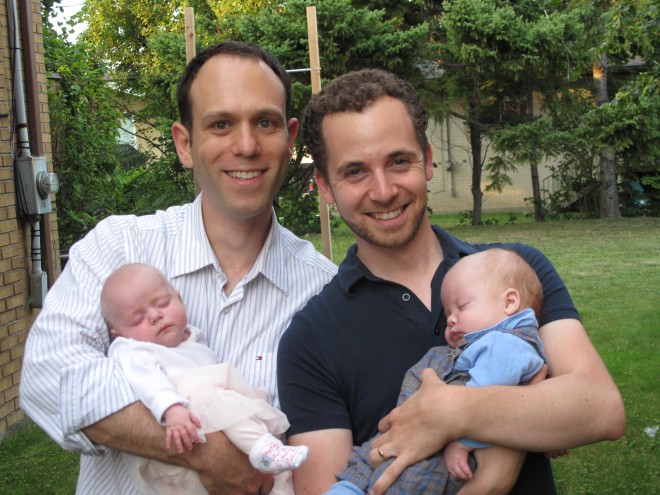 I always wonder what the twins will think of musical theatre. Will they be avid fans who accompany me to opening nights from a young age? Or will musical theatre be the nerdy thing that their Dad does which they wouldn't be caught dead getting involved with?
Wanting to find the balance between imposing my passions onto my children and NOT, I have been very careful to not introduce too much musical theatre to them. I haven't yet made them watch the DVD of the original Into The Woods (do you think a 3 month old can appreciate the genius that is Joanna Gleason?), and our Annie wig will stay packed in the box this Halloween.
There was one gift we received, however, which offered such a meaningful way to bridge my passion and their babyhood.
Arlene Jillard (a former Acting Up Stage board member) gave the babies Over The Moon: The Broadway Lullaby Project. This 2-CD, 26 song set consists of original lullabies composed by Broadway composers and lyricists including Stephen Sondheim, Tom Kitt, Tony Kushner, Michael John LaChiusa, Stephen Schwartz, and Maury Yeston. The songs are performed by leading Broadway performers including Michael Cerveris, Raul Esparza, Sutton Foster,  Audra McDonald, Donna Murphy, and Vanessa Williams.
As if that wasn't enough to melt the heart of a musical theatre parent, the CD comes with a hardcover book, featuring 17 lyrics from the CD, each illustrated by one of America's most esteemed theatre designers or children's book illustrators.
The project is the brainchild of Kate Dawson – a singer, actor and writer. When she was pregnant, she decided to do something for charity, honouring the memory of her cousin who died of breast cancer in 2006. As such, the project came to life, with all proceeds going to The Breast Cancer Research Foundation and Young Survival Coalition.
How amazing is that?
Where to begin on the highlights? Audra McDonald singing Michael John Lachiusa's "How Much Love", Donna Murphy singing Stephen Schwartz's "Lucky" and my personal favourite (as it rings true for a Dad with preemies), Michael Cerevis singing Wayne Barker/BD Wong's "Onesie".
Want a sneak peak? Have a look at Donna Murphy in peekrecording studio with Stephen Schwartz recording 'Lucky'. Maybe it's just my new Daddy hormones, but if this doesn't melt your heart, I don't know what will.
Out of the Blue Films has shot a documentary on the 'making of' the project. Let's just call that plug a hint in case anyone is looking to buy Eytan or Yael a first birthday present.