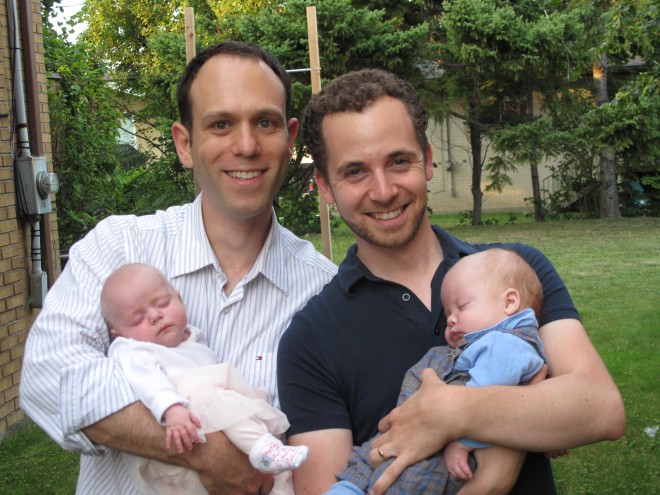 It's Halloween!!!
I kind of love Halloween. It's probably the musical theatre nerd inside of me that enjoys putting on costumes and running through the city in character. For a while as a teenager I went on a spree of 'musical theatre related Halloween outfits'. My best two were one of the Starlight Express characters (on roller skates) and Gene Simmons as the Phantom Of The Opera (i.e. full KISS gear in full Phantom gear).
My kids go to bed at 6:30PM, so I'm not really sure how successful costuming will be this year. But I thought I'd take a moment to think of some future Halloween costumes perfect for musical theatre loving twins:
Elphaba and Galinda – Ok… so my son may not want to paint his face green and put on a witches wig, but if he does, I am certain I can convince my daughter to put on a princess dress and crown. I guess it could be reversed too. We'll see who can hit the high F.
Annie Oakley and Frank Butler – the perfect musical theatre twist on the traditional cowboy costume. Or we could go all meta and have them dress as Merman and Ray Middleton.
Nicky and Rod – everyone else will think that they are dressed as Bert and Ernie, but we'll know the truth.
John Hinckley and Lynette "Squeaky" Fromme – too mature maybe?
Olive Ostrovsky and William Barfee – instead of saying "Trick or Treat" they can spell it when they get to people's doors.
Annie and Oliver – nothing says cute like two classic 'down on their luck' singing kids.
Any of the cats from Cats! (I can never remember which one is which anyway)
Seymour and Audrey II (I guess Audrey is an option as well, but her dresses are far too skimpy for my liking. I'd rather see Yael dressed in a puffy yet modest green outfit that covers her head to toe. The same goes for her future prom dress).
Sutton and Hunter Foster.
Sweeney Todd and Mrs. Lovett – If we go John Doyle styles, we can find a tuba to collect the candy in.
So what did I miss? Send any and all suggestions my way.
Happy Halloween everyone!