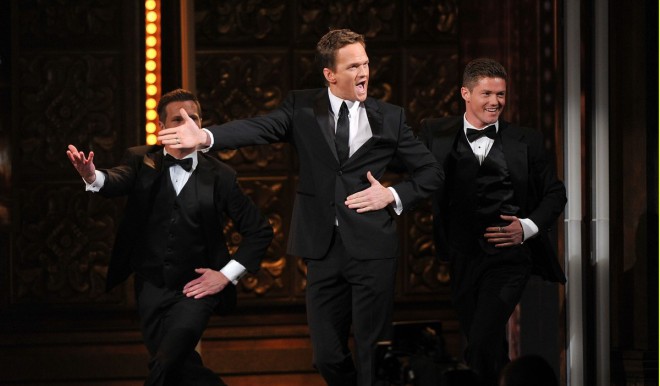 Word on the street is that this year's Tony Awards will feature an opening number combining all the Broadway musicals currently running (yes…even Spider-Man: Turn Off the Dark whose producers boycotted the Tonys last year in response to not being nominated for Best Musical). Having a good opening number is important to the broadcast network, CBS, as the majority of viewers tune in early and start to drift off as the evening rolls along. So for this week's performance I chose another awesome medley:
2009 was a great year for Broadway with shows opening including Billy Elliot, West Side Story, Hair, Next to Normal, Rock of Ages, Shrek, and 9 to 5. What's a better way to incorporate the shows than blending them into a fantastic opening medley? (Sorry Neil Patrick Harris, you're great but I really can't stand another poorly written original song for your opening). Sure, this opening didn't start well (come on mic guy, you forgot to turn on ELTON JOHN's MIC) but having the incredible Billy Elliots dance and then thrown into the air (Matilda foreshadowing anyone?) with the Jets and Sharks running in started this off with a bang (speaking of bangs, every time I watch this clip, I always think poor Billy is going to get smoked by the set piece coming in…oh wait…that comes later…sorry Bret at 5:01). After the rock show, we come back to old Broadway with Rizz…I mean Stockard Channing cougaring Aaron Tveit from Next to Normal (and the current Les Mis movie for those who are new to this show tunes thing). Now, what do Caroline, or Change and Shrek: The Musical have in common? The same composer in Jeanine Tesori!  Although most theatre fans will discount Shrek based on the title, the music is actually quite fantastic as shown with this reprised version of "Freak Flag"…and who doesn't like a good fairy tale dance break?  Shrek is followed by another movie musical 9 to 5 with a guest surprise from Dolly Parton (the composer of the show and believe it or not, another fantastic original score!). And for the grand finale, what is a Tony broadcast without a little jazz hand and step ball change from Liza herself?  Nothing like seeing Liza try to sing along to "Let The Sunshine In" with the crazy talented cast of Hair (poor Liza trying to hold on to Will Swenson for dear life at 10:33).
Here's to hoping that this year's telecast features some great performances and surprises. I will post links and deconstruct them next week!