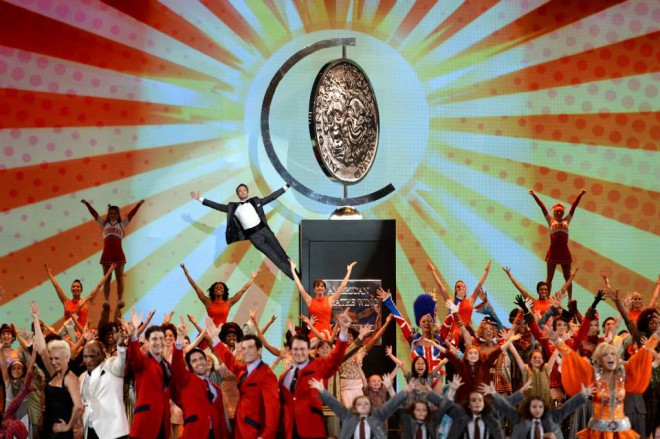 Another Tony Awards have come and gone…and last night's telecast was pretty good!  A night with a wonderful host (I stand corrected…he was great this year), some super duper performances (Pippin, Matilda), some head scratchers (Rascals tribute? What was that?), and some super weird speeches (Cicely Tyson). Check out below for my reviews on all the performances of the evening from worst to best!
Bring It On
Bring It On was not fantastic but it was super cool. However,  this performance did not showcase the entire premise of the show…AWESOME CHEERLEADING! Why didn't they do the finale of the show where the entire team is flipping and singing like crazy? The number seemed too empty and small for the Radio City stage.
Closing Rap
I love me some Audra but this act is tired. Just have NPH thank the audience and tell them to see a live show.
Motown
The show itself is a gloried Motown revue with a very thin plot…but I LOVE Motown. The performance excerpt on its own was actually quite good. I'm sure it will sell some tickets!  Special accolades to the kid playing Michael Jackson (singing like a champ without evening showing a hint of struggle) and to the Jackson Five dancer in green (we decided he was the dance captain).
Annie
We already knew Jane Lynch could act…turns out she can SING! A surprising performance from a Broadway newbie. What a voice!
A Christmas Story
NPH making out with Sandy (Sandie?) was definitely a great start to this number. The star of this number was the tap dancing kid who stole the show but the boy playing Ralphie really shined. On a producing note, why did they choose this number? This show has so many other great numbers that they could have chosen that sell the show better. Leg Lamp number? Ralphie to the Rescue? Red Rider Carbine Action BB Gun?  Shoutout to Benj Pasek and Justin Paul on their Tony nomination for Best Score. Acting Up Stage produced their show Edges in 2008. Really talented fellows.
Kinky Boots
Great performances from Billy Porter and Stark Sands but I'm never a fan of choosing a song to perform on the Tonys that doesn't have any plot in it (and if you do choose one, it better be really killer). Once again, I thought the finale could have been a better choice. Cyndi Lauper won a Tony for this show (good for her) but this song didn't really show off her lyric ability (how many times can you say "yeah"?)
Cinderella
A stunning performance. This number really showed off the brand and heart of the show. The costumes were gorgeous (it won the Tony for Costume Design) and quick changes magical. Laura Osnes is a total princess with her crystal clear voice and solid acting chops…not bad for the winner of the Grease reality show. Santino Fontana was equally charming as the Prince equipped with a fantastic voice and grounded energy.
TV Broadway Stars
A hilarious comedic skit to mix up the night. Laura Benanti killed it as usual (super gorgeous, acting drunk like a pro, and beautiful tone/vibratto on the word "you") with hilarious appearances from Andrew Rannells and Megan Hilty.
Matilda
The show that SHOULD have won Best Musical. One of the most creative and unique shows of the season…the performance showed off the incredible cast (both young and old) and the creative design. I only wish Bertie Carvel won his own category…
Pippin
My favourite show of the 2013 Tony season. The performance perfectly captured the spectacle, darkness, and energy that makes this show so successful 8 times a week in New York. Shout out to Patina Miller who won the Tony for Best Actress in a Musical who was AMAZING as the Leading Player. 
Opening Number
The highlight of the evening. Whoever directed this not only was able to showcase the theatrical form but also adapt it to a TV screen. A combination of music, sketch comedy, magic, and dance!