About The Show
Awarded annually to two performers who show tremendous artistry early in their career, the Syd & Shirley Banks Prize for Emerging Musical Theatre Artists provides showcase and mentorship opportunities with Acting Up Stage Company and a $1,000 award.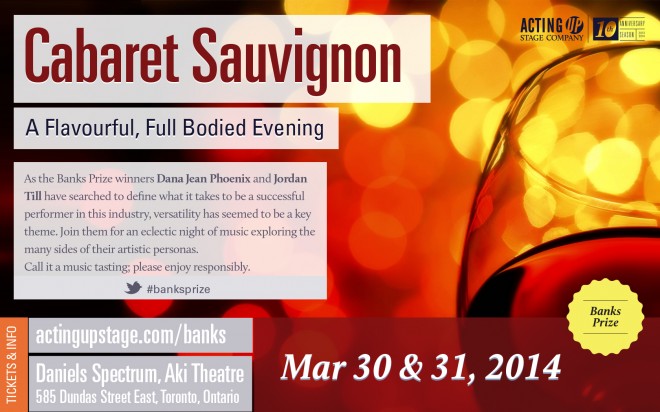 As Dana Jean Phoenix and Jordan Till have searched to define what it takes to be a successful performer in the industry, versatility has seemed to be a key theme. Join them for an eclectic night of music exploring the many sides of their artistic personas.
Call it a music tasting; please enjoy responsibly.
Company
Company
Created by
Dana Jean Phoenix
Jordan Till
Chris Tsujiuchi
Ari Weinberg
Starring
Dana Jean Phoenix and Jordan Till
Musical Accompaniment
Chris Tsujiuchi
Tickets
Tickets
Box Office
Online: Tickets
Over the phone: 1-800-838-3006
In person (2 hours prior to performance only): Daniels Spectrum (formerly Regent Park Arts & Cultural Centre)
Price
$15
Venue
Venue
 Daniels Spectrum
Located at 585 Dundas St East the centre is part of the 10-year, six-phase revitalization of Regent Park. Artscape has partnered with Toronto Community Housing, the Daniels Corporation and members of the local community to develop the innovative 60,000 square foot, purpose-built facility.
Designed by the award-winning Diamond & Schmitt Architects, the centre will be the newest addition to downtown Toronto's thriving cultural landscape.
Directions by TTC
From Dundas & Osgoode Stations:
Take the 505 Streetcar eastbound on Dundas to Sumach Street
Take the 65 Bus southbound on Parliament to Dundas Street.
Walk eastbound to the theatre
Parking
Enjoy underground parking at The Daniels Spectrum (585 Dundas Street) for a $5 flat rate. The vehicle entrance is off the laneway to the south of the centre, accessible via Sackville Street just south of Dundas Street East.
Additional paid public parking can be found in an underground lot beneath the RBC Royal Bank, just north of Dundas Street East off Regent Street.