MUSICAL MOMENTS 2021
Musical Moments is a new initiative of The Musical Stage Company that brings musical experiences to local communities by harnessing the imagination and creativity of artists. After a year of isolation, disconnection, and shuttered performing arts centres, we dream of a summer where artists bring joy, magic and togetherness back into people's lives through musical acts of creativity. Through a simple application process, we awarded $25,000 in grants to artists so they can develop, produce and execute dynamic ideas across Toronto neighbourhoods.
PHOTO GALLERY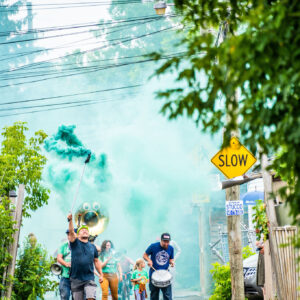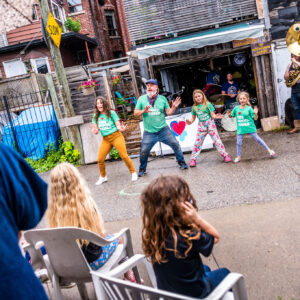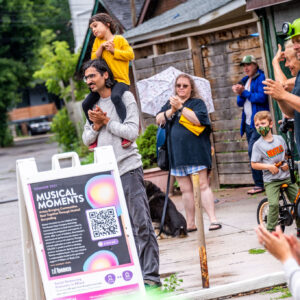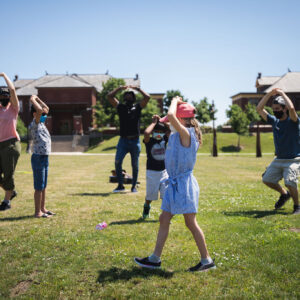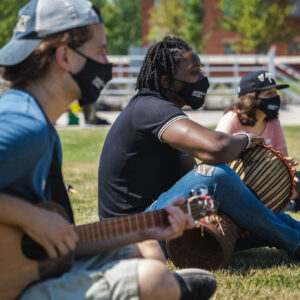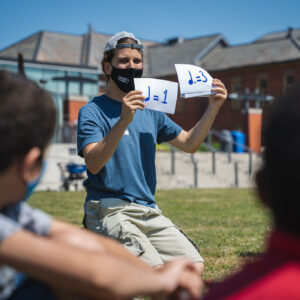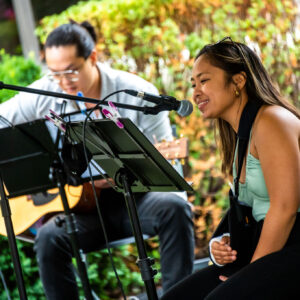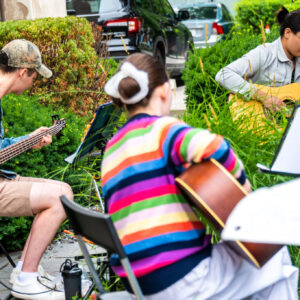 ---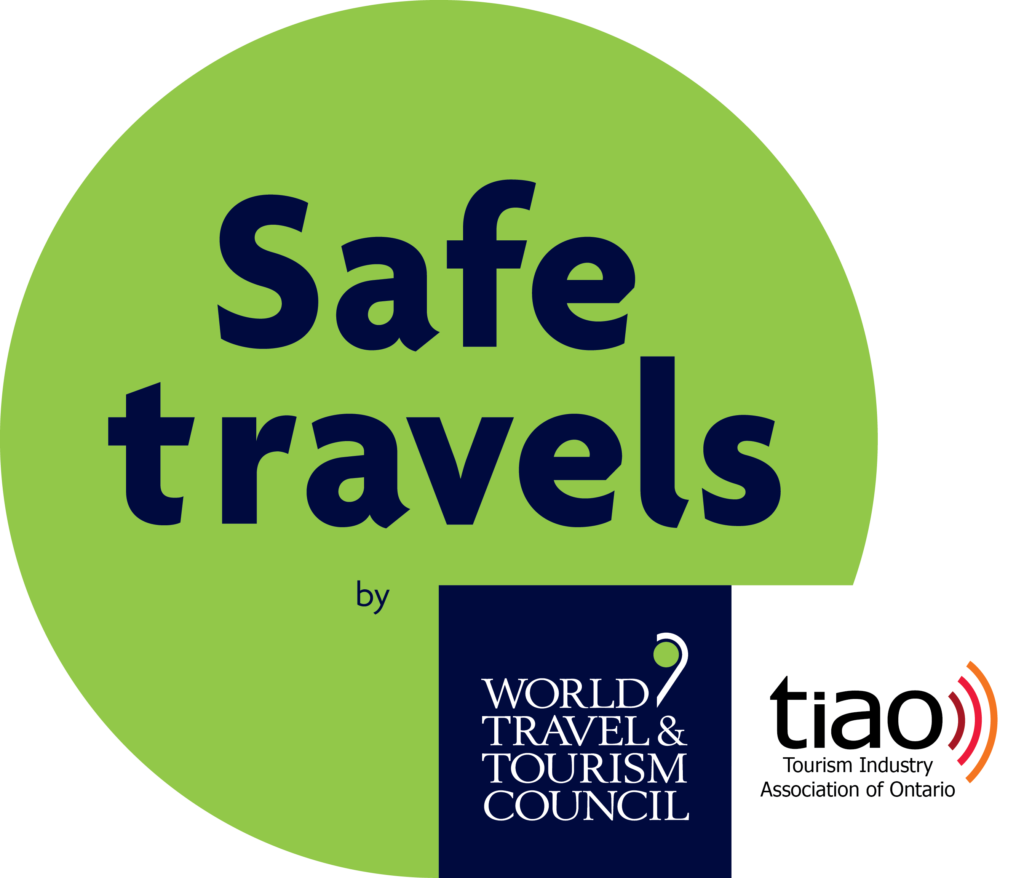 The Musical Stage Company has been awarded a #SafeTravels Stamp by WTTC (World Travel & Tourism Council), for adopting health and hygiene global standardized protocols.
With support from: William J.S. Boyle, C.M &
Frequently Asked Questions
2021 ARTISTS
BEAT MAKERS!
ARTISTS INVOLVED
Luis Anselmi (he/him)
Camila Lozada (she/her)
Anastassia Irina (she/her)
Johnathan Nvita (he/him)
Mehek Cazi (she/her)
OVERVIEW
Create your own instrument, learn about rhythm, composition and perform! Our goal is to introduce children to simple music concepts and engage them in a way that will spark their creativity!
Click here to learn more about their camp!
PARTYPEOPLE
ARTISTS INVOLVED
Jord Camp (he/him)
Elizabeth Staples (she/her)
OVERVIEW
5 Queer people gather in a park.
They are guided by synchronized iPods and a performance-artist-club-kid-drag-creature from beyond, Jord Camp. They go on an interactive journey of dance, reveals and surprises.
Together, they choose what the future will look like.
Click here to learn more about their shows!
STREET PARTY
ARTISTS INVOLVED
Ian Goodtimes (he/him)
Lindsay Goodtimes (she/her)
Roxy-Jean Goodtimes (she/her)
Pepper Goodtimes (she/her)
Lowell Whitty (he/him)
Josh Bird (he/him)
OVERVIEW
STREET PARTY is a parade, a show & a celebration; a gathering of friends and neighbours led by The Goodtimes and starring everyone. Street Party is an opportunity for your community to get together with song and  dance. It's been a long time so Let's All Party Together!
Click here to learn more about their shows!
1:1 CONCERTS
ARTISTS INVOLVED
Olivia Shortt (they/them)
Justin Massey (he/him)
OVERVIEW
Improvised songs created with unique prompts for a single audience member. What's more exciting than a personal and intimate one-on-one concert? Performed by Olivia Shortt and Justin Massey.
Click here to learn more about Olivia's work!
A MOMENT IN THE (SECRET) GARDEN
ARTISTS INVOLVED
Producer/Musician: Sean Yauk (he/him)
Director/ Musician: Katherine Cappellacci (she/her)
Arranger/ Music Director/ Musician: William Li (he/him)
Musician: Kryslyne Mai Ancheta (she/her)
Designer/ Assistant Producer/ Site Manager: Sophie Koehn (she/her)
Sound Designer: Sam Deeth (he/him)
Musician: Lydia Claire Wilton (she/her)
OVERVIEW
Discover a curious musical installation in an urban garden outside of 462 Wellington Street West in Toronto! A tiny team of artists descends upon the space on Friday evenings to bring it to life with musical storytelling, performing folksy classics from an iconic piece of musical theatre. Will they make the garden grow?
Click here to learn more about A MOMENT IN THE (SECRET) GARDEN!
THE SONGS OF MY ELDERS
ARTISTS INVOLVED
Brittany Miranda (she/her)
Samuel Turner (he/him)
Aaron Eyre (he/him)
OVERVIEW
This project aims to reconnect residents of long-term care homes with their loved ones through a personalized song and story experience. Live outdoor concerts weave together anecdotes of the attending residents with their favourite tunes, celebrating the past and creating more memories for the post-pandemic future.
BITTERJUICE PRESENTS: THE SAY YOUR PEACE SHOW – PART 1 + 2
ARTISTS INVOLVED
Tyreek Philips "B1GJuice" (he/him)
Aaron Diaz (he/him)
Yoshinori Aoyama (he/him)
Melissa Estor "xomellokitty" (she/her)
Ray Hammond "Ray HMND" (he/him)
OVERVIEW
SAY YOUR PEACE is an intimate outdoor event composed of live band performances, singing, and freestyle rap performances used to invite spontaneous collaboration and "jamming" of guest artists that will be invited and selected to represent Toronto's young and diverse communities as an interactive audience. This event invites all artists to come out and remember the joy of "jam sessions" as a vehicle of promoting inclusivity in the culture and sector.
Click here to learn more about BitterJuice!
everyBODY DANCE PARTY
ARTIST INVOLVED
Greg Carruthers (he/him)
Sierra Holder (she/her)
Brittany Banks (she/her)
OVERVIEW
EveryBODY Dance Party is a 1-hour, socially distanced event for families to come together with their community and embrace dance as a form of joyful exercise (without a weight-loss focus). Participants will be led by professional dancers in diverse bodies, through dance routines that are accessible to all skill levels, body types and abilities. So grab your loved ones, a bottle of water and sunscreen and let's celebrate all of the amazing things our bodies do for us!
Click here to learn more about their shows!
A SONG FOR YOU
ARTIST INVOLVED
Vicky Wang aka Earlybird (she/her)
OVERVIEW
A series of songs performed for next door neighbours in [Earlybird's] suburban North York neighbourhood. Participants will also be invited to enjoy a longer acoustic show in the neighbourhood park at sunset.
Click to learn more about Earlybird's shows on Instagram and Facebook!
COMMUNITY SONGBOOK PROJECT
ARTIST INVOLVED
Anthony Wallace (he/him)
Local Drop-in Artists
OVERVIEW
The Community Songbook Project will engage community members and local musicians from Francis Beavis Manor to hold a public performance for their community showcasing original songs drawn from the stories, experiences and personalities of the community. Through community engagement and song writing circles, music will be written by local musicians and then performed for the community.
SUPPORTIVE SOUNDS SERIES
ARTIST INVOLVED
Heather Clear Wind (she/her/they/them)
OVERVIEW
The Supportive Sounds Series will be a rare opportunity to experience nature in a new (and yet ancient) way that can help to bring you back home to yourself, to your spirit and to who you truly are – gently reminding you that you are a spirit having a human experience.
This will be a wonderfully restorative time for people to come (back) together to enjoy connecting and creating community, listening to Indigenous teachings and storytelling in the beautiful nature that surrounds and supports us daily. 
You will get to experience the powerful healing drumbeats of the Indigenous big drum, be a part of Indigenous ceremony, and listen and share together in a compassionate and supportive space.