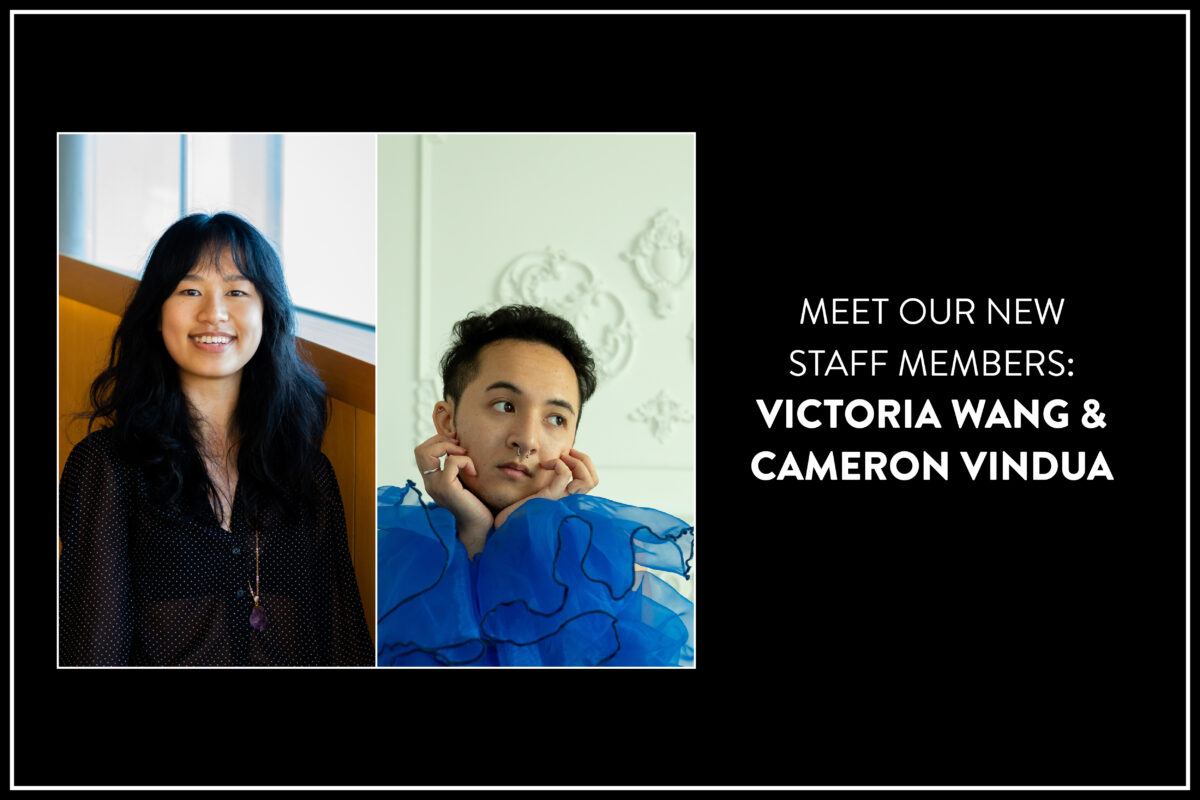 Meet Our New Staff Members!
This week we sat down with our newest staff members, Victoria Wang and Cameron Vindua. Victoria joins The Musical Stage Company as our Artistic Development Associate, from an extensive background of stage management and live performance art, while Cameron joins us as our Marketing Associate, from a creative background of multi-media design and communications.
What's your favourite musical and why?
VICTORIA: CABARET – the iconic music, the powerful connection between history and interpersonal and social relationships, the spotlight on outsiders and I'm the kind of person who likes sad or ambivalent endings…
On a completely different note, I also have to shout out the underrated CHESS: THE MUSICAL for the power ballads.
CAMERON: HEDWIG & THE ANGRY INCH – it's a bit funny, considering I haven't had the chance to see it live on Broadway, but the movie itself still stayed true to the musical in its heart. I remember seeing it when I was still barely a tween and much more impressionable and thinking "Oh. You're allowed to explore expression like that; you're allowed to explore gender identity and be angry when people don't understand you or try to hurt you – as long as you learn and grow from the experience, and hold yourself and others responsible."
What's your favourite theatrical experience?
VICTORIA: I went to New York for my birthday (the last birthday/travel before 2020 hit…) with two best friends and saw my first Broadway show MOULIN ROUGE. It was honestly a breathtaking experience that gave me everything I wanted and more. I never thought I would cry at a Katy Perry cover of 'Firework' but there you go.
CAMERON: I remember being in Chicago with a close friend, and neck-deep in fan culture back in 2011, and I saw my first live reading/partial stage production. For anyone familiar with A VERY POTTER MUSICAL (a popular online fan musical of the Wizarding world), I managed to snag tickets to the finale of their fan trilogy; A VERY POTTER SENIOR YEAR. It was ridiculous, nerdy, and had countless hilarious slip-ups, but being in a make-shift theatre with hundreds of other fans, everyone singing and swaying to the finale number and crying – I found community and family.
How did you get into theatre?
VICTORIA: Theatre was always a hobby, first through acting in high school and then moving behind the scenes and discovering stage management when I got involved with my college's drama society. After undergrad, I attended the National Theatre School's Production program and became a professional stage manager. Everything I know about theatre, working with artists, finding my voice, and understanding my values came from the many years of stage managing.
CAMERON: I fell in love with theatre campiness and costume design as a kid, eventually becoming the Head of Costume for my high school's production of RENT. Spurring my love of design and costume, I finished an undergrad in Fashion Design before switching over to a career in multi-media design (and communications). This felt more accessible, with more freedom in design possibilities and who I could reach. During my undergrad, I fell back in love with local theatre and smaller indie productions as an audience member instead, leading me back to where it all began with musical theatre and The Musical Stage Company.
3 things our audiences should know about you
VICTORIA:
I grew up in Hong Kong
I read tarot
I'm trying to manifest a piano into my life
CAMERON:
I love astrology analysis and discourse (a textbook Gemini)
I enjoy a good dad joke
I'm attempting to learn French.
Favourite quarantine / social distancing activity?
VICTORIA: Getting outside! A bike ride to Tommy Thompson Park or beach day on the island.
CAMERON: Gardening! I'm extremely lucky and privileged to have had access to green space during this – I get outside time, but it's still private and at my own pace.
What are your hopes for the future of the theatre industry in a post-COVID world?
VICTORIA: Unconditional agency and sovereignty of Indigenous, Black, POC and historically excluded artists at every level (on stage, production, admin, governance), plurality of narratives that reach and uplift historically excluded communities, lowered barriers to accessing the arts, and placing care at the centre of how we do things.
CAMERON: We break down barriers and the hush-hush gatekeeping of the old guard of white supremacy and nepotism within the industry, continuing the journey and progress of unsettling and decolonizing every level of theatre – from the production and casting, admin and tech teams, to the audience and marketing of it all. To properly uplift BIPOC narratives and support agency in how we tell our stories, and pave the way for a more accessible experience for the disabled community and how we intersect.
---
Victoria Wang (she/her)
Victoria Wang is a stage manager, creative producer and installation artist who works in theatre, dance, film and interdisciplinary forms of live performance. She has collaborated with companies including Native Earth Performing Arts, Cahoots, Aluna Theatre, Bad Hats, SummerWorks, Canadian Stage and Buddies in Bad Times.
Victoria is also the founder of Memory Palace Project, an ongoing public art project whose participatory installations, live performance art, and digital creations have appeared at the Toronto Fringe, Assembly Theatre, Long Winter, and the Art Apart Festival. Victoria is grateful to call Hong Kong and Tkaronto home.
Cameron Vindua (he/they)
Cameron is a multi-media designer, communications coordinator, and Queer advocate, primarily based in graphic design and digital marketing. Their work is focused on evolution within educational arts and implementing anti-oppression based practices.
As a recent settler of Tkaronto (colonially Toronto), Cameron is a graduate of Ryerson University with a Bachelor of Design in Fashion, specializing in technical design, branding, and research in gender diversity and intersectional equity. His previous works in the arts include founding Fashion Your Identity (2018-19), partnering with Voices of Today (2018) and Nuit Rose (2019), and ongoing mini community campaigns.