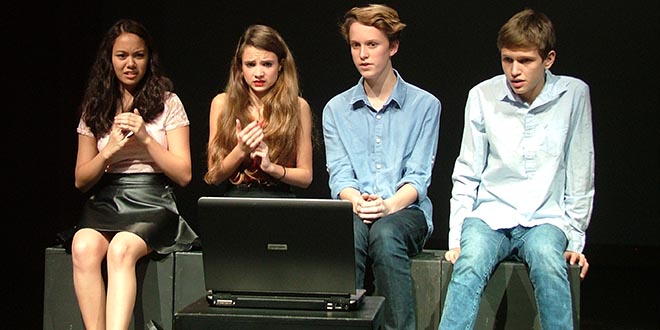 Come see the future stars of Canadian musical theatre light up the stage at the George Ignatieff Theatre this weekend!
Now in its 8th year, One Song Glory, Acting Up Stage Company's annual musical theatre intensive program for youth ages 13-19, gives 42 talented from across Ontario the chance to take centre stage and shine this Sunday in downtown Toronto.
Under the guidance of musical directors Tara Litvack, Daniel Rutzen, Douglas Price and Shari porter and directors Brenley Charkow, Darcy Evans, Chris Jackman and Keith Pike, the participants have rehearsed 16 musical numbers for the contemporary musical theatre canon. There are songs from Heathers, Carrie, Sister Act, Dogfight, Bring It On, Michael John LaChiusa's The Wild Party and more.
Performances are at 3:30 p.m. and 7:30 p.m. on Sunday Dec. 7 at the George Ignatieff Theatre (15 Devonshire Place, Toronto). Tickets are $28 for adults, $18 for students and can be purchased online, by phone at 1-800-838-3006, or in person at the box office starting an hour before each performance, on the day of the performances.
Before the big show on Sunday, get in the One Song Glory spirit with a sampling of the songs that these talented teens have in store!
"Seventeen" – Heathers
"You Shine" – Carrie 
"Better With a Man" – A Gentleman's Guide to Love and Murder
"I Got You" – Bring It On
"Something Bad Is Happening" – Falsettos
"Take It Like a Man" – Legally Blonde
"You've Got a Friend" – Beautiful
"Then Comes You" – Now. Here. This.
"Relativity" – Theory of Relativity