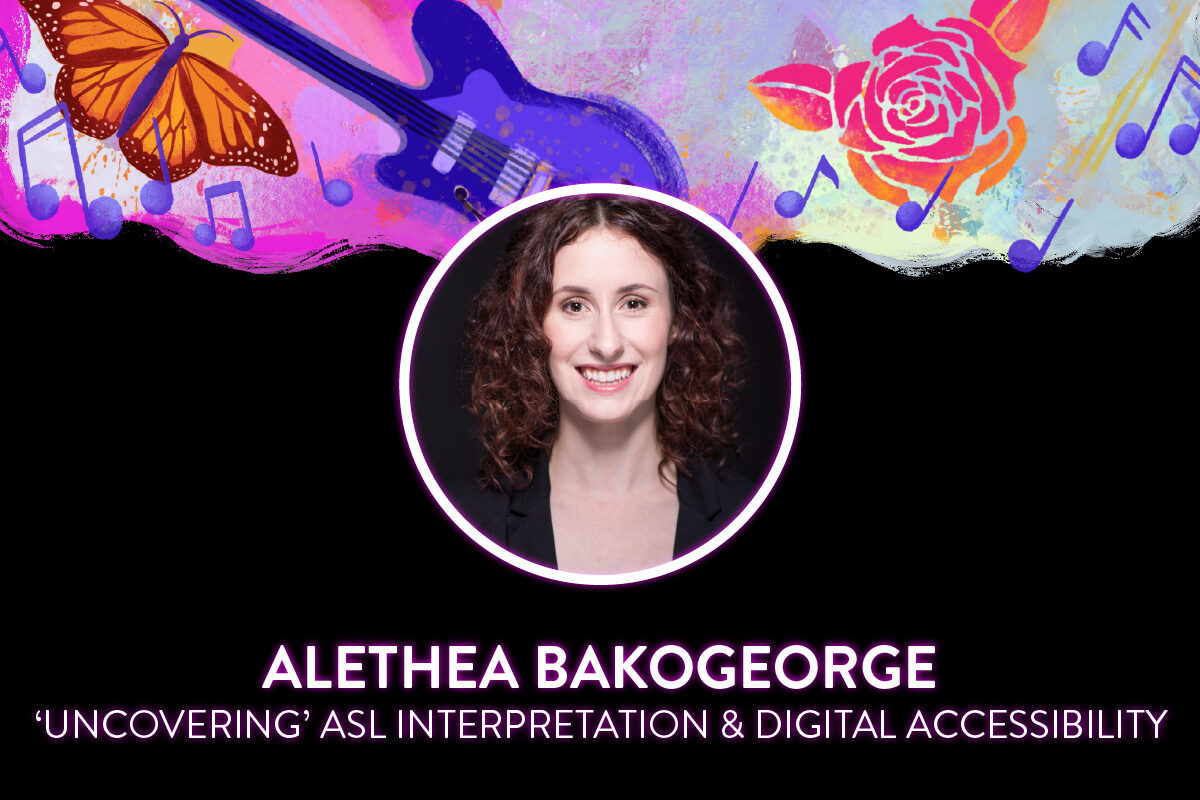 Alethea Bakogeorge on ASL for UNCOVERED & Digital Accessibility
Lately, I've been thinking about the gift of virtual performance and the wonderful opportunities streaming our productions virtually presents to make our work more accessible to audiences. On the surface level, streaming our shows is great for accessibility; as a physically disabled person, I can tell you that it's heartbreaking when I'm looking forward to seeing a show or a concert, and the day of the concert rolls around and I'm in too much pain to leave my house. One of the unexpected benefits of this pandemic is that so much wonderful entertainment has been made accessible to me from the comfort of my own home, even if I can't get out of bed.
But beyond that first level of "we can reach anyone, anywhere when we stream our content," I've gotten to discover some wonderful additional accessibility benefits of a digital screening as we've been working on our online experience of UnCovered: The Music of Dolly Parton – online now and streaming until December 11th, with a special holiday performance on December 30th.
UNCOVERED is such a special experience – you get to hear iconic songs reimagined in ways you've never heard them done before. Although when you hear something done in a new way for the very first time, it's sometimes a little hard to follow. Over the past several years that I've worked for The Musical Stage Company, I've often wished that it were easier for us to offer open captioning at Koerner Hall, to make sure that everyone can fully appreciate every note and every word of Reza Jacobs' extraordinary arrangements and these beautiful performances by stars of Canadian musical theatre. Of course in order to offer captions in-person in Koerner Hall, we would have to figure out the logistics of adding projections to the show.
We don't have that same challenge of how to build access measures into the infrastructure of our productions when we're streaming digitally! Following the smashing success of UnCovered: Notes From The Heart last year, and having streamed in households from coast-to-coast, when we knew that we were going to offer a digital experience of UNCOVERED for the second year in a row, I immediately made a plan to get our video file for UnCovered: The Music of Dolly Parton professionally captioned. Now anyone who has any sort of auditory processing disorder, is d/Deaf or Hard of Hearing, or simply prefers to watch everything with the subtitles on (like me!) can simply flip the closed captions on when they tune in to the digital experience of UnCovered: The Music of Dolly Parton.
Closed captions aren't the only accessibility measure we've been able to offer with more ease than we would have been able to had we only produced UnCovered: The Music of Dolly Parton as an in-person experience. Over the past several years, I've been very enamoured by the practice of musicians and festivals hiring ASL interpreters for concerts. At these events the music is interpreted in a more creative and non-literal way, which I always felt has a very similar ethos to how (music director) Reza Jacobs, approaches reimagining the songs we know and love in our annual UNCOVERED concerts. For some time now, I have wanted to incorporate ASL interpretation into our in-person experience of UNCOVERED, but there are some logistical concerns that make this difficult to accomplish.
That's why I am now so thrilled to announce that digital streaming has made it possible for us to bring ASL interpretation to UNCOVERED!
We are so excited to offer four ASL-interpreted performances of UnCovered: The Music of Dolly Parton – streaming on December 8th, 9th, 10th & 11th at 8:00 PM (ET). We have partnered with Toronto Sign Language Interpreter Service, engaging both a Deaf interpreter and a hearing interpreter to sign a creative interpretation of our filmed concert.
Offering ASL interpretation never would have been possible if we weren't planning on streaming UNCOVERED online; engaging an ASL interpreter for a live event often means that an interpreter is interpreting on the fly. The benefits of getting video interpretation for this filmed event means that the ASL interpretation we can offer is clear, intentional, and fully representative of everything you see on screen, because our interpreters have had the chance to work with this material for many weeks – much longer than they would have if they had interpreted in-person.
I know that for many theatre companies, this has been a challenging 20 months. Certainly before 2020, we didn't exactly anticipate that we would be creating digital film experiences for our audience! But I think it's so wonderful that making some of our programming available digitally also offers new ways for our work to become more accessible.
If you're d/Deaf or Hard of Hearing, or you're just curious about ASL interpretation for this one-of-a-kind musical event, I invite you to join us for one of our four ASL-interpreted performances of UnCovered: The Music of Dolly Parton – streaming December 8th – 11th, 2021 at 8:00 PM (ET)! All tickets for the ASL-interpreted performances are Pay-What-You-Wish.
For more information about the ASL-interpreted performances, and to learn more about how to book your tickets, click here to visit the ASL Interpretation section of our UNCOVERED webpage. If you have any questions, I'd love to hear from you by email or by phone.
Until next time – I hope to see you online at UnCovered: The Music of Dolly Parton!
---
For any questions related to accessibility matters, Alethea can be reached at aletheabakogeorge@musicalstagecompany.com or by phone at (416) 927-7880 ext. 226.