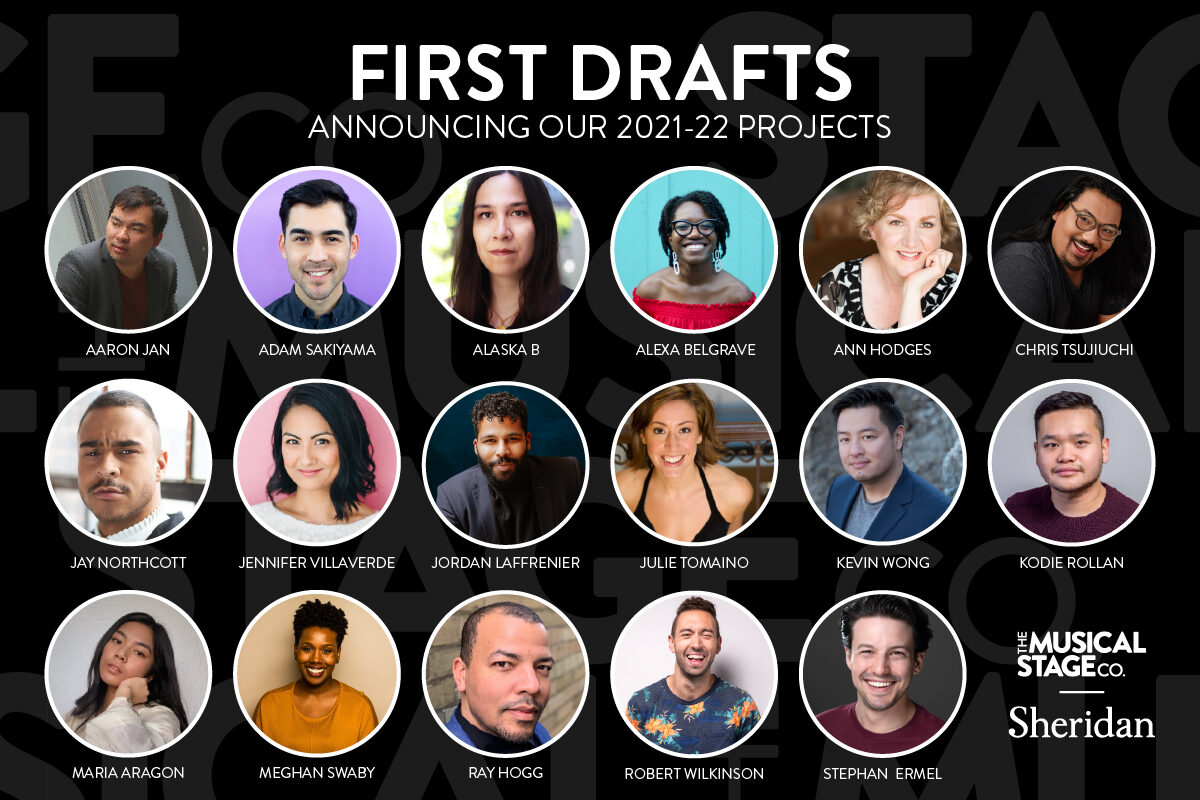 Announcing the 2021-22 First Drafts Projects
We are thrilled to announce First Drafts: An exciting new musical development partnership between The Musical Stage Company & Sheridan College.
Grounded in the urgency of the stories we need to hear now, First Drafts is the commission, drafting, workshopping, rehearsal, and public audio presentation of three new short musicals which reimagine, reconstitute, and reanimate the Western "musical theatre canon".
Sheridan students will audition, rehearse and perform the new works while collaborating in the creative process with experienced individuals, gaining valuable skills needed for workshop performance that is integral for their professional success but not offered in traditional theatre training programs. The culmination of the 2022 First Drafts program will be performed by the graduating class of 2022. All three First Draft musicals will mark the continued development of three musicals chosen directly from The Musical Stage Company's 2021 Noteworthy cohort.

Learn more about the three new musicals currently in development for 2021-22 below!
---
FIRST DRAFTS 2022 MUSICALS
A new work development program by The Musical Stage Company & Sheridan College.

All 2021-22 projects will receive dramaturgy from Kevin Wong, Ray Hogg, and Jordan Laffrenier, with copyist work by Adam Sakiyama.
Tiny Tenement of Terrors
Book by Aaron Jan (he/him)
Music & Lyrics by alaska b (she/her)
Directed by Jay Northcott (they/them)
Music Direction by Robert Wilkinson
Synopsis:
After 57 days in stasis, Aubry and 10 of Brooklyn's finest, must return to her boyfriend's spore-infested tenement to destroy the multitude of plant monsters he created. TINY TENEMENT OF TERRORS is an unholy fusion of gory 80's sci-fi and 1960's camp, all done through the wonder of radio.
"I'm excited to continue my collaborations with alaska, but more importantly to collaborate with the students to make something really epic, really ridiculous and really fun. Any chance to be able to create and develop something new in the room is always a real treat." – Aaron Jan
---
Destination: Wedding!
Book by Jennifer Villaverde (she/her)
Music & Lyrics by Kodie Rollan (he/him) & Maria Aragon (she/her)
Directed by Ann Hodges (she/her)
Associate Directed by Jordan Laffrenier (he/they)
Music Direction by Stephan Ermel (he/him)
Synopsis:
When a tropical storm descends on the island of Kapalaran, our "nearlyweds" are forced to move the beach wedding of their dreams indoors. This not-so-simple relocation immediately becomes the least of their problems. In the midst of a hurricane of drama and homicidal coconuts, our couple must let go of their best-laid wedding plans and trust that their love will find a way through the storm.

"After almost 2 years of living a confined life because of all things Covid, all we want to do is create pieces that bring us joy. First Drafts has given us the opportunity to collaborate on an incredibly fun musical and we couldn't be happier!" – Destination Wedding Team
---
Parkdale
Book by Meghan Swaby (she/her)
Music & Lyrics by Chris Tsujiuchi (he/him)
Directed by Julie Tomaino (she/her)
Music Direction by Alexa Belgrave
Synopsis
Welcome to 110 Parkdale Ave, the last subsidized low-rise building in the neighbourhood. It's special, but you can't tell that from the outside. The building is far from perfect, but for the tenants who occupy its cracked walls and uneven floors, it's home. When the tenants are faced with an eviction notice, they (reluctantly) step out of their bubbles to band together as a community in order to save their homes.

"I jumped at the opportunity to be part of First Drafts because I wanted to inject more joy in my creative process. The collaborative nature of this work is something I know will strengthen my creative process but more importantly, work alongside some incredible musicians that remind me of the magic in musicals." – Meghan Swaby
"Connecting with the students at Sheridan is the thing that excited me most. It's always amazing coming to Sheridan and meeting all these amazing people who are going to shape the future of the industry" – Chris Tsujiuchi