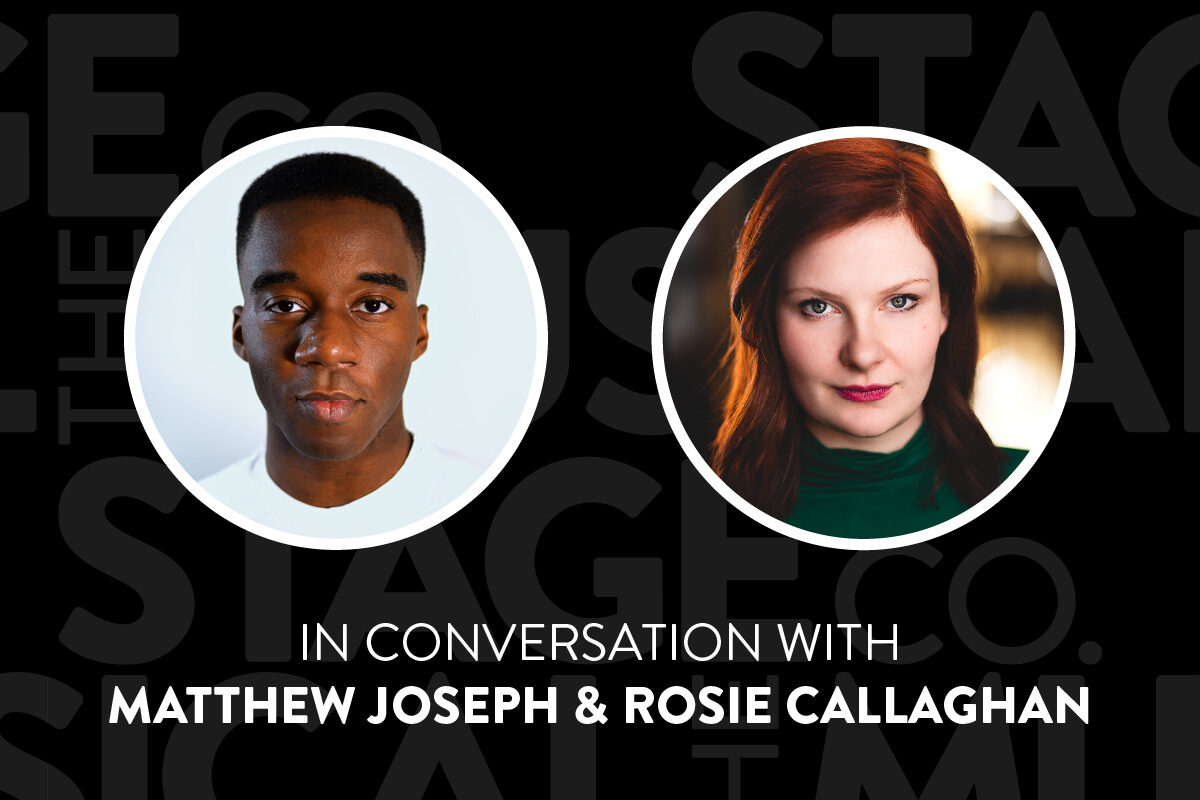 In Conversation with Matthew Joseph & Rosie Callaghan
This week we sat down with our 2021-22 winners of the The Syd & Shirley Banks Prize For Emerging Musical Theatre Artists, Matthew Joseph and Rosie Callaghan, to learn more about their love and memories musical theatre, as well as what they might hope to learn throughout this program.
---
What experience(s) ignited your passion for musical theatre?
Matthew: In high school, I initially went into the theatre after being pressured by a potential love interest – but what I found was a community that embraced me and a freedom of expression that has now kept me afloat for so long. It was the joy that I had when I was 9 years old with the possibilities of the world in front of me.
Rosie: My dad got me hooked on musicals at a very young age. He'd show me and my sisters WEST SIDE STORY OLIVER, HAIR, TOMMY; musicals that meant a lot to him growing up. I loved them all, but didn't want to pursue it as a career (I wanted to be a pop star at the bright young age of 5).
Sometime during the beginning years of high school, I found the modern musicals, namely THE PHANTOM OF THE OPERA. It was transformative. Those opening chords! The passion! The emotion! It was after watching that show that I really decided that musical theatre was what I wanted to do. I wanted to live in a world where I got to perform a story like that, 8 shows a week.
What's your favourite musical project you've previously worked on?
Matthew: My favourite musical project that I've been involved in, has to be the 2018 production of AQSARNIIT that I did with the Charlottetown Young Company. The simultaneous gravitas and levity of the show was tough to navigate, but it challenged the audience and invited a conversation. An authentic conversation, and I love when art does that; it's healing.
Rosie: One of the first productions I worked on was SPRING AWAKENING. The show has a very quaint but beautiful ensemble of young people, and it made me fall in love with ensemble roles and finding your character between the lines. It made me fall in love with listening. Additionally, the entire team made the experience so easy. We all had such a passion for the piece, and felt lucky to get to work on it every day. We were kids, playing, and slowly growing up.
Describe your feelings about starting out in this profession in three words.
Matthew: Present. Patient. Wolf.
Rosie: Courage. Wonder. Generosity.
What's your favourite musical, and why?
Matthew: Currently I'd have to say that my favourite musical is THE BRIDGES OF MADISON COUNTY. The music is intricately woven and beautifully realized in a way that never fails to move me. I find that the auditory storytelling is an instrumental piece of my personal understanding and perception of any piece of art, so that always takes my initial focus in conjunction with the story. A very close second is PASSING STRANGE, written by Stew.
Rosie: I have had many favourite musicals over the years, but I think my most cherished one is JESUS CHRIST SUPERSTAR. It was one of the ones my dad showed me as a kid, and something about the spectacle and the genuine human connection has always stuck with me.
What was your first memory related to musical theatre?
Matthew: I was in the 4th grade in Conyers, Georgia. I've always loved to sing, and I was in a children's choir run by my best friend's mom. I loved singing in the choir, and she asked me if I was interested in joining a production of GUYS AND DOLLS that she was running. I had no idea what it was like, but I asked, "will I get to sing?" and she said yes. It was one of the most fun experiences ever! And I got to perform with my best friend at the time. 10/10, would do again 
Rosie: My parents taking me to see PETER PAN, and them gently telling me I couldn't sing along. They knew I would have. I probably still did.
If you weren't in musical theatre, what would you choose to pursue instead?
Matthew: I've got so many interests in the arts including writing and recording music, Film/TV, Commercials, etc. but if I wasn't in the arts professionally I think that I'd probably be a professional gamer in some capacity. I grew up in that world and I think I'd find myself somewhere in the League of Legends professional scene. Not necessarily a player, but somewhere in and around that world.
Rosie: Archeology/Anthropology/History. I always wanted to be one of those people interviewed for historical documentaries. You know; in a burgundy armchair with a bookshelf in the background.
What do you hope to uncover in your mentorship year with The Musical Stage Company?
Matthew: I plan on using the Banks Prize as an opportunity to connect with my collaborators and the broader theatre community, as well as a vehicle to share my message of truth and communication. I think it's the most important thing we've got as people trying to navigate this world, and when truths are shared we move forward stronger and with more love. We learn more about the experiences of others and learn to identify things that halt our own growth, like prejudice and arrogance.
Rosie: Something I've been trying to cultivate in my career is a community of artists who I enjoy collaborating with. I would love to be able to expand that; to find new people to inspire me, and hopefully to inspire them!
---
To learn more about The Syd & Shirley Banks Prize For Emerging Musical Theatre Artists, click here.
To keep up to date with Rosie & Matthew's journey through the 2021-22 season, follow our Instagram, Facebook & Twitter!