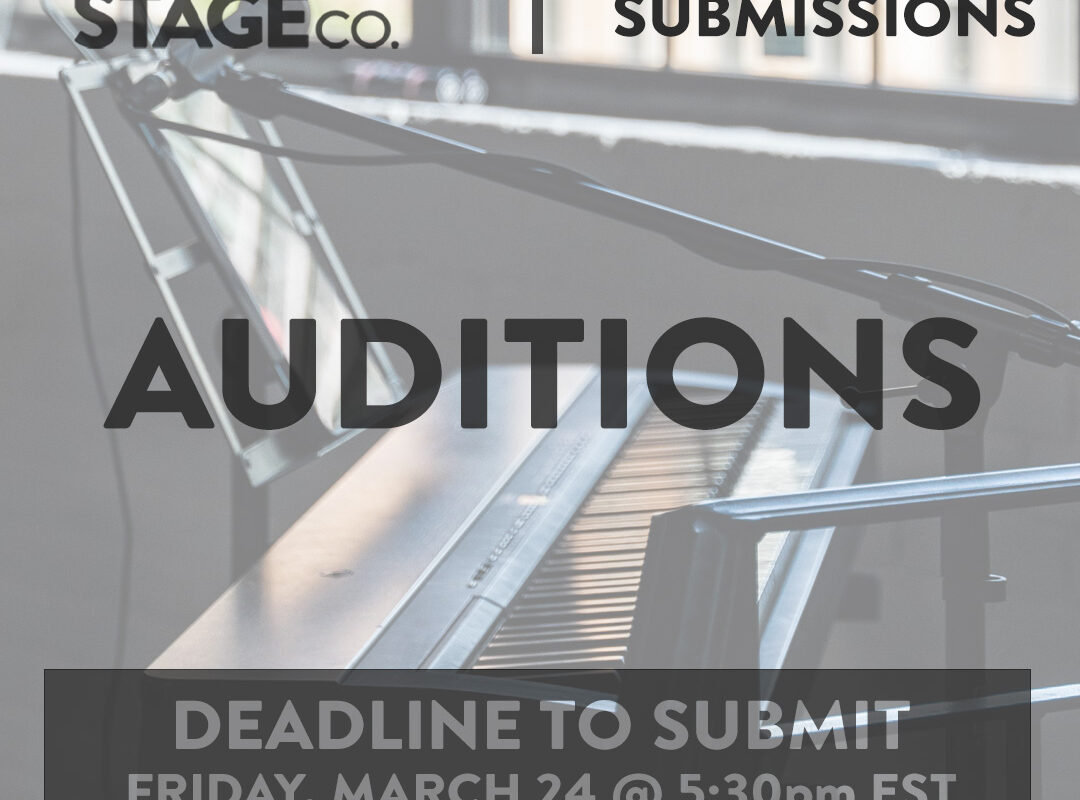 Audition Notice
Putting It Together: In Concert
The Musical Stage Company
The Musical Stage Company is inviting submissions from Toronto performers for Putting it Together: In Concert, an upcoming project in the summer of 2023.
ABOUT THE PROJECT
An evolution of our Porchside Song series and our popup Musical Moments series, this year concerts will be curated to showcase the works The Musical Stage Company has in development. We will be bringing musical experiences to Toronto and Greater Toronto Area communities, lighting up the city through story and song in eight performances of a 45-minute concert. The concert is an outdoor event that will be touring to various venues across the GTA.

This 45-minute concert will take a deep dive into the "I Want Song" from musicals currently in development at The Musical Stage Company. We want to explore what motivates a character, how that invites an audience to root for them, and embark on a journey of various versions of this device used in musical theatre. A celebration of hopes, wishes and wants, this concert gives us the permission to dream big!
**Please note** Artists will be performing in varying weather conditions, and in various locations throughout Toronto & the GTA.
Submission Instructions:
Submit by filling out  the Submission Form no later than 5:00 pm ET on Friday, March 24th, 2023
Please follow the form's instructions to upload your headshot and resume.
We especially encourage folx who identify as Black, Indigenous, People of The Global Majority,
LGBTQ2S+, d/Deaf, Mad, Disabled/People with Disabilities, and/or Neurodiverse to
submit.
If you require assistance with your submission please email:
submissions@musicalstagecompany.com
Submission Deadline:
Friday, March 24th 2023 at 5:00 PM
** Due to the high volume of submissions, only successful applicants will be contacted to audition**
Audition Date:
Monday, April 17th, 2023
Audition Notes:
The Musical Stage Company is looking to fill 4 roles of unique storytellers; ideally soprano, alto, tenor, bass performer but not necessary. One of the roles will need to accompany the concert on piano. This concert calls for actors and singers who can embody the celebration and determination of one's spirit.
Please prepare 32-bar cuts of two contrasting songs that tell us who you are, showcase your vocal range, and explore the joy and resilience of the human spirit. You can choose material that highlights the "I want" song if you with, but "I Want" songs are not necessary.
An accompanist will be provided for the auditions. Video submissions will not be accepted.
If you are unavailable for the audition date but are available for the project dates, please fill out the submission form to indicate your availability & interest.
ADDITIONAL PROJECT INFO:
Director: Saccha Dennis
Music Director: tbd
Rehearsals: July 11, 2023
Previews: July 20, 2023
Closing: July 23, 2023
Possible holdover dates: August 12th & August 19th.
Ethnocultural mandate or casting statement:
We are committed to diverse, inclusive and culturally conscious casting especially from folks who identify as Indigenous, Black, People of the Global Majority, LGBTQ2S+, d/Deaf, Mad, Disabled/People with Disabilities, and/or Neurodiverse. If you have any questions, please contact Musical Stage Company Artistic Programs Associate, Patricia Cerra, at submissions@musicalstagecompany.com