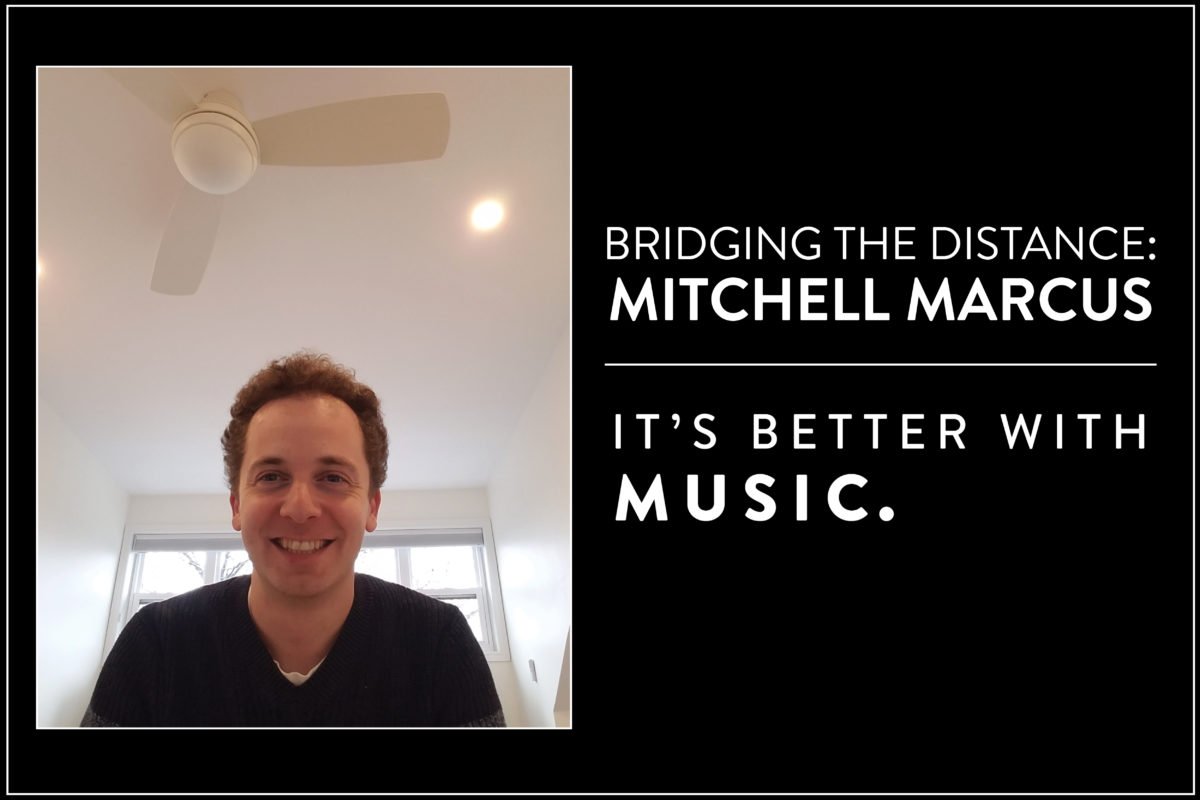 BRIDGING THE DISTANCE: Mitchell Marcus – IT'S BETTER WITH MUSIC
The Musical Stage Company is driven by musical storytelling. We are inspired by music's unique ability to viscerally affect people and are committed to cultivating experiences – onstage and off – that transform lives, build empathy and create community through musical theatre. Over the next few weeks, we will be sharing the stories of our musical community through our latest blog series, 'BRIDGING THE DISTANCE: IT'S BETTER WITH MUSIC'.

We've given each artist a writing prompt and have asked them to share a story, an image and a piece of music that depicts their current outlook and artistic practice while social isolating. First up is The Musical Stage Company's Artistic & Managing Director, Mitchell Marcus.

What has been the most surprising source of inspiration you have found during these trying times?
On March 12, I landed at Billy Bishop Airport from New York City. I had enjoyed four days in Manhattan racing between meetings, dinner dates, and Broadway musicals. New York didn't have its usual sparkle while I was there. Talk of the Coronavirus permeated every meeting, and going to Broadway theatres felt nerve-wracking rather than therapeutic. You could feel that a dam was about to burst.
Only a handful of hours after I landed, it happened. Broadway was shut down. 24 hours later, all Canadians who had traveled internationally were asked to self-isolate. And thus began many days alone in my room, babysitting my children on Skype, and working long-hours to adjust, triage and salvage our carefully planned program at The Musical Stage Company.

Surprisingly, it was not musical theatre that allowed me to find serenity in the chaos, but a brief poem by writer Emma Zeck that Robert McQueen sent to me while I was in isolation. She writes:
WITH THIS OPEN TIME
YOU DO NOT HAVE TO WRITE THE NEXT BESTSELLING NOVEL
YOU DO NOT HAVE TO GET IN THE BEST SHAPE OF YOUR LIFE
YOU DO NOT HAVE TO START THAT PODCAST
WHAT YOU CAN DO INSTEAD IS OBSERVE THIS PAUSE AS AN
OPPORTUNITY
THE SAME SYSTEMS WE SEE CRUMBLING IN SOCIETY
ARE BEING CALLED TO CRUMBLE IN EACH OF US
INDIVIDUALLY
THE SYSTEMS THAT TAUGHT US WE ARE MACHINES
THAT LIVE TO PRODUCE & WE ARE DISPOSABLE IF WE ARE
NOT DOING SO
THE SYSTEMS THAT TAUGHT US MONETARY GAIN TAKE PRIORITY
OVER HUMANITY
THE SYSTEMS THAT CREATE OUR INSECURITIES THEN CAPITALIZE OFF OF THEM
WHAT IF WE BECAME CURIOUS WITH THIS FREE TIME
& HAD NO AGENDA OTHER THAN TO EXPERIENCE BEING?
WHAT IF YOU CREATED ART FOR THE SAKE OF CREATING?
WHAT IF YOU ALLOWED YOURSELF TO REST & CRY & LAUGH
& PLAY & GET CURIOUS ABOUT WHATEVER ARISES IN YOU?
WHAT IF OUR TRUE PURPOSE IS IN THIS SPACE?
AS IF MOTHER EARTH IS SAYING: WE CAN NO LONGER CARRY
ON THIS WAY. THE TIME IS NOW – I AM REMINDING YOU WHO
YOU ARE. WILL YOU REMEMBER?
I find this poem viscerally inspiring. I know that the theatre will be back and we will be telling stories through song as soon as it is safe for audiences to bear witness to them. But how can this time inspire a future filled with even greater creativity and impact than the one we left behind 10 days ago? Might the silver lining of artistic destruction and loss of work be the gift of a moment to breath, and – in that quiet – the discovery of more inspired, more vital things to say?

While there is no shortage of planning and reorganizing for The Musical Stage Company that now fills my days and evenings, I will remember my isolation for bringing me both noisy chaos of cancellations, but also for bringing me a rare and welcome silence that I know will inspire beautiful music in the future.
It's Better With Music Selection:
Joni Mitchell's BOTH SIDES NOW brilliantly captures what it feels like to realize "I really don't know life at all." Like Emma Zeck's poem, Joni's words illuminate how sometimes the most profound discoveries can be revealed on the underside of the surface. Here is the great Jackie Richardson (accompanied by Anna Atkinson, Jamie Drake, Justin Gray, and Reza Jacobs) performing Both Sides Now in our UNCOVERED: JONI MITCHELL & CAROLE KING concert at Koerner Hall (2018), with a stunning arrangement by Reza Jacobs.