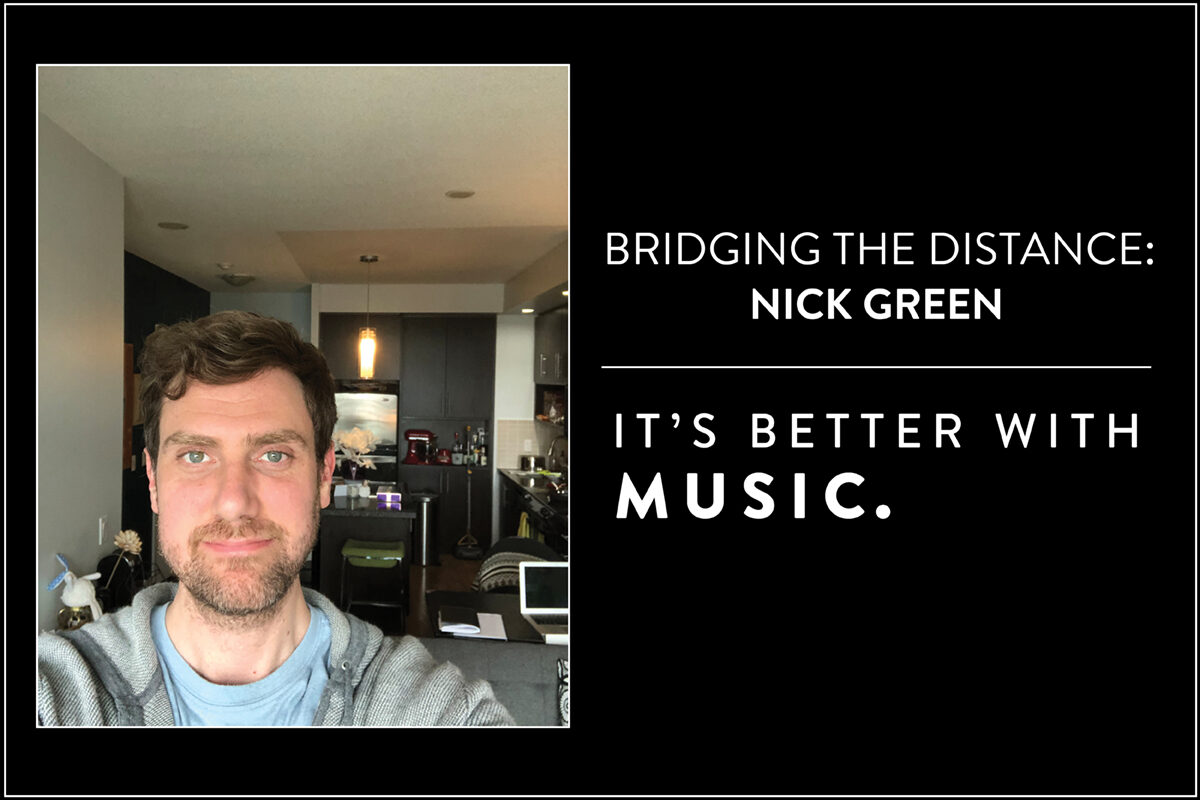 BRIDGING THE DISTANCE: NICK GREEN – IT'S BETTER WITH MUSIC
The Musical Stage Company is driven by musical storytelling. We are inspired by music's unique ability to viscerally affect people and are committed to cultivating experiences – onstage and off – that transform lives, build empathy and create community through musical theatre. Over the next few weeks, we will be sharing the stories of our musical community through our latest blog series, 'BRIDGING THE DISTANCE: IT'S BETTER WITH MUSIC'.
We've given each artist a writing prompt and have asked them to share a story, an image and a piece of music that depicts their current outlook and artistic practice while social isolating. This week we are excited to profile Dora Award-winning playwright (Body Politic) and frequent collaborator of The Musical Stage Company, Nick Green!
NICK GREEN – WHAT I'VE LEARNED ABOUT MYSELF AND MY ARTISTIC PRACTICE WHILST SELF-ISOLATING
This has been a difficult time for many people, and there have definitely been some dark times, as well as light. I've had a lot of time alone, and there's been a lot of growth and learning. I was in the midst of the first week of rehearsal for IN REAL LIFE (Kevin Wong, music and co-lyrics) at Theatre Sheridan, a musical that was two years in the making, when we were told that the show would be canceled, and we were going to be starting to practice social distancing. I could write an essay on the amazing work done by the creative team of this production, led by director Ann Hodges and Music Director Chris Barillaro, as well as choreographer Janie Pinard, scenic designer Joe Pagnan, and projection designer Nick Bottomley, who did amazing work with the students via Zoom.

This was a very inspiring and heart-warming time! But on the other hand, I'm single, live alone, and my family is on the other side of Canada in Vancouver. Despite the popular view of writers, I find it very hard to be creative when feeling lonely and discouraged.
I've been writing for 12 years now, and have had many highs and lows in my creative career, and from this, I knew that there were some hard times ahead. In hopes of connecting with some who may be feeling the same, I started The Social Distancing Festival (www.socialdistancingfestival.com), which has been one of the most profound experiences of my life. Within just a few weeks, I connected with artists from all over the world, sharing in works that represent deep and shared experiences that folks are having everywhere. I learned that this artistic community is so responsive, caring, and warm and that if you're willing to reach out and engage with someone's work, they are excited to do the same. I've been reminded that it is an incredible gift and privilege to be a part of the global arts community and that in times such as these, artists are so incredibly important in their ability to pull folks together and encourage communication and solidarity. It's been touching, surprising, and so encouraging.
IT'S BETTER WITH MUSIC SELECTION:
My Home – IN REAL LIFE
"This may be lame, but I've picked the song My Home from IN REAL LIFE as my "It's Better With Music" song selection – music by Kevin Wong, lyrics by both of us. I have learned a ton about myself and my community during this time, and (though I may be a bit biased), I think this song represents it well."