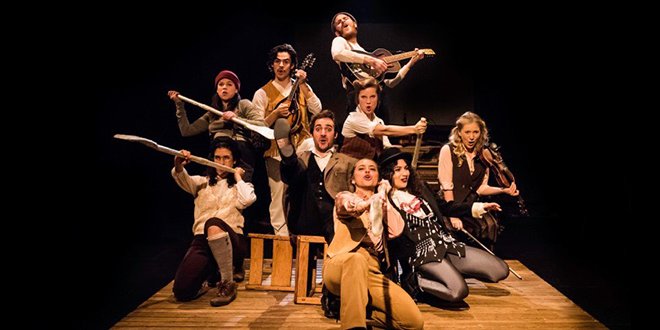 MT Scavenger Hunt: CHASSE GALERIE
This season Soulpepper is presenting Storefront Theatre's 2015 holiday hit, CHASSE GALERIE.  We caught up with Mike Cox to take us backstage on a Musical Theatre Scavenger Hunt!
1) The Most Sublime Costume
CHASSE GALERIE has some classically simple but brilliant Canadiana costume pieces but my pick of most sublime has to go to our "Minion Onesies". Our costume designer Holly Lloyd reprised the look from last year's production at The Storefront Theatre and put Hunter Cardinal and I in one-size-fits-all red onesies, complete with a butt flap. It is as comfy as a big ol' hug. It quickly became one of our favourite bits. The fuzzy toques with a half skull mask really startles the audience which then quickly turns to giggles. The loveable puppets on our hands were "hand" made (see what I did there?) by Daniel Briere and they do have names, from left to right, Krampus, Balthazar, Azazel and Steve.
2)The Most Extravagant Prop
The nature of CHASSE is pretty bare with very few props that aren't our instruments or bottles of booze. There is one prop though, that is pure magic. Our tiny, magical, glowing, flying canoe! (Being held by our wonderful ASM Liesl Low) It is used by the devil in the first act and then passed to the Courures in the second act. It's a brilliant way to show the journey of the Courures through the winter sky when they weren't in their "big" canoe. It's made of fibreglass, a lot of clear tape and two LED flashlights. It brings the audience into the wonder and magic of New Year's night.
The guy's dressing room has continued a lovely tradition that fits perfectly with the spirit of CHASSE: whiskey club.  Tyrone Savage, James Smith, Hunter Cardinal, Justin Han, Jason O,Brien and I bring a bottle of whiskey and pass it around after every show. We cheers to the time we had on stage, the story we told and it washes away the night with each sip. We stick strictly to Canadian rye whiskey (we may slip in a bourbon from time to time but we do indeed LOVE Canadian whiskey!). 
 Photography by Mike Cox
The green room at Soulpepper is filled with board games, books and many other items but one that definitely stuck out to me is a copy of Marley and Me. Because everyone needs a good cry before a comedy, you know, to balance out your night.
5) Favourite Moment in CHASSE GALERIE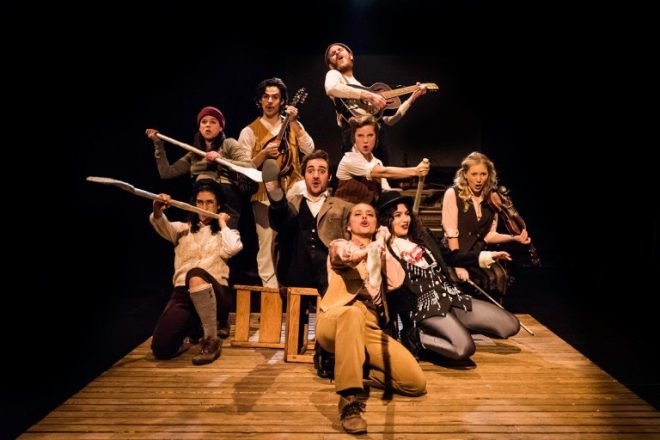 Photography by John Gundy
There are so many amazing and hilarious moments in this show so it's very hard to choose just one. You'll see what I mean when you see the show, but right now I'd have to choose "Let's Go To Hell". It is the show stopping masterpiece written by James Smith where the Courures find their own power in Hell. The music is absolutely brilliant and the journey it takes you on is breath taking. The Courures explore Hell, their friendship with each other, confront the Devil, and find some wicked dance moves. Add in some comedic genius in between singing and you've got one Hell of a moment (see what I did there again?).
6) Opening Night Highlight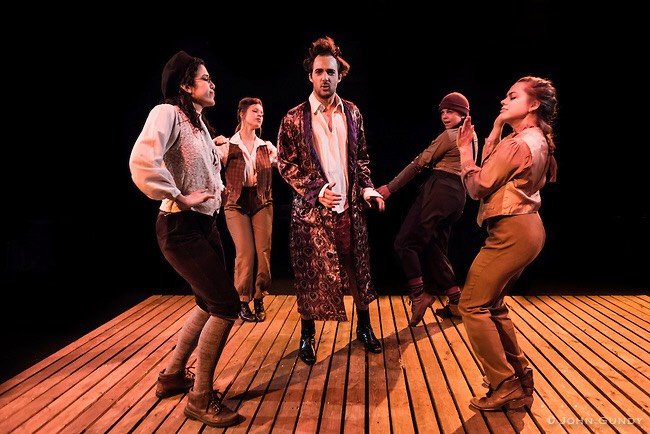 Photography by John Gundy
The highlight of opening night was the audience's engagement and participation throughout the show. Hearing them laugh and sing along with us was something we all couldn't have imagined. It was like we were missing a crucial part of our show and on opening, we were finally complete. The energy, the cheering, the love in the room was palpable. 
CHASSE GALERIE plays at the Young Centre for the Performing Arts
until December 1 , 2016.
Cover Image: Photography by John Gundy