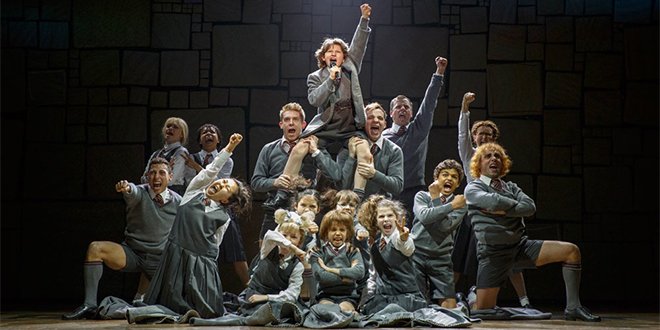 MT Scavenger Hunt: Matilda
This season Mirvish Productions is presenting Matilda, one of the largest musical hits of the last decade.  We caught up with one of our One Song Glory Alumni, Gray Monczka, to take us backstage on a Musical Theatre Scavenger Hunt!
1) The Most Sublime Costume
Rob Howell designed the costumes for Matilda including these two spectacular Acrobat and Escape Artist costumes (elegantly modelled by Kim Jablonski and Justin Packard). Howell was nominated for an Olivier Award for Best Costume Design for this production. Each member of the cast, on average, has around 3-4 costumes throughout the show, including overbearing parents, revolting school children, and flamboyant competitive dancers. 
2)The Most Extravagant Prop
Rudolpho (played by Stephen Diaz) is one of the most ridiculous characters in Matilda, so it's fitting that he gets to carry the most ridiculous prop. At the end of the show, Rudolpho is seen flaunting this farcical blow-up crocodile — for what purpose we are unsure. It's a good thing he's teaching Mrs. Wormwood how to dance, and not how to swim…
The male ensemble in Matilda transform from middle-aged fathers to 5 year old school boys throughout the show. Us men require a few things to help convince the audience of our younger age: lighting, costumes… and shaving! One of our backstage rituals is a fight for the single sink in our dressing room in order to "shave" off twenty years
Brandon Stonestreet. Photography by Gray Monczka
This is Brandon Stonestreet (our male swing) and… Debby Thehead. Brandon first… acquired… Debby from a white elephant Christmas party, and she has been touring with Brandon ever since — she's actually been on three national tours! She has her own Facebook page, loves when her hair is braided, and was once called "cool" by a TSA agent at the airport. She currently resides in the men's dressing room in the basement of the Ed Mirvish theatre.
5) Favourite Moment in Matilda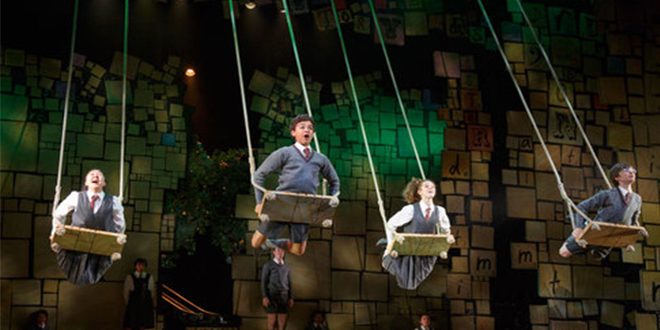 "When I Grow Up" – The company of MATILDA THE MUSICAL ©2016, Joan Marcus
One of my absolute favourite moments in Matilda is at the beginning of Act 2, during "When I Grow Up." This number is one of Peter Darling's (the choreographer of Matilda) most iconic pieces of choreography. You really have to see it with your own eyes to believe that members of the cast (both the child and adult ensemble) run off the stage and swing above the audiences' heads. I am lucky enough to be one of the four adult ensemble members who get to swing on these swings every night — how cool is it to say that I swing for a living?
6) An Olympic Rivalry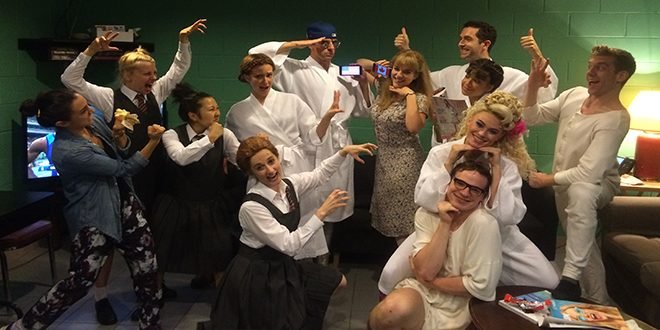 Photography by Gray Monczka
In the spirit of the Olympics, a lot of the cast has been spending time in the Ed Mirvish's green room watching the games. However… there's been an interesting rivalry amongst the cast between the 12 American members and the 21 Canadian members. Despite our different nationalities, the cast of Matilda embraces the values of the Olympic games—friendship, respect, and excellence—to put on an incredible show for every audience!
Matilda plays at the Ed Mirvish Theatre until November 27 , 2016.
Cover Image: "Revolting Children" – The company of MATILDA THE MUSICAL ©2016, Joan Marcus