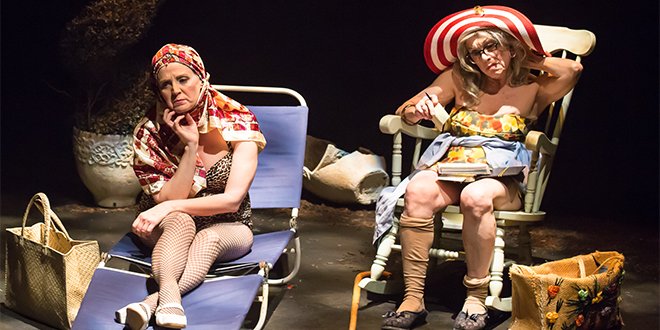 In Conversation with Lisa Horner
Award season is upon us in Toronto and Acting Up Stage has been nominated for eight Dora Mavor Moore Awards! One is a nod for the writers and composers behind the groundbreaking Reframed at the AGO while Grey Gardens, our winter production at the Berkeley, earned 7 including recognition in Outstanding Production, Musical Theatre Division and twice in the Outstanding Performance by a Female, Musical Theatre Division (Kira Guolin and Lisa Horner).
Lisa Horner wowed audiences portraying two roles in Grey Gardens. In Act 1 she shone as Big Edie, an eclectic songstress with a, perhaps ill-deserved, celebrity cockiness. In Act 2 she riveted with her dynamic portrayal of the tragic Little Edie. We caught up with Lisa and asked her about her Grey Gardens experience and the fantastic reception from the Toronto theatre community.
What do you remember most about the whole Grey Gardens experience?
I remember everything! Working with all those fantastic people onstage and off. Our amazing rehearsal. And one intimate moment where I would listen to the waves on the soundscape right before I walked onstage. It calmed me.
What was it like working with the cast?
It was a gift. That much talent and generosity in one room. I made a whole new set of friends.
What's your favorite moment in the show?

So many! I desperately loved in the second act when I was standing at the door with my suitcase trying to leave, I would look up and see Kira in flashback also trying to leave and Niki behind me on her bed …I felt a stomach-deep connection in all our stories.
Grey Gardens is based off historical events and characters, how did this effect the rehearsal process?

It kept me honest. I would refer to all the material we amassed and see how these women had reacted to things. It was so helpful when I felt a bit scared or lost.
What did you love or find most challenging about playing both Little and Big Edie?

The challenge for me was to do these women justice. They were terrific people, fascinating artists. Far ahead of their time. The Edies deserve to be remembered for all the things they were. Much more than just eccentric characters. I adored playing them and telling their story.

It was the most challenging thing I've ever done, and the most rewarding. It honestly changed me and my stage craft. And I owe this entire incredible experience to Mitchell Marcus.
**
The Dora Awards will take place June 27 at the Harbourfront Centre. To purchase tickets click here.