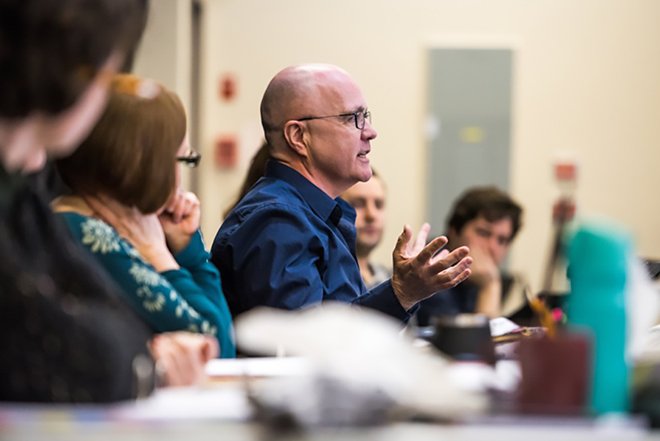 Director Robert McQueen on Revisiting CAROLINE, OR CHANGE
This week we sit down with director Robert McQueen (FUN HOME, LIFE AFTER) to discuss what it means for him to revisit CAROLINE, OR CHANGE after having first directed its Canadian premiere in 2012. Robert is an Artistic Associate at The Musical Stage Company and we are honoured to work with him as a director, dramaturg and collaborator.
Don't miss the multi-award-winning musical CAROLINE, OR CHANGE on stage January 30 – February 15, 2020, at Toronto's historic Winter Garden Theatre.
What thrills you most about revisiting CAROLINE, OR CHANGE after having first directed it nearly 8 years ago?
CAROLINE, OR CHANGE is a truly extraordinary masterwork in every way, the kind that are few and far between in the canon of musical theatre. I believe the show's integral message of hope is extremely poignant, perhaps even more so given the political climate we are living in today. I'm excited to bring this production back to Toronto in a time when the story's message seems so relevant and insightful. A show with this caliber of composition and all-around excellence will always deserve to be revisited. From a personal perspective, I look forward to having the opportunity to tackle this brilliant piece of musical theatre for a second time after 8 years [since The Musical Stage Company & Obsidian Theatre produced the Canadian premiere in 2012], given the changes I've gone through in my life and what I've learnt as a director since then.
What are the major new elements you are excited to incorporate as part of your new vision for this production?
With a few conceptual exceptions, we have decided to keep the original footprint of the show, which serves to highlight the meaningful relationship between Caroline and Noah. That being said, with a more expansive playing area [at the Winter Garden Theatre], we are incorporating larger elements of stage and design, which give the audience better insight into the everyday lives of this family and the way their home functions with all its inhabitants. We're also activating what would normally serve as the 'orchestra pit' to become the basement of the house, where Caroline spends most of her time. With this element, we hope to add a more intimate feel to the show and create a world that blends into the audience.
In your opinion, why is now a relevant time for Toronto audiences to experience a revamped production or this timely and socially conscious piece of musical theatre?
We are living in a political climate that is destructive, volcanic and all-around astounding. I think it's interesting to compare the social issues of 1963 with the issues we deal with today. The contrast between our world and the world in 1963 adds a lot of colour and richness to the piece, and shows how a world that seems completely different really isn't that far removed from the world we live in today. Now is a great time for audiences to examine these contrasts and be inspired by this extraordinary work.
How will your experience working on The Musical Stage Company production of FUN HOME in 2018 inform your directorial lens on this production?
Although the two shows are set in completely different worlds, I have always enjoyed getting the opportunity to delve deep into the worlds that composer Jeanine Tesori crafts through her extraordinary compositions. I look forward to working with the cast in exploring the music and discovering the nuances within in that will shape these characters.
What do you find to be most impactful about Jeanine Tesori's writing, and how does that influence your work as a director?
Jeanine Tesori is truly a remarkable talent. She is one of the few composers who can transform their composition style in order to best serve the story being told. She's got a unique way of providing a musical frame to better understand the whole journey of the narrative. I have learned to trust her storytelling and let the music inform the way a certain character may be feeling, even when there are no words being said or sung.
What do you hope audiences take away from this show?
I hope audiences that come to CAROLINE, OR CHANGE are moved and engaged by the story we are sharing on that stage. I hope we can provide a momentary sense of presence and the opportunity for audiences to step outside their busy minds for a moment and delve deep into a different part of their being. I believe that is the power of musical theatre.