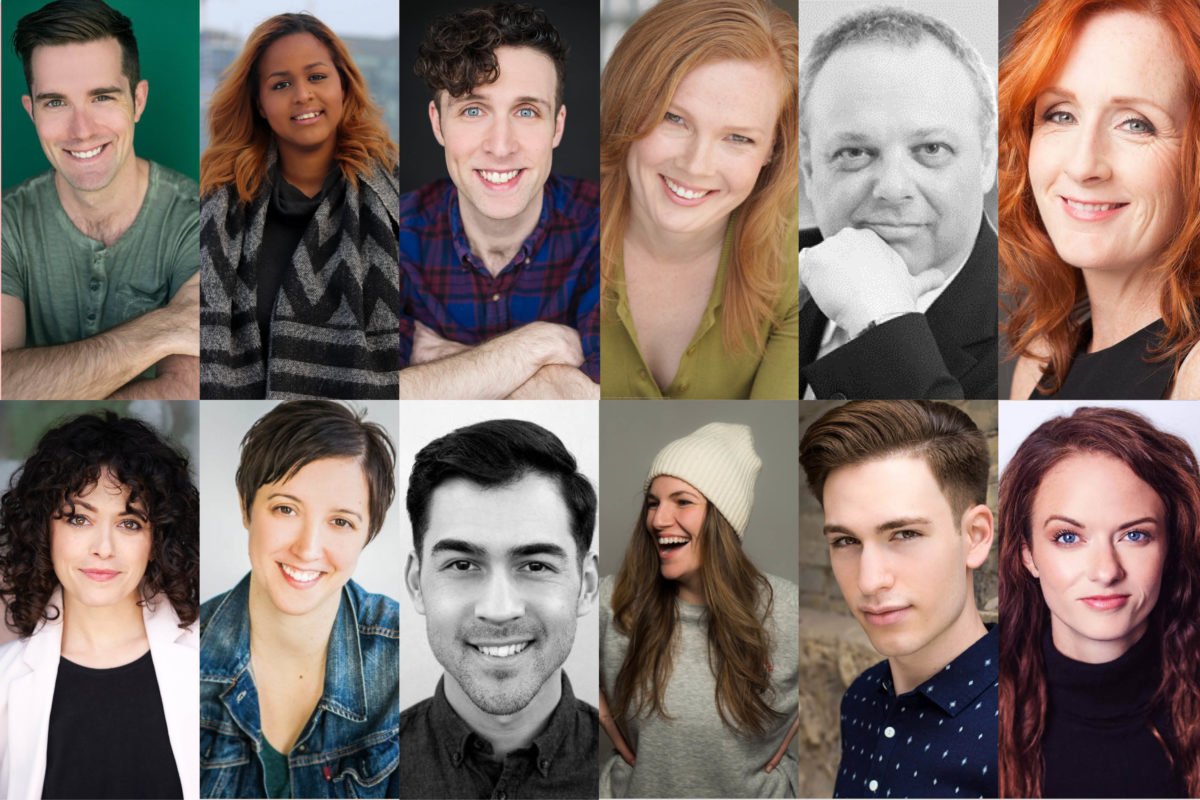 Announcing our LAUNCH PAD 2020 Partners & Creative Teams!
After an incredible inaugural year of LAUNCH PAD and the sold-out run of REPRINT (in partnership with The Globe and Mail), The Musical Stage Company and Yonge Street Theatricals are overjoyed to announce the creators and collaborators for the second year of this innovative musical theatre creation initiative.
The composers, lyricists and bookwriters that comprise the second edition of LAUNCH PAD will work in teams to create original one-act musicals inspired by the short stories of acclaimed Canadian authors and take their musicals through a full developmental process over the next 10 months. The triptych of new works will debut in September 2020 at the historic Toronto Reference Library with a public presentation produced in association with Toronto Public Library.
The 2020 cohort includes: Daniel Abrahamson (composer/lyricist), Fatuma Adar (bookwriter/lyricist), Chris Barillaro (music supervisor/ music director), Tamara Bernier-Evans (director/dramaturge), Richard Greenblatt (director/dramaturge), Mary Francis Moore (director/dramaturge), Rose Napoli (bookwriter), Nicky Phillips (music supervisor/ music director), Adam Sakiyama (composer/lyricist), Kat Sandler (bookwriter), Joseph Tritt (music supervisor/music director), and Suzy Wilde (composer/lyricist).
LAUNCH PAD offers a 10-month residency in which musical theatre composers, lyricists and bookwriters navigate a full developmental process, shepherding 30-minute musicals from conception to production with guidance from skilled creative teams and internationally renowned mentors.
In the 10 months leading up to the production, participants will navigate all of the complex milestones of a full musical developmental process, including multiple workshops and rehearsal, incorporating over 20 artist-collaborators including directors, musical directors, arrangers, copyists, actors, and musicians. As part of the program, internationally recognized producers and presenters will be invited to attend the final production followed by feedback and networking sessions with participating artists. The final pieces will be recorded and disseminated globally via podcast.
Ticket information for the September 2020 production will be announced in Spring 2020.
LAUNCH PAD is a collaboration between The Musical Stage Company and commercial producers Yonge Street Theatricals (Come From Away, Life After).
For The Musical Stage Company, this strategic initiative is enabled through a 2-year commitment from a group of private sector champions led by BMO Financial Group and with catalyzing support from Leading Lights: William J.S. Boyle C.M.; Di Bartolomeo, Di Lorenzo-Graham Foundation; The Slaight Family Foundation; Lucy White; and an Anonymous supporter.
For The Musical Stage Company, LAUNCH PAD is the latest addition to its robust portfolio of programs and initiatives designed to make Canadian artists leaders in musical theatre. Since the company's expansion and rebranding two years ago, The Musical Stage Company has increased its annual investment in writers by 290% and inaugurated The Aubrey & Marla Dan Fund for New Musicals to commission new work, The Crescendo Series to provide a multi-year residency for a composer with a commitment to produce their work, and continued its NoteWorthy program to provide foundational skills to artists interested in writing musicals.
---
ABOUT THE MUSICAL STAGE COMPANY
The Musical Stage Company is Canada's leading charitable musical theatre company. Established in 2004, we strive to make Canada a leader in musical theatre by telling our most important stories with music. We believe it's better with music.
We are inspired by music's unique ability to viscerally affect people and are committed to cultivating experiences – onstage and off – that transform lives, build empathy and create community through musical theatre.
We incubate new Canadian musicals from development to production, investing in Canadian musical theatre writers and building national and international partnerships. Our musical productions – including award-winning contemporary musicals, world premieres and concerts– are seen live by 30,000 people over the 80+ nights that we are onstage annually in venues both traditional and surprising. To date, our work has been recognized with 96 Dora Award nominations, 21 Dora Awards (including back-to-back Outstanding Musical Production awards in 2018 and 2019) and 17 Toronto Theatre Critics' Awards. Our robust education programs develop the artists and audiences of tomorrow, offering musical theatre training that boosts self-confidence and self-expression for over 200 young people each year without cost to the participants. We also curate innovative musical programs in partnership with diverse organizations, maximizing the resonance of our work across disciplines and communities. Learn more by visiting www.musicalstagecompany.com
---
ABOUT YONGE STREET THEATRICALS
Yonge Street Theatricals is a Tony-nominated, Barrymore award-nominated, Olivier award-winning and multiple Dora award-winning production company, led by Linda Barnett and Natalie Bartello. The duo have been working together, in new musical development, at the grassroots level for the last fourteen years. They develop original musicals and support and nurture exceptional works from their earliest stages. At the heart of their mission they strive to collaborate with the most exciting and engaging theatre professionals with an eye for shows that appeal to a wide audience.
Linda's former company Stage Kids was the starting ground for many award-winning Canadian actors. They created and produced 17 new musicals in an 18 year period. Stage Kids provided a place for youth across the city of Toronto to receive a free education in musical theatre.
Natalie is an alumna of York University's Honours BFA Theatre program and of the Commercial Theatre Institute (Chicago). Past producing highlights include the Canadian National Tour of Defending the Caveman and the original Toronto production of Evil Dead The Musical.
Current YST projects include: Come From Away (Toronto, New York, London, Australia and North American Tour), Diana; the electrifying new musical about a woman who chose to be fearless, and as a result became timeless (Upcoming Broadway – March 2020), Life After; a musical by Britta Johnson (6 Dora Awards including Outstanding Production of a Musical *Toronto Star – Top 11 Stage Shows of 2017, *The Globe and Mail – Best Theatre of 2017), Pollyanna; a new musical by Steven Gallagher and Linda Barnett (short-listed for the Stage West Best New Musical Award); Wally Flynn; an original musical by Steven Gallagher and Eli Bolin (2018 ASCAP Foundation award recipient) and Jake Epstein's Toronto Fringe Hit; Boy Falls From Sky.
---
ABOUT THE ARTISTS
Daniel Abrahamson (composer/lyricist)
Daniel Abrahamson is a composer and lyricist in Toronto, ON. He composed the scores for "Funny Business" (Best of Fringe, published by Samuel French), "Act Now" (Best of Fringe), and "Hugh and I" (Patron's Pick). He's the 2019 recipient of the Tom Hendry Award for Best Musical in Development from the Playwrights Guild of Canada for "Stars of Mars" which will premiere at Sheridan College February 2020. In May 2020 his new musical "Super School!" will premiere at Bravo Academy. Daniel is a second year member of the BMI Lehman Engel Musical Theatre Workshop in NYC, where he sold out a concert of his songs at 54 Below in March 2019, and will debut a second concert at Birdland Theatre in December 2019.
Fatuma Adar (bookwriter/lyricist)
Fatuma Adar is a writer and performer based in Toronto. In 2019 she was published in the anthology "Black Writers Matter" and her new musical "Dixon Road" had been shortlisted for Playwrights Guild of Canada's Stage West Musical Award. Fatuma is an alumnus of the Bars Workshop NYC at The Public Theater.
Chris Barillaro (music supervisor/ music director)
Chris Barillaro is a Montreal-based musical director, pianist, orchestrator, actor, singer, and graduate of McGill University (B.A. in music and theatre). Over the past eleven years, Chris has had the honour of helping to develop many new musicals—in both of Canada's official languages—as an MD/orchestrator, including: Sisters: The Belles Soeurs Musical; Demain matin, Montréal m'attend; Last Night at the Gayety; Schwartz's: The Musical; Senza Luce; Belles-Soeurs: Théâtre Musical; and You Are Here. He's also had the pleasure of performing at many beautiful theatres across the country, including: Place des Arts, NAC, Confederation Centre, Thousand Islands Playhouse, Globe Theatre, Segal Theatre, and Centaur Theatre. In 2019, Chris received a Dora Mavor Moore Award for outstanding music direction for Kiss of the Spider Woman.
Tamara Bernier-Evans (director/dramaturge)
Tamara is a producer, director, dramaturge and actor for both live theatre and television. She is best-known for her portrayal of Tanya in Mamma Mia! on Broadway. She was the Assistant Artistic Director at Tarragon Theatre (where she directed Midsummer) and is a co-owner of Awen Entertainment Ltd.
Richard Greenblatt (director/dramaturge)
Richard Greenblatt is an actor, director, writer and musician who has been a professional theatre artist for the last 45 years. Trained at RADA in London, England, he has directed well over 140 productions for theatres across the country, the vast majority being original and/or Canadian works. He has co-written and performed in numerous plays, including 2 Pianos 4 Hands, Sibs, and Athabasca. He was won several Dora and Chalmers Awards for his work.
Mary Francis Moore (director/dramaturge)
Mary Francis Moore is a writer, actor, director and independent theatre producer. Mary Francis was nominated for the Dora Award for Outstanding Direction of Maja Ardal's You Fancy Yourself, which has toured across Canada, the United Kingdom and was named one of the hits of the 2009 Edinburgh Fringe. She is also the director of Ardal's critically acclaimed sequel The Cure For Everything, which headlined The California International Theatre Festival in Los Ange- les. She recently directed of the world premiere of One Thing Leads To Another at Young People's Theatre.
Rose Napoli (bookwriter)
Rose is a Toronto based actor and writer. She is the author of six plays, including 'Lo (or Dear Mr. Wells)' which was nominated for a Dora Award for Outstanding New Play. She is currently a resident at the Canadian Film Centre in the Bell Media Prime Time TV Writing Program, where she is creating an original series, 'Mary IV', about grief, love, and talking ancestors.
Nicky Phillips (music supervisor/ music director)
Nicky Phillips is a composer, lyricist and musical director. She is a member of the BMI Advanced Musical Theatre Workshop where she was awarded the Jean Banks Award for outstanding achievement in Musical Theatre. Her work has been showcased at Lincoln Center, 54 Below and Don't Tell Mama. She has participated in the Johnny Mercer Songwriters Project, the Goodspeed Writers Colony, the ASCAP Stephen Schwartz Workshop and Musical Stage's Noteworthy. Selected musicals include: The Curious Journey (Interlochen Center for the Arts, CMTP), The Last Party (Toronto Fringe) and In Flanders Fields (Smile Theatre, Lunchbox Theatre, Betty Mitchell nomination). She has also been a composer and MD at Theatre New Brunswick, Alberta Theatre Projects, Theatre Direct and the Royal Manitoba Theatre Centre.
Adam Sakiyama (composer/lyricist)
Adam Sakiyama is a lyricist, composer, and musical director in Toronto, ON. His projects include Next to Normal, Launch Pad: Reprint, Dr. Silver (The Musical Stage Company), Dixon Road (The Lucky Ones Collective), The Preposterous Predicament of Polly Peel, (Toronto Fringe Festival ), TOP GUN! (Lower Ossington Theatre), He has composed for productions at the National Ballet of Canada, Guild Festival Theatre, Annex Children's Theatre, and Toronto and Hamilton Fringe Festivals. Adam is a songwriter for Super Simple Songs, one of the most watched educational channels on YouTube.
Kat Sandler (bookwriter)
Kat Sandler is a playwright, director, screenwriter and Artistic Director of Theatre Brouhaha in Toronto. She has staged seventeen of her original plays in the last eight years, including Yaga (Tarragon Theatre), and the simultaneous double bill of The Party and The Candidate this past April, where the same cast raced back and forth between spaces at the Citadel Theatre. Her play, Mustard (Tarragon Theatre) won the Dora Award for Best New Play, and Bang Bang (Factory Theatre) was nominated for the same award. She was the recipient of NOW Magazine's Audience Choice Awards for Best Director and Best Playwright, the SummerWorks Spotlight Award. Kat is a graduate of Queen's University.
Joseph Tritt (music supervisor/music director)
Selected credits:Freaky Friday (Theatre Aquarius), Once (Grand Theatre/Royal MTC), Billy Elliot, Cabaret (Royal MTC), The Producers, Les Misérables (Rainbow Stage), three pantomimes with Ross Petty Productions. Joseph recently composed the score Man and Superman at the Shaw Festival. Training: Shaw Festival Music Direction Internship, Manhattan School of Music, University of Manitoba.
Suzy Wilde (composer/lyricist)
Hailing from Toronto, Wilde has written scores for the musicals (with Barbara Johnston) Be Kind, Rewind (Randolph Academy, Edge of the Sky Theatre) and Maddie's Karaoke Birthday Party (Charcoal Sketch Productions), Crack of Doom (Bravo Academy, Yellow Door Theatre), and (with Anika Johnson and Barbara Johnston) Summerland (Edge of the Sky Theatre, Toronto Fringe). Wilde has composed and arranged for Sheridan College, Musicata Hamilton's Voices, Regent Park's "The Journey" project and The Musical Stage Company's Make Me a Song and Noteworthy, The Guelph Youth Choir and The Wexford Gleeks.