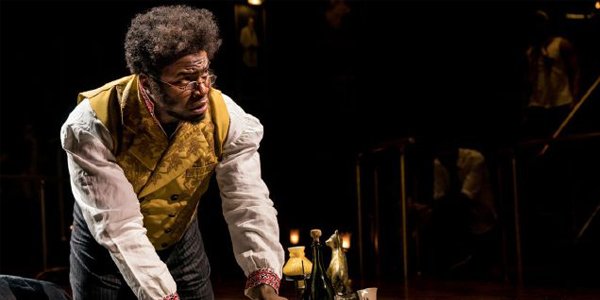 The Great Controversy of 1812
While Broadway controversies rarely make headline news, last week's Mandy Patinkin/The Great Comet saga sure got a lot of ink.
To recap the situation for those not in the "know".
Natasha, Pierre & The Great Comet of 1812 is a beautiful new musical by Dave Malloy. A contemporary adaptation of a segment of War and Peace, it was recently nominated for 12 Tony Awards including Best Musical.

Since it started on Broadway last October, the role of Pierre has been played by Josh Groban. Ticket sales were, not surprisingly, strong.

Groban finished performing in the show on July 2. Okieriete "Oak" Onaodowan – a non-celebrity who originated the role of Hercules Mulligan and James Madison in Hamilton – was announced as Groban's successor for a 9-week run. With the role of "Natasha" already played by African American actor Denee Benton, the announcement of Oak as Pierre was met with much enthusiasm as the show would have two Black leads playing these Russian aristocrats.

On July 26 – 2 weeks into Oak's run as "Pierre" – it was announced that Mandy Patinkin would take over as Pierre for three weeks (from August 15 to September 3), cutting Oak's already brief 9 week run down by 3 weeks.

The announcement was met with significant backlash. Oak – an actor of colour who replaced a white actor – was having his contract cut short, before having sufficient opportunity to succeed, and he was being replaced by a white actor. The episode amplified how little Black actors are valued and supported on Broadway.

On July 28 – 2 days after he was announced – Patinkin dropped out of the show.
This case study raises very interesting and important questions about diversity and inclusivity on Broadway and – perhaps most positively – has resulted in a flurry of conversation around these issues in the media. While the decision to hire Patinkin seems certain to have been an economic and not a social one (the show was in danger of closing and needed a star to boost sales) and while the show is already one of the most diverse on Broadway (it recently won an award for "extraordinary excellence in diversity on Broadway"), the implication of cutting short this outstanding opportunity for an actor of colour came to represent a larger, real issue.
Looking at this situation more broadly though, I think there is a very important lesson to take away for those producing: the importance of transparency.
When he dropped out of the show, Patinkin tweeted: "My understanding of the show's request that I step into the show is not as it has been portrayed and I would never accept a role knowing it would harm another actor." The producers tweeted: "…We had the wrong impression of how Oak felt about the casting announcement and how it would be received by members of the theater community, which we appreciate is deeply invested in the success of actors of color — as are we — and to whom we are grateful for bringing this to our attention."
Reading between the lines, this situation – which was complicated because of the racial implications – was made worse due to miscommunication. Patinkin noting that the situation was "not as it had been portrayed" and the producers' note about having "the wrong impression of how Oak felt" suggests that someone may have dropped the ball.
I've often said that 60% of my job is to be a social worker, listening to and navigating the feelings of over 50 artists who have to collectively and collaboratively bring a project to life. Time and again it's been clear that the best way to steer the ship is to be totally transparent, hearing all concerns and making sure – even if someone disagrees – that everyone understands why decisions that affect them get made.
Certainly we have dropped the ball on this too sometimes, and my heart breaks for the producers and creators of The Great Comet who may see their beautiful show close because of a bad communication strategy. But for the rest of us producing theatre or bringing large-scale, human-driven projects to life, this situation is a sobering reminder – spending the time to "onboard" everyone in advance and meaningfully addressing hurt feelings can save significant time and major strife later.