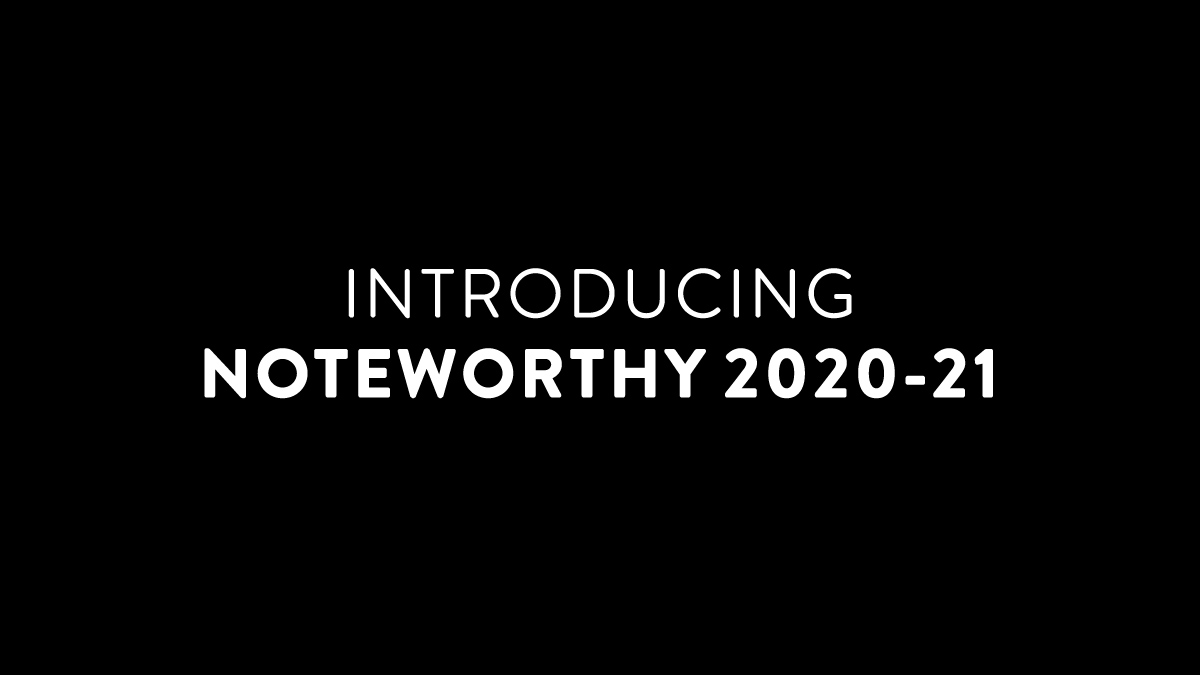 Introducing our 2020-21 NoteWorthy Cohort
This week, we're thrilled to announce the artists who will be taking part in the 2020-21 edition of our NoteWorthy program, offered in association with Prime Mover Theatre Company. NoteWorthy allows composers, lyricists and playwrights from across Canada to build foundational skills through master classes and guided collaborative writing assignments.
The 2020-21 NoteWorthy program is exclusively supporting BIPOC artists from across Canada. All participating artists will receive access to the program for free as well as an honorarium to help them reserve the necessary time required for participation in this two-month program. The program will also be led and facilitated by a completely BIPOC artistic team with top international facilitators leading discussions for artists coast to coast.
NoteWorthy is offered with the generous support of Program Sponsor TD Bank Group and Leading Light Andrew Gillespie. Learn more about our 23 participating artists below:
---
JOSEPH ARAGON
Playwright, Composer, Lyricist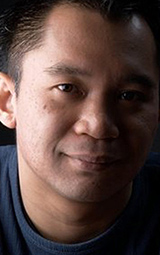 Joseph Aragon is a Winnipeg playwright and composer. A veteran of the Winnipeg Fringe Theatre Festival, Joseph is a two-time winner of the Harry Rintoul Memorial Award for Best New Manitoban Play. His works include the plays HOW THE HEAVENS GO and THE UNLIKELY SAINTHOOD OF MADELINE MCKAY, and the hit Fringe musicals BLOODSUCKERS!, ILLUMINATI, and LUCREZIA BORGIA. His musical BLOODLESS: THE TRIAL OF BURKE AND HARE received a Dora Mavor Moore Award nomination for Outstanding New Musical. As a composer, arranger and sound designer, he has worked on several Winnipeg productions, including JABBER and DANNY, KING OF THE BASEMENT for Manitoba Theatre for Young People, and ORDINARY DAYS for Winnipeg Studio Theatre. He is a Playwriting graduate of the National Theatre School of Canada and a member of the PTE Playwrights Unit.
---
MARIA ARAGON
Composer, Lyricist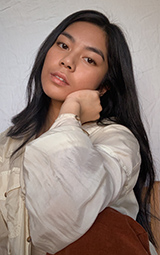 Maria Aragon is a Canadian singer of Filipino descent. Aragon gained fame after a YouTube video of her performing Lady Gaga's "Born This Way" went viral.On February 16, 2011, a video of Aragon performing a cover of "Born This Way" by Lady Gaga was posted to her sister's YouTube channel to showcase her talent to friends and family. The video caught Lady Gaga's attention when entertainment blogger Perez Hilton sent Gaga her "Born This Way" cover, and she was so impressed by Aragon's performance that she retweeted a link to the video.[3] In a week, her video reached over 11 million views. As of October 2015, the video had over 58 million views.
During an interview on HOT 103 in Winnipeg, Lady Gaga called into the show to tell Aragon how moved she had been by her performance. Lady Gaga then invited an already surprised Aragon to perform "Born This Way" with her at The Monster Ball Tour concert in Toronto. In Toronto, Ontario, Canada, 99.9 Virgin Radio called Aragon and offered to fly her to Toronto for free. On March 3, 2011, Aragon joined Lady Gaga on stage at the Air Canada Centre, where they performed an acoustic duet of "Born This Way" with Aragon sitting on Gaga's lap, playing piano, singing and Lady Gaga working the pedals. Aragon later rejoined Lady Gaga and her team of back up dancers for an uptempo finale version of "Born This Way".[4]American talk show host Ellen DeGeneres took notice of her from emails and petitions requesting for Aragon's appearance on the show and eventually invited Aragon to appear on her show on February 21, 2011, where Aragon again performed "Born This Way" on the piano earning a standing ovation from the audience. On March 29, 2011, Aragon performed "Born This Way" at her home for Canadian Prime Minister Stephen Harper. She and Harper also performed a duet of John Lennon's song "Imagine."
---
MAKRAM AYACHE
Playwright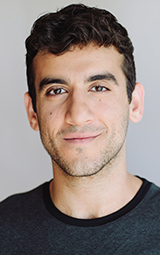 Makram Ayacheis a community-engaged theatre artist and educator who splits his time between Edmonton and Toronto. His playwriting explores meaningful representations of queer Arab voices. He often endeavours to bridge complex and interlocking political struggles to the very intimate and real experiences of the people impacted by them.
Ayache has been nominated for four Elizabeth Sterling Haynes Awards for his plays HARUN (2018) and THE GREEN LINE (2019). Most recently, HARUN won the Playwrights' Guild of Canada's annual Tom Hendry Award in the RBC Emerging Playwright Category. In 2020, Ayache completed Factory Theatre's Mechanicals Actors' Enhancement Training in Toronto and co-created and performed in Azimuth Theatre's ALL THAT BINDS US in Edmonton.
Currently, his play THE HOOVES BELONGED TO THE DEER is commissioned by the Alberta Queer Calendar Project which will be workshopped and recorded for online public viewing, directed by Peter Hinton, in January 2021. Also in 2021, Makram will spend his time at the Citadel Theatre developing his skills as a director and he is a participant of Generator's Artist Producer Training program.
He is thrilled for this opportunity to explore musical theatre creation!
---
ALASKA B
Composer, Lyricist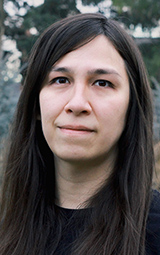 Based in Toronto, Ontario, Alaska B has a Bachelor in Interdisciplinary Arts from Concordia University, a degree in Computer Animation from Sheridan College, and a passion for exploring the intersection between media and technology. Known for her problem solving skills, creative approach, and mix of expertise, her practice moves fluidly between digital media production, installation and musical performance. Her unique skill range has seen her trouble shoot as theatrical technician for large scale community engaged performances; produce and present her own animations and intermedia creations; and to build a striking musical catalogue that is grand in scope.
As a composer and performer, her award-winning film and game scores (Canadian Screen Award 2019, Canadian Game Awards 2016) and songwriting (Polaris Prize nominated, Juno Awards nominated) have been heard all over the world.
​Her film work includes THROUGH BLACK SPRUCE (2018) and MICHAEL SHANNON MICHAEL SHANNON JOHN (2015). Her video game credits include MARK OF THE NINJA (2012) and the critically acclaimed SEVERED (2016, PS VITA, 3DS, WiiU, Switch, iOS)
---
MADDIE BAUTISTA
Composer, Lyricist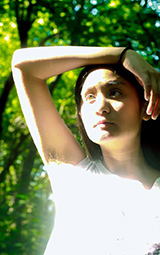 Maddie Bautista is an award-winning theatre artist, sound designer, and composer. She is a Bi,
Saudi Arabia-born Filipinx artist based in Toronto. As a sound designer, Maddie has been nominated for a Dora Award for her music in Eraser at RISER 2019, and for the 2020 Pauline McGibbon Award. Her sound design has been featured intheatre companies and festivals across the country, including Luminato, Theatre Passe Muraille, Aluna Theatre, rEvolver Festival in Vancouver, High Performance Rodeo in Calgary, and more. Award-winning performance and original work has included Nightswimming's 5×25 2017 Commission and NOW Magazine's Audience Choice Award 2018 for co-creating 4inXchange in her performance art duo xLq, which toured across Canada. She is the recipient of fu-GEN Theatre's inaugural Walk the Walk Commission for femme Asian-Canadian playwrights for her play Kersey Kamayan Gets Woke.
She is one half of xLq with Jordan Campbell, Co-Producer of Theatre Amihan with Adriano Sobretodo Jr. and Festival Co-Producer of Tales from the Flipside, and creator-performer at Bad Muse Collective with Deanna H. Choi.
---
JEWELLE BLACKMAN
Playwright, Composer, Lyricist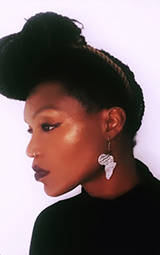 Jewelle Blackman is a multi-talented artist from Toronto, ON. She has played the violin for more than 30 years and graduated from Queen's University with a Double Major in Music & Film as well as completed the Summer Performance Certificate Program at Berklee College of Music. Jewelle is currently on pause from Broadway as part of the Tony/Grammy Winning Best Musical HADESTOWN where she originated the role of Fate. Select credits include THE WHO'S TOMMY (Acid Queen); JACQUES BREL IS ALIVE AND WELL AND LIVING IN PARIS both at the Stratford Festival; WE WILL ROCK YOU (Teacher); THE LION KING (Nala/Shenzi) Mirvish; THE WIZARD OF OZ (Mrs. Banks) Young People's Theatre; DREAMGIRLS (Deena Jones) The Grand Theatre/StageWest. Jewelle has also worked extensively in Film/TV. For the past few years she has been working on her first musical YOU KNOW MY NAME, NOT MY STORY, inspired by Nina Simone's "Four Women."
"What excites me most about Noteworthy this year, in particular, is that I will be in a room of exceptionally talented people like myself who in the past have not been given the space and support to create in an environment that not only acknowledges and accepts our presence but celebrates and nurtures it. And to receive those teachings from people who look like me and who have also been othered is the cherry on top." – JEWELLE BLACKMAN
---
NICOLE BROOKS
Playwright, Composer, Lyricist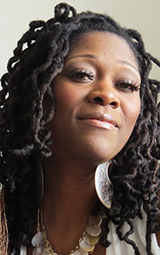 Before becoming a playwright, Nicole Brooks devoted over 20 years producing innovative content that illuminate the peoples of the African Diaspora. Brooks established a reputable career with hundreds of hours of content in film & television as a producer, director, writer and story editor, having her work broadcasted on Canadian platforms such as CBC, OMNI, Bravo!Fact, VisionTV, and TVOne, and at festival screenings around the world. In 2012, Brooks added playwright to her list of talents. Her debut theatrical work, OBEAH OPERA – which she wrote, composed and performed in – has been staged in various incarnations at festivals, workshop productions, and commissioned presentations in Toronto between 2009 and 2019. Supported by several municipal, provincial and federal arts grants, including the prestigious Canada 150 Grant and the National Creation Grant, OBEAH OPERA has garnered multiple DORA nominations, including Outstanding New Musical/Opera, Outstanding Choreography, and Outstanding Feature Performance. OBEAH OPERA's most recent commissions include the Pan Am/Parapan Games in 2015 and the Luminato Festival in Toronto in 2019. Obeah Opera is an official Festival Selection of the 2020 NAMT Festival of New Musicals. Brooks is slated to make her opera directorial debut at Opera Columbus in 2021.
---
CHANTAL FORDE
Playwright, Lyricist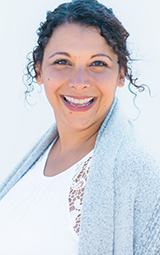 Chantal Forde is a writer, director, educator and performer in the GTA with a passion for new works and theatrical opportunities that challenge and inspire.
Chantal's most recent plays include LACUNA, TABLE 7, GREY, and PERCEPTIONS OF LOVE IN THE PURSUIT OF HAPPINESS. Recent directing and choreography credits include DISENCHANTED – AT HOME! (director, Poison Apple Productions), STATUE OF LIMITATIONS (director, Kingston Fringe), MONKEY WRENCH (director, Ergo Arts Pink Fest), AND THEN…SHE DID! (director, Goldenberg Productions), LITTLE SHOP OF HORRORS (choreography, BOTG), and SHREK THE MUSICAL (choreography, BOTG).
Chantal and her husband, Tim Cadeny, are the creative team behind Oakville's Holiday Pantomime for the last eight years, where they have created hilariously twisted up versions of ALADDIN, THE WIZARD OF OZ, BEAUTY AND THE BEAST, and more.
As an educator Chantal has had the opportunity to work with performers as young as 8 and as old as 94. She is on the faculty at Sheridan College, works at Centre Stage Theatre School and is a workshop instructor for Shadowpath Theatre Productions.
---
AARON JAN
Playwright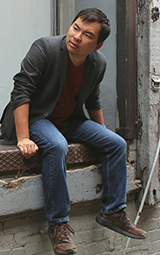 Aaron Jan is a Hamilton-born director, playwright and dramaturg. He has worked as a creator with Factory Theatre, Canadian Stage, Theatre Aquarius, Cahoots, fu-GEN Asian Canadian Theatre, and most recently as a commissioned playwright with York University. Aaron is a member of the critically acclaimed, Silk Bath Collective, whose production of Yellow Rabbit enjoyed a sold-out run as a part of Soulpepper's 2018/2019 season. Aaron is the 2019 winner of the Ken McDougall directing award and is currently in a creation residency with his collective at Theatre Passe Muraille this season. aaronchihojan.wixsite.com/home

"I'm the most excited to learn and collaborate with some of the most exciting creatives working in North America. Even though I'm brand new to the musical theatre writing world, I low-key screamed when I saw the guest instructor list and the names of the other people in my cohort." – AARON JAN
---
MARCIA JOHNSON
Playwright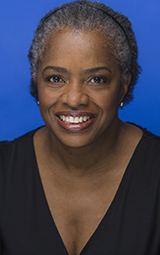 Marcia Johnson is a theatre artist in Toronto. SERVING ELIZABETH, in which she also acted, had its world premiere at Western Canada Theatre (co-produced with Thousand Islands Playhouse) in
February 2020 and published by Scirocco Drama.
Other plays include BINTI'S JOURNEY, an adaptation of the teen fiction novel The Heaven Shop by Deborah Ellis (Theatre Direct Canada/Manitoba Theatre for Young People/Black Theatre Workshop); COURTING JOHANNA (Blyth Festival) based on Alice Munro's "Hateship, Friendship, Courtship, Loveship, Marriage," and LATE, an original piece produced by Obsidian TheatreCompany.
Marcia has participated in playwrights' groups at Thousand Islands Playhouse, Obsidian Theatre Company, Theatre Passe Muraille as well as Ontario Arts Council Playwrights' Residencies at Blyth Festival and Roseneath Theatre. She also participated in Tapestry New Opera's Composer-Librettist Laboratory twice. Her training also includes a musical theatre workshop with William Finn at Canadian Stage Company and the Siminovitch Prize Playwriting Master Class with Carole Frechette. Marcia collaborated with Stephen Taylor on PARADISES LOST, (opera) based on the
Ursula K. Le Guin novella for the University of Illinois.
---
FRANCES KONCAN
Playwright, Lyricist
Frances Koncan (she/they) was born many years ago and is now of a certain age. Originally from Couchiching First Nation in Treaty 3 territory, she currently lives and works in Winnipeg, Manitoba in Treaty 1 territory. She is a playwright, a director, a journalist, the Artistic Director of Sarasvati Productions, a Taurus, an INFP, an Enneagram Type 4, and mother to a dog named Tucker, a cat named Tucker, and 58 house plants who are not named Tucker. A graduate of CUNY Brooklyn College's MFA Playwriting program, her career began in 2015 and has been on a very slow but nonetheless upward trajectory ever since. Her two biggest creative dreams include writing a Hallmark movie script and a musical (not, however, a Hallmark Musical) so she is very excited about taking a step towards making at least one of those things happen.
"The first movie I ever saw was "The Wizard of Oz". It was the spark that ignited my lifelong interest in storytelling, music, and fashionable shoes. Over the years, my love for musical theatre faded a great deal because I never saw myself represented in the genre, but I'm excited to be a part of this cohort to both regain my own passion for musical theatre and to help amplify that representation within the genre, ensuring future BIPOC artists don't lose their love of it for the same reasons I did." – FRANCES KONCAN
---
JORDAN LAFFRENIER
Playwright, Lyricist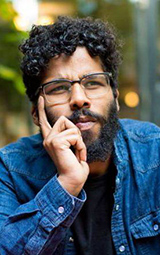 Jordan Laffrenier is a Toronto-based director, producer, educator and dramaturg. He is currently Co-Coordinator of Sheridan College's Music Theatre Program, Associate Artistic Director for Prime Mover Theatre Company, Cahoots Theatre Company's dramaturg for their 2020/2021 HOT HOUSE LIFT OFF Playwrights' Unit, the Metcalf Intern Artistic Director at Musical Stage Company, and an Artist Mentor at VIBE ARTS. He is the co-founder of The Songbird Series (www.songbirdseries.com) and Then They Fight Theatre company. Jordan is a York U theatre grad with a specialization in playwriting and devised theatre.
"I want to write musicals about the people who sparkle in our own backyard: the souls of folks with grace, poetry, and beauty. This is a dream I have had for a long time and have never had the resources or time to put the dream into action. I am so looking forward to The NoteWorthy program." – JORDAN LAFFRENIER
---
AHMED MONEKA
Playwright, Composer
Ahmed Moneka arrived in Toronto from Baghdad five years ago and has since collaborated with many artistic institutions including the Canadian Opera Company, Tarragon Theatre, Aga Khan Museum, Tafelmusik, Driftwood Theatre Group, Toronto Jazz Festival, Koerner Hall, Modern Times Stage, Jabari Dance Theatre, Toronto Laboratory Theatre, Theatre Centre, and TRIA Theatre. He is one of the founders of the band Moskitto Bar and is the creator and leader of Moneka Arabic Jazz – a 2019 Stingray Rising Stars Winner at the Toronto Jazz Festival.
In Baghdad, Ahmed studied theatre at the Institute of Fine Art and then at the prestigious Academy of Fine Art. During his formative years, he also learned Afro-Sufi singing and drumming in the tradition of his family, who came to Iraq from Kenya in the 8th century. He was the first Black Iraqi to host a television program, the youngest member of the Iraqi National Theatre, and he played Romeo in ROMEO AND JULIET IN BAGHDAD at the Royal Shakespeare Company in England. Other performances with The Forum Theatre, Iraqi Theatre Company, Street Art Company, and Baghdad Theatre Company took him to Morocco, Jordan, Egypt, and many other festivals. starred in the film THE SOCIETY which premiered at the Toronto International Film Festival and resulted in his exile from Iraq because of its subject matter of homosexuality.
---
ANDREW MOODIE
Playwright, Lyricist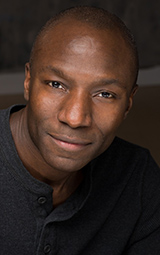 Ontario-based actor/playwright/director Andrew Moodie began his playwriting career in 1995 with his first play, RIOT.
As an actor he has performed in countless productions all across the country. Some selected credits include; OUR COUNTRY'S GOOD, BETTER LIVING, THE SECOND SHEPPARD'S PLAY ( Great Canadian Theatre Company), MACBETH, THE MERRY WIVES OF WINDSOR and AMADEUS (Stratford), WHALE, ALICE, PINOCCHIO, IN THE FIELD OF DREAMS, THE NELSON MANDELA STORY, ( Young People's Theatre) HEALTH CLASS (Dora Award), THE INCREDIBLE SPEEDINESS OF JAMIE CAVANAUGH (Roseneath Theatre) NATHAN THE WISE, and HAMLET (Soulpepper) MASTER HAROLD AND THE BOYS (Prairie Theatre Exchange), OTHELLO (Dora Nomination) (Shakespeare in the Rough).
His theatre writing credits include: RIOT, Factory Theatre, 1995, directed by Layne Coleman. (1996 Chalmers Award for Best New Play). It has since been performed in Ottawa, Montreal, and Halifax. OUI, Factory Theatre, 1998. WILBUR COUNTY BLUES, Blythe Festival, 1998. A COMMON MAN'S GUIDE TO LOVING WOMEN, jointly produced by Canadian Stage and the National Arts Centre, 1999, and has since been performed in Montreal, Ottawa, Halifax and Vancouver. THE LADY SMITH, Theatre Passe Muraille 2000, also remounted in Montreal. THE REAL MCCOY, Factory Theatre 2007, 2008, and has since been performed in Ottawa and will be mounted in St. Louis in 2011. And finally TORONTO THE GOOD, Factory Theatre 2009 which was nominated for a Dora award for Best New Play.
His directing credits include FOR COLORED GIRLS WHO HAVE CONSIDERED SUICIDE WHEN THE RAINBOW IS ENUF, THE CORNER, and THE REAL MCCOY. His television writing credits include an episode of DROP THE BEAT and his radio credits include AFGHANADA (WGC award) for CBC.
---
RENAE MORRISEAU
Playwright, Composer, Lyricist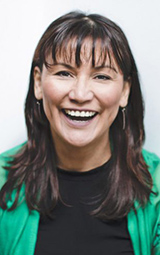 Originally from Manitoba and of Saulteaux and Cree descent, Renae Morriseau has called Vancouver's Coast Salish shores her home for more than 30 years. Many will recognize her from her role in the CBC television series NORTH OF 60, but her contributions to the storytelling craft extend far beyond this – she recently received the 2015 City of Vancouver Mayor's Arts Award for community engaged arts for her work cultivating social justice and inclusiveness through theatre and music.
A producer, writer and director of award-winning television documentaries and theatre productions, Morriseau is also a talented musician with the Indigenous women's hand-drumming group, M'GIRL, who recently toured in New Zealand and Germany. She continues to work with First Nation communities in B.C. and Manitoba to share stories of resilience, healing and the importance of Indigenous language and cultural worldview.
---
VARMAN NAVARATNAM
Composer, Lyricist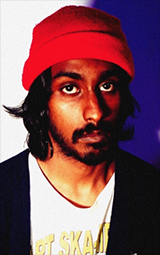 Varman Navaratnam (@sussvarman) is a rapper, writer, and producer from Scarborough, ON who released his EP "I Write Songs so I Miss My Dad Less" in 2019. He is a multi-instrumentalist with the outlook of an immigrant overachiever and a complete degenerate.
---




RIEL REDDICK-STEVENS
Playwright, Composer, Lyricist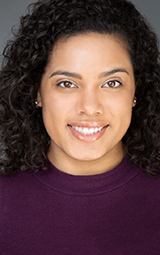 Riel Reddick-Stevens is an artist born and raised in Cole Harbour, Nova Scotia. She is a Randolph College graduate and current acting student at National Theatre School of Canada. Riel is trained in acting and musical theatre but also loves to create using many art mediums including; music, film, dance, writing, visual art and more.
---



LUKE REECE
Playwright, Lyricist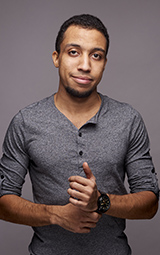 Luke Reece strives to share authentic and engaging stories with audiences through his work as an award-winning playwright, poet, producer and educator. Through his work as an artistic leader within the national arts community, he advocates for nuanced storytelling that challenges Canadian audiences. Luke currently sits on the Board of Directors for the Professional Association of Canadian Theatres, and previously worked for Obsidian Theatre Company from 2015-2020. Luke is one of Toronto's most decorated slam poets, becoming the Toronto Poetry Slam (TPS) Grand Champion in 2017, winning the Canadian Festival of Spoken Word first as the captain of the TPS team, and again as the coach. In 2018 he placed 2nd in Canada individually which earned him a spot representing the country at the 2019 World Cup of Poetry Slam in Paris France, placing 4th. He continues to give back to the Toronto Spoken Word scene as a board member for the Toronto Poetry Project. Most recently Luke has been featured performing for NBA Champion Serge Ibaka on his Instagram Talent Show.
"Honestly, I've been thinking about writing a musical for a while – but never really knew where to start. Going into 2021 I'm really trying to focus on developing my artistic craft, and it feels like this particular year of Noteworthy is the only place to start. I mean, an entirely BIPOC group of creators? Come on. I've been in these spaces before, and they are my FAVOURITE spaces. I can't wait to make art, learn, and grow with this group. The work that's going to come out of this program, I'm telling you now, watch out." – LUKE REECE
---
HAL WESLEY ROGERS
Composer, Lyricist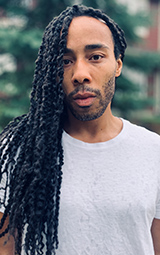 Hal Wesley Rogers began his career singing in church at the age of four and doing hip-hop dances choreographed with his cousin in the living room at family gatherings in Leduc, Alberta. Picking up some skills playing musical instruments along the way, his musicality evolved into a love of theatre in high school which lead to a BFA in Theatre Performance from Simon Fraser. He has performed in musicals across Canada, worked as a singer around BC and has auditioned for productions around the world. When not performing, Hal loves to write. He started writing music and scenes in university and continued as a hobby. He sometimes performs original music at open mic nights and was a regular guest at Underneath the Harlem Moon, a monthly cabaret night at Guilt and Co in Vancouver. Performance Highlights: Edmonton: HADESTOWN (Citadel Theatre); Vancouver: BEST LAID PLANS (Patrick Street/Touchstone); Thunder Bay: THE ROCKY HORROR PICTURE SHOW (Magnus); Film/TV: SELF MADE: INSPIRED BY THE LIFE OF MADAME C.J. WALKER (Netflix).
---
KODIE ROLLAN
Playwright, Lyricist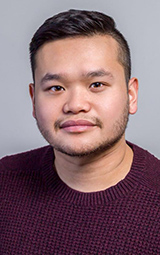 Kodie Rollan is Philippine-born, Scarborough-raised, Calgary-based playwright, dramaturg, actor, and producer. Kodie is passionate about telling stories that examine the socio-political environment of our world and is also rooted in the various communities he serves. His writing credits include: THE WATCHDOG SOCIETY (Chromatic Theatre IBPOC Playwright's Unit & 2020 Tales from the Flipside Festival – Carlos Bulosan Theatre) LOLA, NANAY, ANAK (exp(LORE) audio series with Jupiter Theatre) , FUNNY MAN (2018 IGNITE! Festival for Emerging Artists), HANDLE WITH CARE (2017 Kingston Juvenis Festival). He is currently the Artistic Associate of Chromatic Theatre and is the current dramaturg for their IBPOC Playwright's Unit.
---
JAKE RUNECKLES
Composer, Lyricist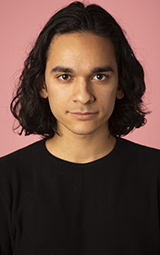 Jake Runeckles is a theatre maker, musician, and advocate for positive change. He began his career in musicals, and subsequently trained at George Brown Theatre School, and the Birmingham Conservatory for Classical Theatre. Jake has worked with Cahoots Theatre in the Hot House Creators Unit, and he co-created Knots at the 2016 Toronto Fringe Festival with Lucy Meanwell. He also created the Newmarket Show in 2017, and has worked as a producer for Theatre by the Bay, and for the 2017 Toronto Fringe hit, MADELEINE SAYS SORRY. Jake began training in classical piano when he was 4 years old, and has happily picked up many instruments since then. Selected acting credits include THE NEVERENDING STORY, HENRY VIII (Stratford Festival); I AND YOU (Outlook Theatre); THE SECRET GARDEN (Young People's Theatre); ANIMAL NATURE (Clay and Paper Theatre).
---
MEGHAN SWABY
Playwright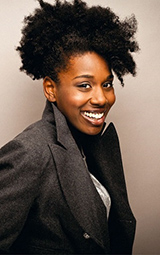 Meghan Swaby is an actor and playwright born and raised in Toronto. Her play VENUS' DAUGHTER was produced by Obsidian Theatre in 2016 and was included on The SureFire List (Playwrights Guild of Canada) as one of the top 23 recommended plays in Canada. She has participated in various playwriting programs over the years, such as; Nightwood Theatre's Write from the Hip, Diaspora Dialogues Playwright Residency and The Stratford Festivals' Playwrights Retreat. Her work has been part of such festivals as rock.paper.sistaz, Groundswell, Hysteria and the inaugural 50in50: Writing Black Women Into Existence curated by Dominique Morisseau at the Billie Holiday Theatre in Brooklyn. She is a past participant of Playwrights Workshop Montreal and The CEAD Writers' residency in Gros Morne, Newfoundland. She was recently commissioned by Myseum of Toronto (Intersections Festival) to create a short play called DERAILED: THE HISTORY OF RAILWAY PORTERS IN CANADA based on Cecil Foster's book They Call Me George.
---
CHRIS TSUJIUCHI
Composer
Chris Tsujiuchi's musical direction credits include PARADE (Toronto Musical Concerts) THE LAST FIVE YEARS (YRG Productions), ONEGIN (Musical Stage Company/National Arts Centre/Arts Club Western Canada Tour), 35MM (Toronto Premiere), ANY DREAM WILL DO (Angelwalk Theatre & Theatre Collingwood), A MISFORTUNE (Next Stage Festival), MICKEY & JUDY (Toronto Fringe/Best of Fringe), and BARE (Canadian Premiere/WatersEdge Productions). Chris has worked as an accompanist and teacher at Sheridan College, Randolph Academy, and George Brown College. He has toured extensively with Sharron Matthews, the Nathaniel Dett Chorale, and can also be seen performing in Asian Riffing Trio (aka ART).
---

JENNIFER VILLAVERDE
Playwright, Lyricist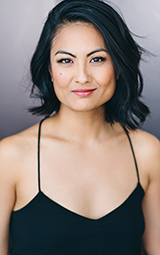 Originally from Winnipeg, Jennifer Villaverde is a 2nd generation Filipinx-Canadian actor, singer, arts educator, emerging playwright and mom. As a graduate of the inaugural Soulpepper Academy, she's worked in theatres across Canada such as Soulpepper, fu-GEN, Young People's Theatre, Common Boots, Royal Manitoba Theatre Centre, Rainbow Stage, Manitoba Theatre for Young People, Citadel Theatre, Vertigo Theatre, Persephone Theatre, Geordie Theatre, and Seattle Children's Theatre in the U.S. She shares 2 Dora nominations for Outstanding Ensemble for HANA'S SUITCASE and Outstanding Musical for SEUSSICAL, both produced by YPT. In 2011, she performed in YPT's A YEAR WITH FROG & TOAD which would later receive the Dora Award for Outstanding Musical. In 2019, she participated in Factory Theatre's Foundry, a new work creation group for emerging playwrights led by Nina Lee Aquino. It's in this program where she wrote the 1st draft of her 1st musical, CRUZ CONTROL. She is currently working on a new draft of the book and is also collaborating on a TYA musical adaptation of Griffin Ondaatje's THE MOSQUITO BROTHERS.
"I've loved musicals all my life and as a theatre creator, I couldn't pass on Noteworthy's commitment to invest in more inclusive storytelling. This is a place where I feel confident that my voice as an artist and woman of colour will thrive and I can't wait to hear all the stories just itching to bust out from our IBPOC community of artists." – JENNIFER VILLAVERDE
---