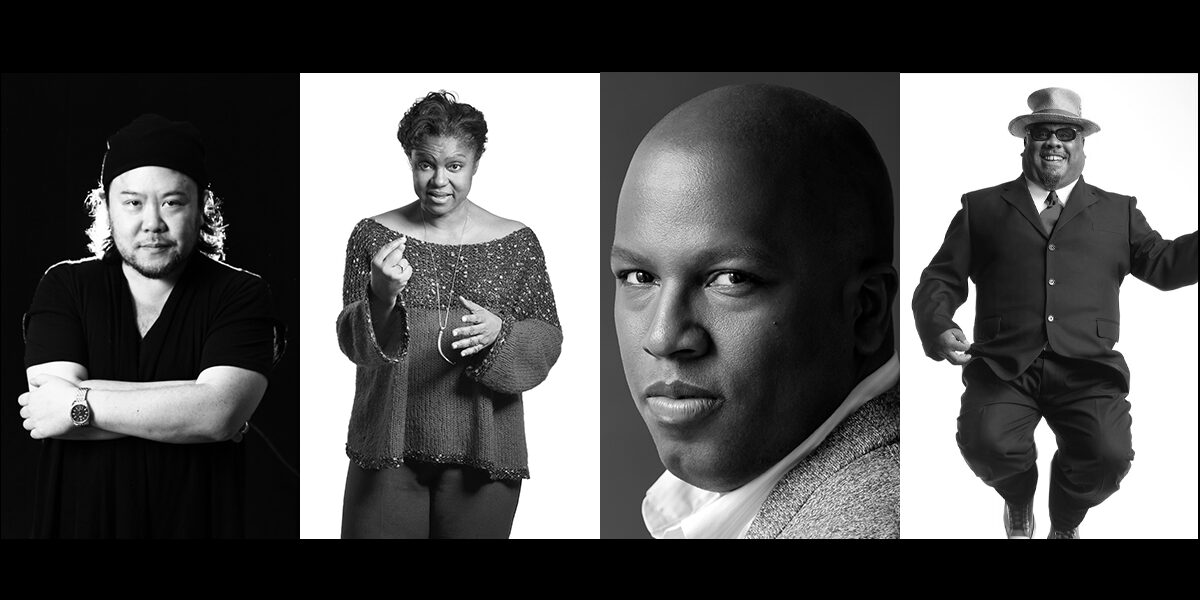 Introducing our 2021 NoteWorthy Faculty
The Musical Stage Company in association with Prime Mover Theatre Company is thrilled to announce the internationally renowned faculty for NoteWorthy 2020-21! Faculty include MICHAEL R. JACKSON, STEW, KIRSTEN CHILDS, STAFFORD ARIMA with program mentorship by RAY HOGG and KEVIN WONG.
In addition to providing immeasurable knowledge and support to our NoteWorthy cohort, KIRSTEN CHILDS, STAFFORD ARIMA & STEW will provide public forum discussions via zoom to ensure access to all. Each 45-minute chat will be held on Zoom and will be recorded to ensure participation is available for all who would like to join. Learn more about each faculty member and sign up for these invigorating chats below!
Offered bi-annually, NoteWorthy allows composers, lyricists, and playwrights from across Canada to build foundational skills through master classes and guided collaborative writing assignments. The program will be offered entirely online this season and made available to the largest cohort of artists ever with national representation. To help ensure that the future of musical theatre better represents a diverse range of stories and voices, the 20-2021 NoteWorthy program will exclusively support BIPOC artists from across Canada.
---
KIRSTEN CHILDS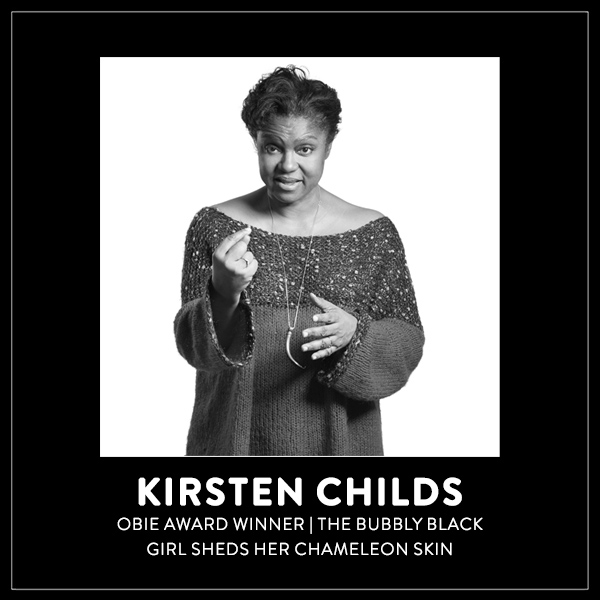 THE BUBBLY BLACK GIRL SHEDS HER CHAMELEON SKIN (Obie, Kleban, Audelco, Richard Rodgers, Gilman Gonzalez-Falla awards; Rockefeller, Meet The Composer and Jonathan Larson Grants; Lortel, NAACP, Drama Desk nominations). BELLA: AN AMERICAN TALL TALE (Tale Frederick Loewe Award, Edward M. Kennedy Prize Finalist, 4 Audelco Awards). FLY with Rajiv Joseph, Bill Sherman, and director Jeffrey Seller. THE EDGE OF NIGHT (Playwrights Horizons, Soundstage Podcast Series). FAMILY CHRONICLES (Vineyard Theater commission). WASHINGTON SQUARE with Ben Wexler (New Group commission with Gordon Greenberg). FUNKED UP FAIRY TALES. MIRACLE BROTHERS. LUCKY BOY (Penn State Commission. NEA, Larson grants. American Songbook series. New Electric Company). Disney's BELIEVE and Disney's WISHES. Guggenheim Museum Works & Process. Songwriter for Dianne Reeves (with Billy Childs).
---
In Conversation with Kirsten Childs
Join Obie Award-winning writer and composer Kirsten Childs for a discussion exploring the ins and outs of book writing for musical theatre. | Date: January 20, 2021 | Time: 10:00am EST | Length: 45 minutes | Platform: Zoom |
---
STAFFORD ARIMA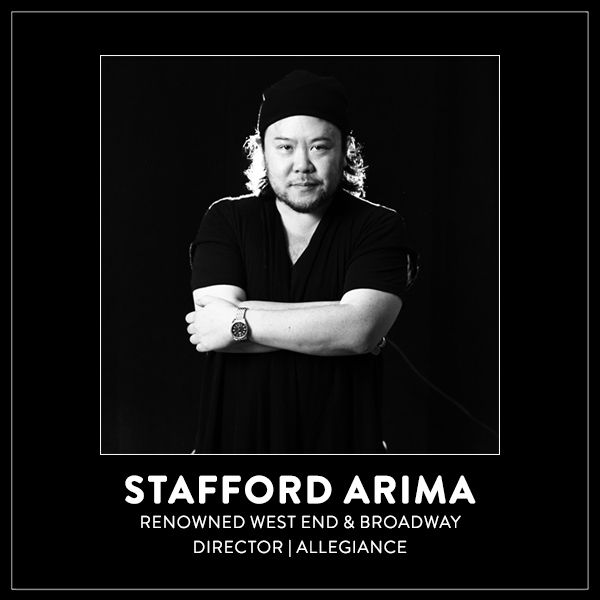 Stafford Arima is an international, award-winning
theatre director who has worked for over 20 years in the
entertainment industry. He was nominated for the prestigious Olivier Award for his direction of the musical RAGTIME, in the West End; and in 2015, Arima made history when he became the first Asian-Canadian to direct a musical on Broadway – ALLEGIANCE. He is currently the Artistic Director of Theatre Calgary in Canada. In 2018, Theatre Calgary celebrated its 50th anniversary making it one of the most recognizable cultural institutions in Canada. Arima's current mission is to inspire and provoke audiences through ambitious programming created to ignite, local, national and international engagement.

Selected work includes: ALTAR BOYZ (received the Best Musical Outer Critics Circle Award, was nominated for a Drama Desk as Outstanding Musical, and ran over 2,000 performances Off-Broadway), CARRIE (Off-Broadway revival; nominated for 5 Drama Desk Awards including Outstanding Revival of a Musical and an Outer Critics nomination for Outstanding Revival of a Musical; MCC Theater); THE SECRET GARDEN (David Geffen Hall, Lincoln Center); TWO CLASS ACTS by A.R. Gurney (The Flea Theater); RED VELVET (The Old Globe); SATURDAY NIGHT (The York Theatre Company, NYC); THE TIN PIN ALLEY RAG (nominated for an Outer Critics Circle Award as Outstanding Off-Broadway Musical, Roundabout Theatre Company); Candide (San Francisco Symphony); JACQUES BREL IS ALIVE AND WELL AND LIVING IN PARIS (Stratford Festival); A TRIBUTE TO SONDHEIM (Boston Pops); MARRY ME A LITTLE (Cincinnati Playhouse); GUYS AND DOLLS (Paper Mill Playhouse); and ABYSSINIA (Goodspeed Musicals). Arima was the associate director for the Broadway productions of Seussical and A Class Act. He graduated from York University (Canada), where he was the recipient of the Dean's Prize for Excellence in Creative Work. He serves as Artistic Advisor for Broadway Dreams, is an Adjunct Professor at UC Davis, and a proud member of SDC and CAEA.
---
In Conversation with Stafford Arima
Join Stafford Arima for a discussion on new musical theatre writing with an emphasis on adaptation and how to determine the material that sings. | Date: January 13, 2021 | Time: 12:30pm EST | Length: 45 minutes | Platform: Zoom |
---
STEW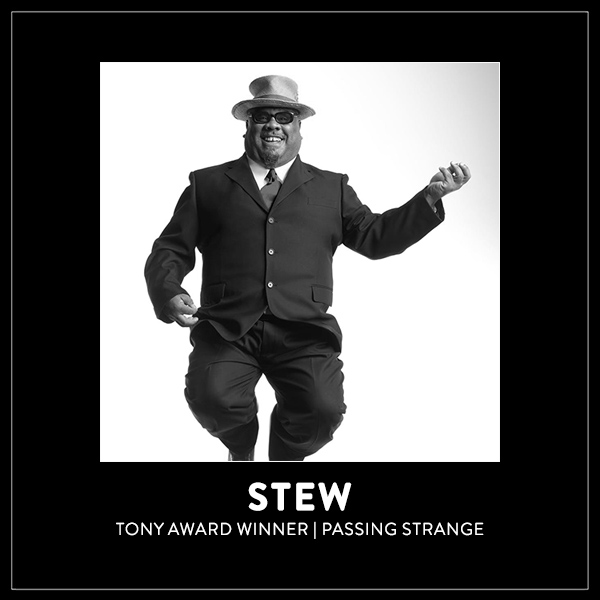 As a Tony Award and Two-Time Obie Award-winning playwright/performer, critically acclaimed singer/songwriter, and veteran of multiple dive-bar stages, Stew's focus these days is on creating song-driven films, alternative tv, and teaching. He is currently composing songs for Spike Lee's upcoming full-length movie musical (Untitled) and he teaches at Harvard, Sarah Lawrence, and The New School, where his classes are hothouses of multi-disciplinary, self-challenging experimentation that encourage celebratory transformation via myth-making.

Works include: MAYBE THERE'S BLACK PEOPLE IN FORT GREENE (Written for Spike Lee's TV show "She's Gotta Have It.") 2019; A CLOWN WITH THE NUCLEAR CODE (Written for Spike Lee's TV show "She's Gotta Have It.") 2018; RESISTING MY RESISTANCE TO THE RESISTANCE (Metropolitan Museum of Art) 2017; MOSQUITO NET (NYUAD Arts Center, Abu Dhabi 2016); NOTES OF A NATIVE SONG (Commissioned by Harlem Stage – Performed worldwide) 2015 to present; WAGNER, MAX!!! WAGNER!!! (Commissioned by & debuted at Kennedy Center, DC 2015); CHICAGO OMNIBUS (commissioned by & debuted @ Museum of Contemporary Art, Chicago 2013); CALIFORNIA ANALOG (Commissioned by the University of California, Los Angeles, 2012); BROOKLYN OMNIBUS (Commissioned by & debuted at the Brooklyn Academy of Music 2010); MAKING IT (commissioned by & debuted at St Ann's Warehouse, Brooklyn 2010); SPIKE LEE'S PASSING STRANGE (film) 2009; PASSING STRANGE (Tony for Best Book of a Musical. Broadway. 2008); PASSING STRANGE (Obie: Best New Theater Piece & Best Ensemble. Public Theater NYC 2007); PASSING STRANGE (World Premier. Berkeley Repertory. 2006); STEW & THE NEGRO PROBLEM have released 12 critically acclaimed albums between 1997 & the present. Stew is the composer of "GARY COME HOME" of SPONGE-BOB SQUAREPANTS fame, which, honestly, is all anyone cares about anyway.
---
In Conversation with Stew
Join Tony Award-winning writer and composer Stew for an in-depth discussion on writing lyrics for musical theatre. | Date: January 9, 2021 | Time: 10:00am EST | Length: 45 minutes | Platform: Zoom |
---
MICHAEL R. JACKSON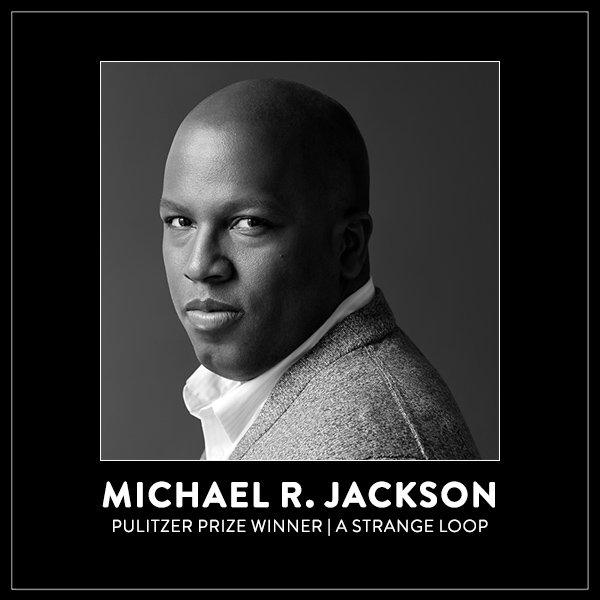 Michael R. Jackson's 2020 Pulitzer Prize and New York Drama Critics Circle winning A STRANGE LOOP (which had its 2019 world premiere at Playwrights Horizons in association with Page 73 Productions) was called "a full-on laparoscopy of the heart, soul, and loins" and a "gutsy, jubilantly anguished musical with infectious melodies" by Ben Brantley for The New York Times, and "exhilarating and wickedly funny" by Sara Holdren for New York. In The New Yorker, Vinsom Cunningham wrote, "To watch this show is to enter, by some urgent, bawdy magic, an ecstatic and infinitely more colorful version of the famous surreal lithograph by M. C. Escher: the hand that lifts from the page, becoming almost real, then draws another hand, which returns the favor." As a songwriter, he has seen his work performed everywhere from Joe's Pub to NAMT. In addition to A STRANGE LOOP, he also wrote book, music and lyrics for WHITE GIRL IN DANGER; and lyrics and book for the musical adaptation of the 2007 horror film TEETH with composer and co-bookwriter Anna K. Jacobs. Awards and associations include: a New Professional Theatre Festival Award, a Jonathan Larson Grant, a Lincoln Center Emerging Artist Award, an ASCAP Foundation Harold Adamson Award, a Whiting Award, the Helen Merrill Award for Playwriting, a New York Drama Circle Critics Award, an Outer Critics Circle Award, a Drama Desk Award, an Obie Award, an Antonyo Award, a Fred Ebb Award, a Dramatist Guild Fellowship and he is an alum of Page 73's Interstate 73 Writers Group. He has commissions from Grove Entertainment & Barbara Whitman Productions and LCT3 and is newly-elected member of the Dramatists Guild Council.
---
NOTEWORTHY 2020-21 COHORT
Aaron Jan, Ahmed Moneka, Alaska B, Andrew Moodie, Chantal Forde, Chris Tsujiuchi, Frances Koncan, Hal Wesley Rogers, Jake Runeckles, Jennifer Villaverde, Jewelle Blackman, Jordan Laffrenier, Joseph Aragon, Kodie Rollan, Luke Reece, Maddie Bautista, Makram Ayache, Marcia Johnson, Maria Aragon, Meghan Swaby, Nicole Brooks, Renae Morriseau, Riel Reddick-Stevens, & Varman Navaratnam.
---
Taran Kootenhayoo, a 27-year-old Indigenous artist, actor, advocate, poet, playwright, and would-be NoteWorthy 2020-21 participant — passed away suddenly on December 31, 2020. Taran was Denesuliné and Stoney Nakoda. Born in Cold Lake Alberta, he was a member of the Alexis Nakota Sioux Nation. The Musical Stage Company is deeply saddened to share this news and sends love and support to all that knew and loved him.
A GoFundMe page in memory of Taran has been set up to support final arrangements as well as any expenses that may help family members that need to travel, accommodation, and the cost of living as they grieve. Click here to visit and donate to the Fund.
---
 NoteWorthy is made possible by the generous support of Program Sponsor TD Bank Group and Leading Light Andrew Gillespie.