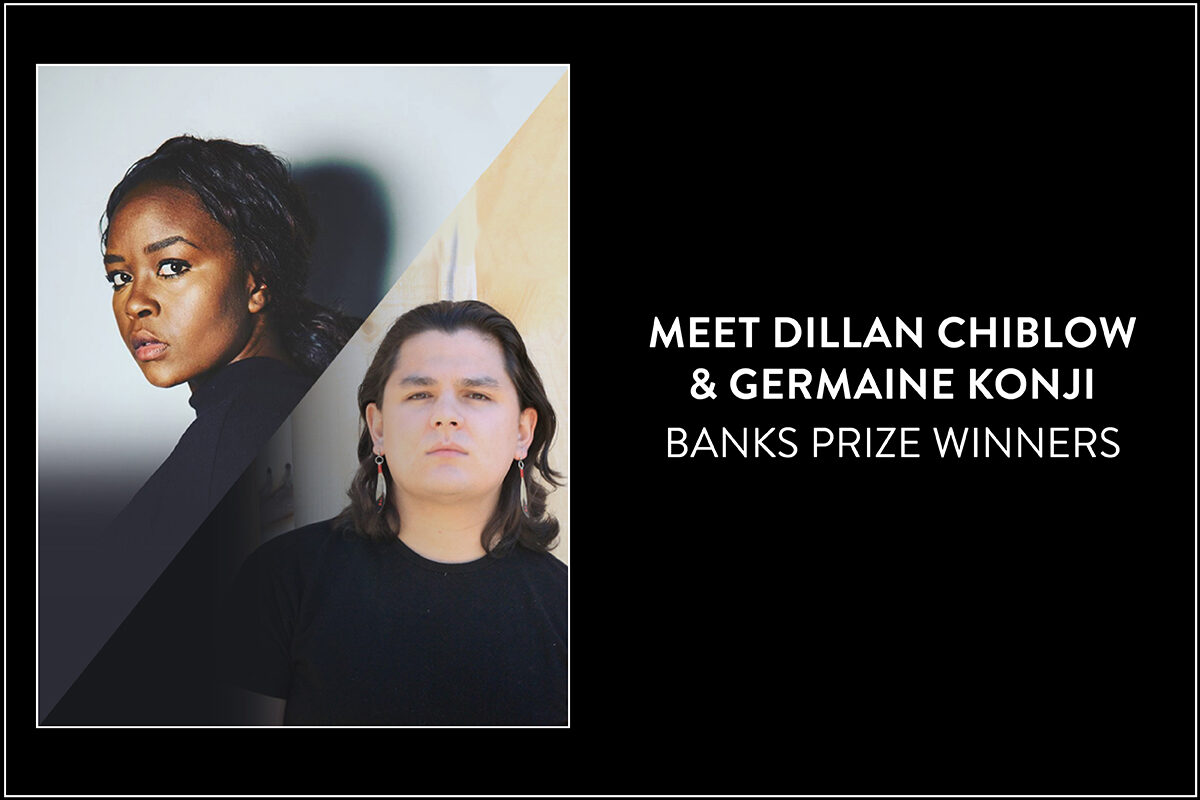 MEET OUR 2020-21 BANKS PRIZE WINNERS
This week, we sat down to chat with Germaine Konji and Dillan Chiblow, our 2020-21 Syd and Shirley Banks Prize Winners for Emerging Musical Theatre Artists.
The Banks Prize will provide Germaine and Dillan with the opportunity to advance their careers through financial assistance, mentorship and increased exposure through the incredible support of The Banks Family and the RBC Foundation.
What experience made you realize that musical theatre was your passion?
Germaine Konji: So many magic moments passed me by before I realized that I was in love with musical theatre. I didn't get it when I was 6, and uncontrollably wept tears of joy through all of MAMMA MIA, or when I was 8 and began writing one woman musicals about the vegetables I was helping my mum peel for dinner. So many other (laughable) moments like these would be scattered all throughout my life, but the ultimate one was deciding to forgo my plan to be a lawyer, and pursue a post secondary education in musical theatre. I was so caught between what I had planned, and what I felt like was calling me. I remember one day, my high school drama teacher asked me to picture myself in 30 years, and that's when I realized not pursuing musical theatre would be my greatest regret. Then it clicked that if I felt that strongly about musical theatre, it must be what I love; it must be what I was made to do.
Dillan Chiblow: Oh gosh. I feel like there was a build-up of moments that made me realize musical theatre is my passion. I would say a standout was the first time I ever auditioned for a musical. It was in high school, and I found out you could get an extra credit for being in the musical–so essentially doing 5 courses instead of 4. It was a high-school audition, so we had lyrics, and the soundtrack to sing along with. The teacher would walk around to hear you sing along to the track, to see if you could stay on pitch. Well, when it was my turn, and the teacher walked toward me singing, I turned red, hands went numb, legs went numb, voice was all over the place, I almost passed out. I can't even call what I did singing. I still booked the ensemble (I'm pretty sure everyone did since it was a credited course). Cut to 6 months later, I started taking private singing lessons, because I needed the help BADLY. Then it was opening night. My high school's theatre is actually really big, and a rather beautiful space. The first time I got a 15 minute call to places, being backstage, and hearing the audience fill the theatre…I was hooked. The entire experience from the audition to opening terrified me and fascinated me at the same time.
Describe your feelings about starting out in the profession in three words.
Germaine Konji: Giddy, determined, ready.
Dillan Chiblow: Responsibility, balance, patience. 
If you weren't in musical theatre, you would be…
Germaine Konji: A human rights lawyer.
Dillan Chiblow: Hard to say…but maybe a social worker. I think I would enjoy working with at risk Indigenous youth and helping them find balance in a colonial society.
What's your favourite musical?
Germaine Konji: THE LION KING.
Dillan Chiblow: SPRING AWAKENING.
Favourite musical project you've been a part of?
Germaine Konji: A tie between The 2017 Confederation Centre Young Company (THE DREAM CATCHERS) and HOARDING, THE MUSICAL (Canadian Musical Theatre Project, 2019).
Dillan Chiblow: CHILDREN OF GOD by Corey Payette! It was my first professional musical!
What are you looking forward to most as the 2020-21 Banks Prize Winners?
Germaine Konji: THE BANKS PRIZE CABARET!!!
Dillan Chiblow: Everything! I look forward to every rehearsal or meeting. I cannot wait to dive in more as the year goes on. That being said…I'm definitely looking forward to The Banks Prize Cabaret! I have probably close to one hundred ballads I want to sing, so I'm sure one or two of those might make it into the cabaret. In all seriousness, I am looking forward to the type of artist I will evolve into after the entire experience
What do you hope theatre will be/look like in a post-COVID world?
Germaine Konji: I hope that theatre post-COVID will be new and exciting–both because of the time we've spent away from shared storytelling, and because of our efforts to finally include the voices we are used to not hearing. My hope is not that things return to normal. Returning to normal would mean returning to nothing for many of these voices. Rather, I hope that we are returning to better. I hope we use the past few months of adjusting to a new way of living as proof that even in our theatres, we can question, disrupt and change what was there and still thrive. I hope the theatre of the future steps into what it could have been all along; a shared space for the humanity in all of us.
DC: So much to say…I hope theatre will be different. I hope we all will hold theatre companies accountable to take the steps toward addressing systemic racism in our industry. I believe as storytellers, we have a responsibility in how we tell our stories. And by not using the many talented BIPOC artists we have here in Canada, we are teaching our audience that theatre is only for one group of people. That's just not true. Don't we aim for the truth in our storytelling? That is one hope I have.