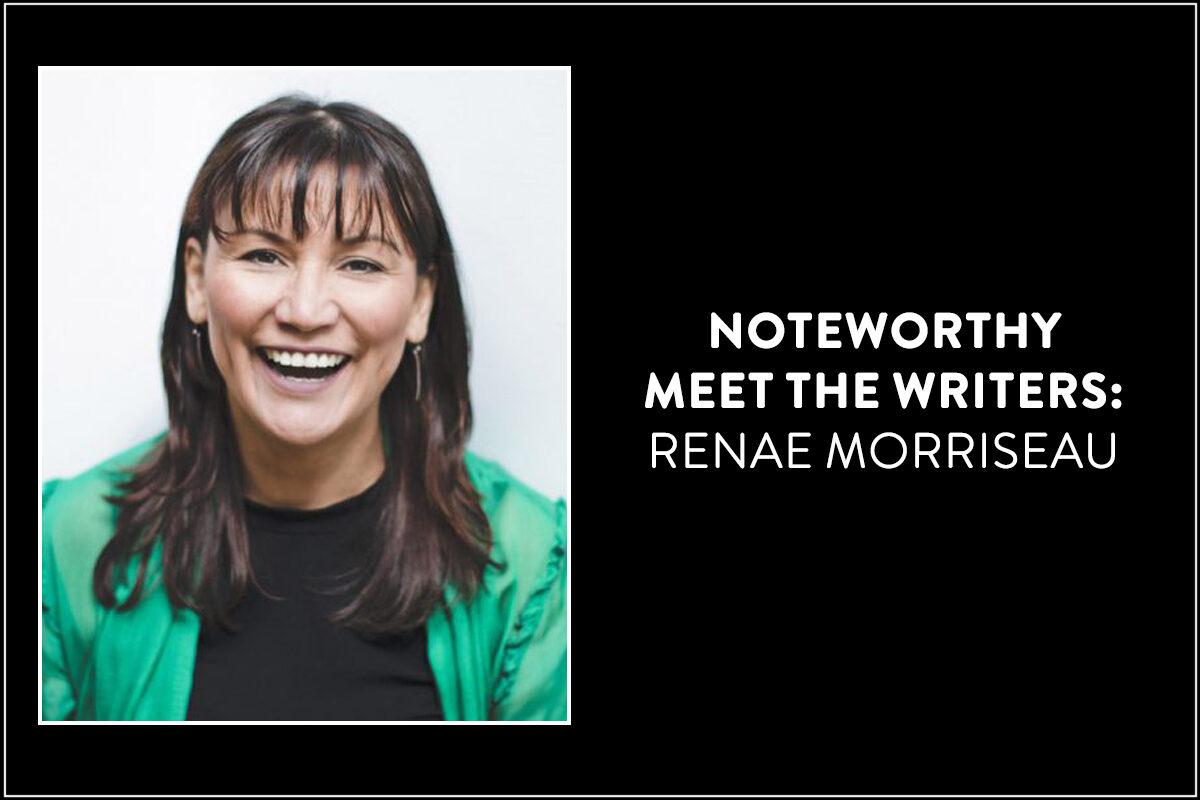 Meet the Writers: Renae Morriseau
Meet our 2021 NoteWorthy Cohort! Over the next few weeks, we will be highlighting the incredible writers who are part of our paid online musical theatre development program.

Offered bi-annually, NoteWorthy allows composers, lyricists, and playwrights from across Canada to build foundational skills through master classes and guided collaborative writing assignments. To help ensure that the future of musical theatre better represents a diverse range of stories and voices, the 2020-21 NoteWorthy program will exclusively support BIPOC artists from across Canada.

Next up, Renae Morriseau!
---
How would you describe your main artistic discipline?
I'm a writer, but I'm a Jack of all trades – For theatre: acting, directing, writing, singing. For film & television: producing, acting directing, writing and singing.  But right now I'm a writer. I just completed a radio play on Restorative Justice called The Mural of Social Change. http://varj.ca/?page_id=618
What excites you about writing for musical theatre?
I want my proposed musical to be immersed in my cultural ideology (written, language, context) and create a musical that will be based on my oral storytelling concepts as a presentation where the 4th wall isn't there and that the audience/witnesses have a say of the outcome.  I want to utilize euro-centric theatrical constructs, yes, but to blend with the philosophy of oral storytelling aesthetic.
Had you ever considered working on a musical before NoteWorthy?
Actually, no,  I mean my music is mostly hand-drum songs, with their stories and my songs are about lands, water, spirit consciousness, and family.  My questions to create a musical: How does the drum, voice, with rhythm and tone, support the creation of a storytelling experience about an Indigenous re-claiming of space and hope?  What is the personal story I want to tell that bridges the politic of being a dispossessed Indigenous women? 

What fractures the colonial veneer of euro-centric theatrical aesthetics?  What would a de-colonial Indigenous theatre aesthetic look like?  These are some of the questions I'm asking myself as I begin to put word on paper, and computer.
Favorite aspect of the program so far?
STEW!  Wow!!
What does a completely BIPOC writing space mean to you?
Being able to witness conversations, and being a part of the NoteWorthy collective.  It is about safety. There's no need to do pre-ambles so that white folks feel included, but there is a shared history within Canada where our voices are pushed to the side-lines.  We all just want to continue to tell our stories and do that with clear intention and focus.  Thank you for that.  
Given the context of 2020, including widespread performative allyship, what is the future of Black History Month in your opinion?
 There's a dichotomy – We have our brothers and sisters that are on the frontlines to make change because of the struggles to protect our traditional lands and waters, struggles about the incarceration rates being mostly Indigenous and black in prisons.  And they are frontline teachers, and advocates, that want to support the dreams of our children, especially when our history isn't included in the Canadian School books (this is slowly changing).  Their fight is political, structural, and about changing the Canadian mentality of BIPOC people being less than….

And then there are the artists, storytellers, that utilized art as the mechanism for social change.  What does this time require of us? How do we manage the questions, the ignorance of white people's selective cultural consumption of our stories?  How do we traverse these grey areas of our moral code and be true to our voice and ancestral connections when we are faced with structural racism?

I'd like to believe that Black History Month, and this era of The Truth and Reconciliation process, is for white people to stop asking stupid questions, but mostly its also for me (us) to tell stories that celebrate our universal lived experience through resilience, restitution, accountability and a re-claiming of OUR history in Canada.  I want to make hope actionable.
 
Artists – it's their work that gives us hope to contend with Language, culture, history, and power.  
What are your hopes for the future of the theatre industry in Canada?
 Maybe when Canadian stages open they'll be more inclined to tell BIPOC stories, by us and for us.  Maybe when Canadian stages open, they'll open to another era of time where diversity and inclusion aren't conversations we need to have anymore, because we are celebrated for our stories and our perseverance, our joy and love to share our stories.  

I want to see stories where our lived experiences are mechanisms of hope and joy as we dance with our ancestors, sing to our children, and story tell our knowledge, and worldview.  Then our hearts are blessed with a knowing of what acceptance really is.  
---
Renae Morriseau:
Originally from Manitoba and of Saulteaux and Cree descent, Renae Morriseau has called Vancouver's Coast Salish shores her home for more than 30 years. Many will recognize her from her role in the CBC television series NORTH OF 60, but her contributions to the storytelling craft extend far beyond this – she recently received the 2015 City of Vancouver Mayor's Arts Award for community engaged arts for her work cultivating social justice and inclusiveness through theatre and music.
A producer, writer and director of award-winning television documentaries and theatre productions, Morriseau is also a talented musician with the Indigenous women's hand-drumming group, M'GIRL, who recently toured in New Zealand and Germany. She continues to work with First Nation communities in B.C. and Manitoba to share stories of resilience, healing and the importance of Indigenous language and cultural worldview.