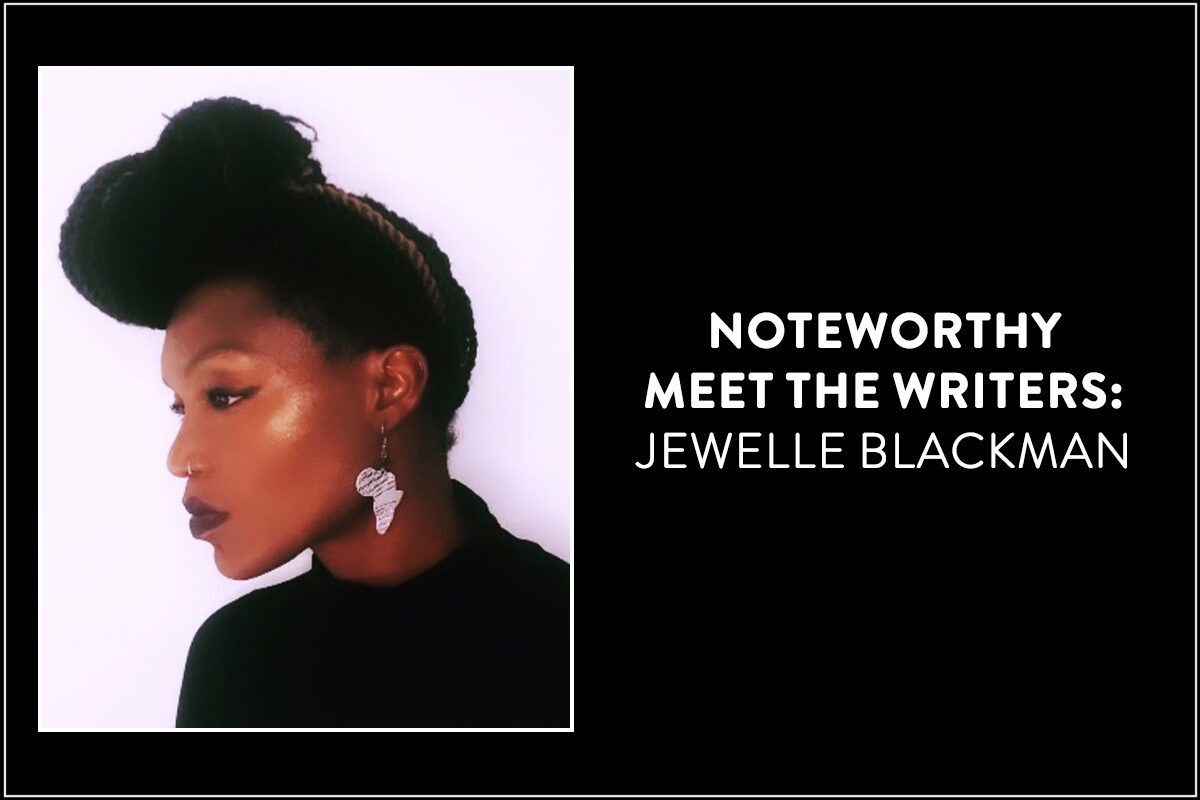 Meet the Writers: Jewelle Blackman
Meet our 2021 NoteWorthy Cohort! Over the next few weeks, we will be highlighting the incredible writers who are part of our paid online musical theatre development program.

Offered bi-annually, NoteWorthy allows composers, lyricists, and playwrights from across Canada to build foundational skills through master classes and guided collaborative writing assignments. To help ensure that the future of musical theatre better represents a diverse range of stories and voices, the 2020-21 NoteWorthy program will exclusively support BIPOC artists from across Canada.

Next up, Jewelle Blackman!
---
How would you describe your main artistic discipline?
First and foremost I am an artist, a creative, and all aspects are intertwined. I first danced, then sang, then picked up a few instruments, then wrote, then acted out and sang again. Most recently I've been focusing on performing, specifically in musicals.
What excites you about writing for musical theatre?
I am excited for a few reasons. I have a pretty good understanding of the form and what's it's lacking since I perform it. I am so excited to create and share stories that will shine a light on black women by putting them at the center of the narrative. I know what it feels like to be on the outside or to be the support system for a story that has no interest in delving deeper into the characters of colour on stage.
What's your favourite musical & why?
I don't think I've seen enough to know my favourite yet but HADESTOWN, THE LION KING, and AIN'T MISBEHAVING' are up there.
Had you ever considered working on a musical before NoteWorthy?
Oh yes! I've been working on my show "YOU KNOW MY NAME, NOT MY STORY" for eleven years.
Favorite aspect of the program so far?
The masterclasses have been so informative and inspiring and I love all the connections that are being made in class. Also, the talent in this group is beyond. It upsets me that more of their work has not been produced.
What does a completely BIPOC writing space mean to you?
Had NoteWorthy not been completely BIPOC this year I would not have applied. I have to be honest. I was not interested in learning from people who are essentially the gatekeepers. I didn't want to be in a room like I've been in many times where I am either the only person of colour or just one of a few. I wanted to be able to look around the room and not have to hold my breath or apologize for who I am.
What are your hopes for the future of the theatre industry in Canada?
I don't know about the future of theatre in Canada, but I will tell you about the future of Jewelle's relationship with theatre in Canada. I am not interested in helping to correct all the racist practices that are abundant at every theatre in this country. That's the institution's job, not mine. What I am interested in is forging my own path as a black woman and helping other artists and performers of colour in creating our own spaces, where all of our talents can take center stage.

Rodney Diverlus said it best in a recent article "As we enter new and uncharted territories, rather than expending all our energies, talents, fixing the bricks of the fortresses that spent so long keeping us out, let us build our own." NoteWorthy this year for me is just one step towards building my own fortress. But my fortress will not be built to keep others out but to welcome, nurture, protect and champion those that have been kept out for too long.
---
Jewelle Blackman is a multi-talented artist from Toronto, ON. She has played the violin for more than 30 years and graduated from Queen's University with a Double Major in Music & Film as well as completed the Summer Performance Certificate Program at Berklee College of Music. Jewelle is currently on pause from Broadway as part of the Tony/Grammy Winning Best Musical HADESTOWN where she originated the role of Fate. Select credits include THE WHO'S TOMMY (Acid Queen); JACQUES BREL IS ALIVE AND WELL AND LIVING IN PARIS both at the Stratford Festival; WE WILL ROCK YOU (Teacher); THE LION KING (Nala/Shenzi) Mirvish; THE WIZARD OF OZ (Mrs. Banks) Young People's Theatre; DREAMGIRLS (Deena Jones) The Grand Theatre/StageWest. Jewelle has also worked extensively in Film/TV. For the past few years she has been working on her first musical YOU KNOW MY NAME, NOT MY STORY, inspired by Nina Simone's "Four Women."