Recapping Take The Stage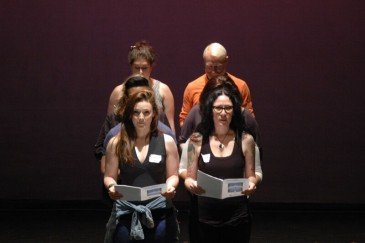 By Victoria Barber
Our second annual Take the Stage event took place on May 31st at the Winchester Street Theatre. Five teams came together to raise funds for our musical productions, new musical development initiatives, community outreach activities, and to participate in a musical theatre competition extravaganza. Each team consisted of 10-15 passionate musical theatre performers from various backgrounds. We had three community theatre groups (Scarborough Musical Theatre, Etobicoke Musical Productions, and The R.A.T (Really Amateur Theatre) Pack), one school group (Sheridan Music Performance), and one team made of the general public.
When each team arrived they received a well-known musical theatre piece and 2 star studded theatre professionals:
Tara Litvack & Thom Allison  worked with Team Sheridan on 'Being Alive' from Company
Doug Price & David Lopez worked with Etobicoke Musical Productions on 'Pinball Wizard' from Tommy
Lily Ling & Michael Therriault worked with Scarborough Musical Theatre on  'For Now' from Avenue Q
Mark Selby & Steve Ross worked with the R.A.T Pack on 'Without Love' from Hairspray
Noah MacDougall & Lisa Horner work with the Public Team on 'What I Did For Love' from A Chorus Line
And off they went! Each team had 4 hours to learn brand new material with complicated harmonies and intricate staging. The Winchester Street Theatre was buzzing with musical theatre excitement as each team worked with their trainers to master their given song in hope of winning the Spotlight Award.
After 4 hours of hard work, each team showcased their work to our judges (Daniel Birnbaum, Derrick Chua, and Carly Maga).  After much deliberation, Etobicoke Musical Productions won the Spotlight Award for the second year in a row, along with complimentary tickets to UnCovered: Simon and Garfunkel!  
With the help of our participants we raised over $10,000!
 In order to participate, each team had to raise a minimum of $2000 and each public team participant had to raise $120. This money was generally raised through small donations of $10-$50 from friends and family of the participants. The R.A.T Pack fundraised over $2300; winning them the Fundraising Award along with complimentary tickets to see Mirvish's Titanic. 
After a fantastic day of performances, teams headed over to The Local Gest (a local restaurant on Parliament Street) for a celebratory drink with their trainers and teammates. 
Overall it was a wonderful day, filled with musical theatre, new friendships, and powerhouse performances. Take The Stage gives the Toronto theatre community a chance to connect with likeminded musical theatre enthusiasts and bridge the worlds of professional and amateur theatre.
We are so thrilled with this year's success, thanks to all who participated!